The Backyard now offers playcare, boarding, grooming
News | Published on May 20, 2021 at 8:32am EDT | Author: Chad Koenen
0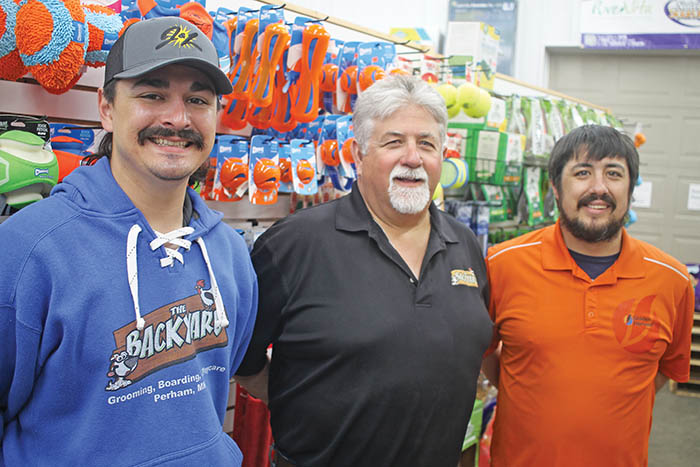 By Barbie Porter
Editor
The Backyard in Perham is quickly becoming known as the go-to place for pet care, whether it is for quality food, boarding, grooming, or letting man's best friend romp with other dogs.
The boarding and playcare facility at The Backyard opened in 2019, just before the pandemic shut down many non-essential businesses. The Doll family (Joe, Lori and their sons Taylor and Tyler) saw the new addition to their business go from booming to empty overnight. However, they believed as the pandemic restrictions loosened, the customers would return. They were right.
The groomer has seen steady bookings, the dog and cat toys are providing entertainment and the variety of quality dog food continues to keep pets healthy and strong.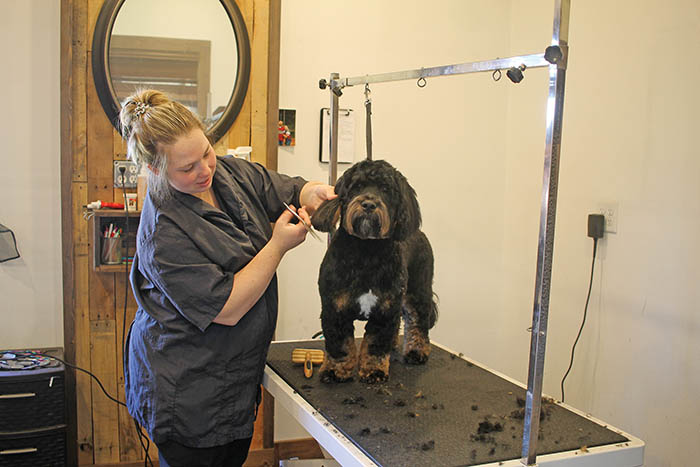 The playcare facility is seeing more dog owners to drop off their pup for socialization and to expend some energy. All dogs must be up-to-date on shots and supervised during playtime.
"We have two outdoor play areas and one indoors," Taylor said "We plan to add turf to the outdoor play areas and when it gets warmer add a shade cover."
A walk-thru of the facility shows a spotless whitewall boarding area. There is a secluded room where cats can be boarded and another area for the dogs. All 30 dog suites come with a raised bed, but some have pampered perks.
"The suites along the north wall have outdoor access to a private run," Taylor explained. "There are themed suites, and each has divider panels so the dogs don't see who is next to them."
Different sized suites are available, as is the option for a discounted rate when hosting more than one dog from the same household. Pup parents can even access cameras at the facility to check in on their furry friend.
To make appointments for grooming, playcare or boarding, call either (218) 346-4867 or (218) 298-4023.
The Backyard
started with seeds
In 1996, The Backyard made a name for itself by providing crop seeds and nutritional consulting for cows. At first, the business was home based. But, by 2009 the Dolls decided to move into a warehouse, and a store followed in 2012.
Tyler recalled his father's popularity grew after he identified how some corn feed was not highly digestible for cows. In turn, the poor quality food reduced the nutrition the animal received and other health problems followed. After thoroughly researching the topic, Tyler said his dad found a quality product of easily digestible forage to offer clients. Word spread fast and a loyal customer base followed.
The store continues to provide farmers with staple seeds of corn, soybean and alfalfa. Tyler added the seeds can be tailored to a farmer's need, as they have an in-house agronomist to create custom mixes. That means if a field is prone to a specific problem, the seed can be given added protection prior to planting to provide the best chance at reaching maturity. Farmers also have the option of seed delivery via many options, including a bulk or box tender.
"We also see a lot of people who have deer plots come in," Tyler said. "We have a forage soybean that is twice as tall and comes in super late. The deer really like them."
Speaking of wildlife, the bird watchers also flock to the store where a variety of seed can be found to lure in all types of winged friends.
For those who have yet to stop in to The Backyard, the Dolls look forward to showing why they are known for impeccable customer service and all the store has to offer.
The Backyard is located at 105 9th Avenue NE in Perham. The store is open Monday through Friday from 8 a.m. to 5 p.m. and Saturday from 8 a.m. to noon.