Art overcomes anxiety
News | Published on June 7, 2021 at 5:01pm EDT | Author: Chad Koenen
0
By Barbie Porter
Editor
Skylie Johnson knows what it is like to be trapped in a private hell. Bottled emotions created a cage where the most common visitor was anxiety. And anxiety had an agenda to eat away at her sense of self and make her feel weak for having emotions.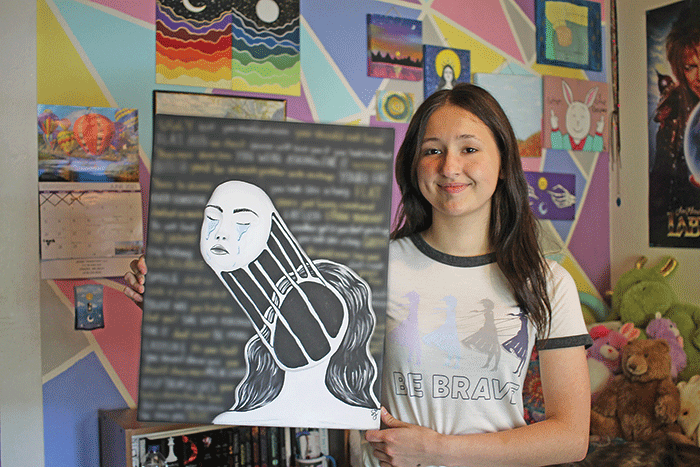 The 16-year-old daughter of Joe and Mandy Johnson, of Frazee, poignantly described her experience on a canvas. The home schooled sophomore stared at the canvas and painted it black, as she felt like a void was creeping over her.
"I was sitting there, having a rough day," she recalled. "I was crying about what I'd been through in the past, and thinking about how it affected me now."
She explained when her anxiety takes hold, it often feels as if she is detaching from herself. From that feeling of detachment, Johnson envisioned a young woman who's face was lifting away from her body.
Familiar and cruel commentary that echoed in the shadows of her mind followed in the form of words and phrases.
Minutes turned into hours as Johnson worked tirelessly to capture what she envisioned.
"It took about two days to complete," she said, "That includes breaks for school, sleep and work. In total it was maybe 8-10 hours."
Johnson explained everyone grows up with some sort of challenge, or obstacle to overcome in life. For her, art is an avenue that is up for an all night drive where she can be free to express herself. 
Taking a leap of faith, she posted her art piece on social media, unsure of the response it would elicit. The positive commentary she received has inspired her to step further into the public view. With a small and growing collection of original art, Johnson is discussing the possibility of displaying and selling her work at a local store.
Johnson's journey as an artist began as she tried to emulate her older brother, Mekiah, who drew as a hobby. When he noticed she began drawing, her brother encouraged her to work at her craft. In time she surpassed his artistic abilities.
Johnson said her improvement had nothing to do with natural talent.
"I watched many video tutorials from good artists, and had hours and hours of practice­—non-stop practice," she said. "I think many get discouraged because they are terrible in the beginning. I hear that a lot, that people think they can't do something because they aren't immediately good at it. That is not true, it just takes practice and setting your heart to achieve something." 
Johnson's journey into art began with pencils. She took out one of her first sketch books, and flipped the pages showing work that was good, but average.
When asked to see one of the more recent sketch books, the transformation from rookie to advanced artist is noticeable in the realistic portraits of people, complete with comprehension of shading and capturing features of the face that tell her subject's a story.
The granddaughter of Jess and Brenda Jepson enjoys realism and portraits, but wants to expand her horizons into the realm of nature. After all, her favorite artist is Bob Ross. She also wants to learn to sculpt. Once she sharpens her skills as an artist, her ultimate goal is to one day be an art teacher.
"For me, it has been a great way to deal with stress and anxiety," she said. "I would love to be a teacher and help other's find their voice; help them feel empowered."
To see Johnson's work, visit her Facebook page, Smiley Skylie.
Editor's note: Due to the sensitive nature of the words in the painting all the words were intentionally blurred.