From Africa to Vergas
News | Published on June 7, 2021 at 5:01pm EDT | Author: Chad Koenen
1
By Barbie Porter
A LOVE FROM ACROSS THE OCEAN
Editor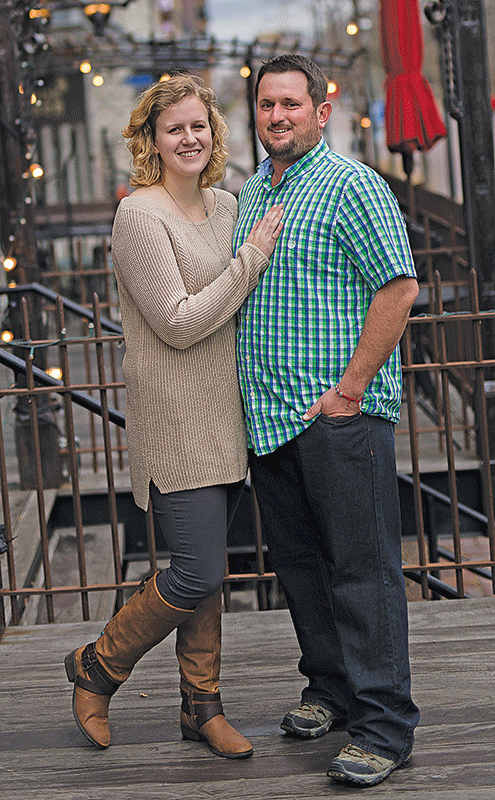 In the bush of South Africa, Jaco Janse van Vuuren drove into a national park stretching hundreds of thousands of acres. The park is primitive territory where predators roam and people are not allowed to carry weapons.
"Poaching is a major problem," Vuuren said, adding those seen with a weapon in the park can be shot, no questions asked.
Vuuren was working in the area, drilling for water. The park was a prime place to set up camp, as there weren't many accommodation choices in the bush.
"In the morning I woke up and when I came out of the tent, there was no one in the camp," he recalled.
As he stood, looking around for signs of his co-workers the muffled sound of a yell from within a vehicle reached his ears. The words warned Vuuren of a lion making itself at home by their campfire.
"It was just laying there, being lazy," he said. "I think it came for the campfire."
In addition to encounters with wild animals that got his heart thumping, he also set eyes upon Abigail, who had the same effect on his heart.
"It was a Wednesday when I met her," Vuuren said, noting he was drilling for water in an area near the national park. "She was there for an internship for her degree in zoology."
Abigail was studying flying falcons. Vuuren explained there are finches that eat crops and harass farmers like persistent pests. The falcons and finches are not friendly to one another. The government was looking for ways to control the finches, without harming the bird population.
"A company started using falcons that would chase the finches out," Vuuren said, noting she was working on the project.
With Wi-Fi only accessible from a communal lodge, those staying at the park would frequent the gathering area. It was there Vuuren made it a point to meet his future wife.
"She didn't like me the first month," he said, adding in time they grew to know each other and enjoy each other's company. After a few months, Vuuren wanted to propose, but his traditional beliefs required he gain the approval of her parents first.
The two flew back to the U.S. for a short holiday. After receiving approval to propose, the two began planning their life together. They both wanted kids, which was a deciding factor on where to call home.
Vuuren said South Africa provided ample opportunity for children to play outside. He grew up on a family-owned game farm in the northern part of South Africa, near the border. The nearest large city (Johannesburg) was 300 miles away.
Game farms in the region tend to span between 5,000 and 10,000 acres, with high fencing around the perimeter. Vuuren explained his weekend hunts were to feed family and farm hands, but also to control the animal population within the farm borders.
In addition to providing meat for meals, the farms also grow grapes, oranges, pineapples and grains, such as maize, sugarcane and wheat.
"Tobacco and pumpkins are also popular there," he said. "We would hunt from April up to August, then go back to farming. We had about 60 people working on the farm."
Life there provided ample opportunity to hunt, enjoy nature and an existence without the interruptions technology dependency can bring. Instead of scrolling on a social media platform, people in his homeland spent evenings together with nightly barbecues.
"There were barbecues at least four times a week," he said. "It is a slower pace there, and you get to personally know your neighbors inside and out. Here, life moves at double speed."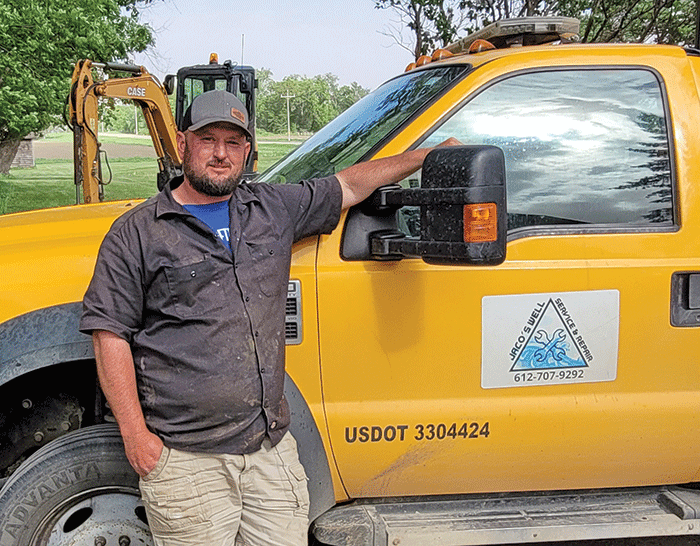 However, when Vuuren turned 6 and until he was 18, his weekdays were spent at a boarding school.
"I hated every second of that," he said. "I never want to see my kids go to a boarding school."
Once the country was chosen, the two had to pick a location. They wanted to live in the woods, but have quick access to town. They also wanted to be near his wife's parents in Parkers Prairie, and landed in rural Vergas after Vuuren took a job with an area well drilling company.
Back in Africa, he owned his own well-drilling business. But, licensing had to be done before he could start a business in the U.S.
"It is much easier starting a business there," he said, in regards to less paperwork and regulations.
As he prepared the necessary paperwork to start his own business, Vuuren made connections with area residents. Those connections helped create an initial customer base for Jaco Well Service when it opened a few years back.
While the quality of work and providing a reliable source of water for clients is the same, Vuuren said the depth of drilling is much different.
"There, I would mostly go 300 feet or deeper through solid rock," he said. "Here, it is easier and shallower to find water. There is much more water here."
Vuuren is still working on licensing to do his own drilling, but has contracted with a well-known outfit to take on that aspect of any job he is hired to do.
"I service wells, do pump tanks, dig lines in and install the system," he said. "I get a lot of emergency calls on the weekend and I'm happy to help."
Jaco Well Service is now serving a variety of clients, from rural residents to farmers and lake home owners. As the company's reputation is continually being built on quality work, Vuuren is finding there are more similarities between his native home to Minnesota, especially with hunting and fishing.
However, one difference still amazes him. Vuuren explained he saw the movie, "Grumpy Old Men" years ago. When he watched the men walk onto a frozen lake he thought that was movie magic.
"I did not believe people drove their trucks on ice and drilled it to fish," he said. "It was quite a shock." 
Vuuren invited all to get a hold of him for a chat about Africa, connections to game farms there, or for well-drilling services, (612) 707-9292.