New bookmobile will roll into Vergas on June 10
Uncategorized | Published on June 7, 2021 at 2:40pm EDT | Author: Chad Koenen
0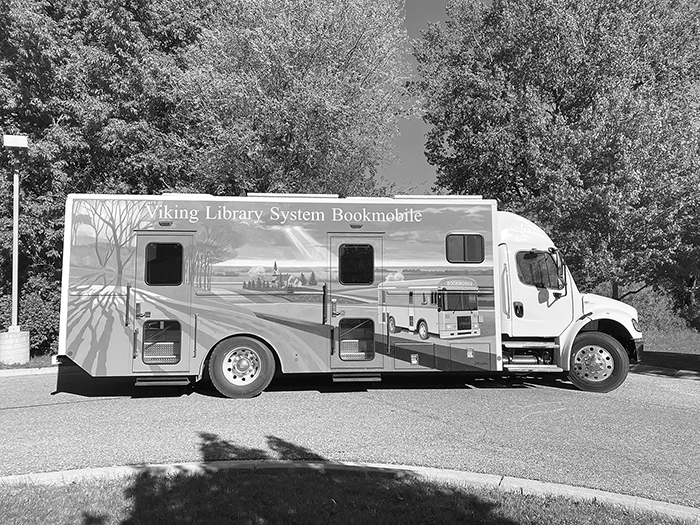 The Viking Library is sending out the new bookmobile into the communities it serves, including Vergas.
The new bookmobile has murals painted on it and many other updated features. It will visit Vergas from 1:15-2:15 p.m. on June 10 and 24, and at the same times on July 8 and 22 and August 5 and 19.
The bookmobile replaces an older model that served the area for more than 28 years, crisscrossing six counties: Otter Tail, Douglas, Grant, Pope, Stevens and Traverse, and accumulating more than 450,000 miles.
The exterior murals were created and painted by Scott Gunvaldson of Fergus Falls, Minn. The murals feature local landscapes with a nod to west central Minnesota's four seasons. The mural on the back panel of the truck is designed to represent a view inside of the bookmobile. 
Bookmobile patrons inspired by the murals can decorate their own 3D paper bookmobile by picking up a template while visiting the truck.
Erin Smith, library director, invites patrons to visit the bookmobile, which was constructed by LDV Specialty Vehicles in Burlington, Wis.
The new truck includes several features specifically designed for serving library customers, including solar panels that generate electricity to power the batteries, which help run the lights, heating and ventilation system and computers.
Boosted Wi-Fi services offered with the new bookmobile means visitors can use the signal to download eBooks and audiobooks, in addition to checking out print materials.
Patrons may also notice that the new vehicle looks more like a truck than a school bus. Built on a truck frame, with the cab separate, the bookmobile features air brakes and suspension and slightly taller ceilings than the older version.
Aside from a well-light interior, visitors will also have the opportunity to enjoy artwork created by youth.
A full list of scheduled bookmobile visits in area communities of Otter Tail County can be found at www.viking.lib.mn.us/bookmobile. The bookmobile stops at 50 different public locations throughout the summer months, visiting each community once every two weeks. The bookmobile also serves more than two dozen area senior care centers and assisted living facilities year round, and 15 schools during the school year.
In addition to launching the new bookmobile on June 1, staff also kicked off a summer reading program for all ages. It's free to join and earn prizes. Register for the program at www.viking.lib.mn.us/summer-reading.
Viking Library
system began in 1975
First organized in 1975, Viking Library system is one of 12 regional public library systems in the state. 
Eleven area libraries are members of the Viking Library system: Douglas County Library (Alexandria), Browns Valley Public Library, Thorson Memorial Library (Elbow Lake), Fergus Falls Public Library, Glenwood Public Library, Hancock Community Library, Morris Public Library, New York Mills Public Library, Pelican Rapids Public Library, Perham Area Community Library, and Wheaton Community Library.
In addition to providing bookmobile service to rural residents and those who live in communities without a public library, the library system provides:
• High-speed telecommunications network and internet access to member libraries, as well as technical, software and hardware support.
• The online catalog and circulation system used by member libraries and the bookmobile.
• Access to online tools and resources.
• Inter-library loan and delivery services, which make it possible to get a book from any library in the system.
• Outreach services to area child cares and group homes.
• Legacy Amendment funded arts, history and cultural programming in conjunction with member libraries.