New milkweed may be harmful to monarchs
Uncategorized | Published on June 7, 2021 at 3:09pm EDT | Author: Chad Koenen
0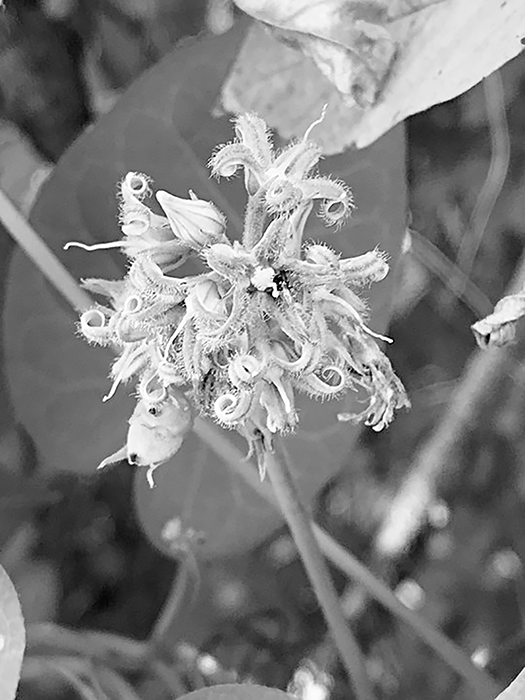 In the summer of 2020, a vining milkweed was discovered along the Lake Wobegon Trail by a University of Minnesota Extension Master Naturalist. Though species of non-native vining milkweeds had been documented in Minnesota, this new infestation turned out to be rough potato.
Rough potato is a vining milkweed species from northeastern Asia. Vines are herbaceous and regrow from their roots every year. Flowers are a showy magenta, with five petals that curve along the edges. Flowering occurs from July to September, and hairs are present along the petals and vines. Leaves are opposite, heart shaped, and 3-5 inches long. Vines can grow up to 25 feet long, twine with each other, and climb adjacent vegetation and structures. Rough potato produces a fruit similar to common milkweed fruit pods.
Rough potato has only been reported once previously in the United States during the 1950s in Ames, Iowa. It is not a commonly sold plant in the United States, and it's uncertain how it arrived in Minnesota.
While a formal risk assessment has not been conducted yet, the vine is similar to another vining milkweed, black swallow-wort, which is a prohibited eradicate noxious weed.
Black and pale swallow-worts are toxic to monarch butterflies and are believed to have contributed to the population decline in the eastern United States. It is unknown what effects established rough potato populations will have on already declining monarch populations. 
If a rough potato vining milkweed is found, or believed to be found, note the exact location, take digital photos if possible and email them to the Minnesota Department of Agriculture at arrest.the.pest@state.mn.us or call (888) 545-6684.