North Country Trail hikes set for June 9, 16
News | Published on June 7, 2021 at 4:39pm EDT | Author: Chad Koenen
0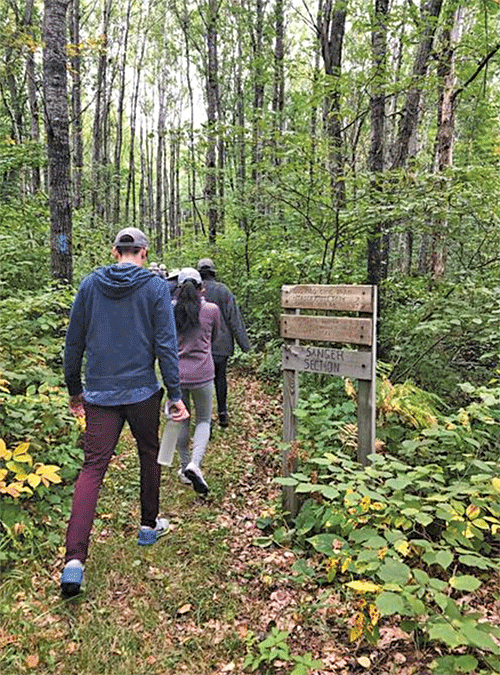 Members of the Laurentian Lakes chapter of the North country Scenic Trail are hosting day hike events at the Tamarac Wildlife Refuge and in Vergas in June.
The adventure at Tamarac is set for 9 a.m. on Wednesday, June 9. The hike will be a guided 4-mile jaunt inside the refuge's borders.
Hikers are to meet at the parking lot of the visitor's center, 35704 270 Street, Rochert. A shuttle will be provided to the trail head on the Old Indian Trail. The group will walk through fields, near several ponds, and potentially see spring wildflowers in bloom.
Another North Country Scenic Trail hike is planned in Vergas. The hike will be about four miles and participants should meet at Vergas City Beach near the iconic loon statue. The city beach is located along Otter Tail County Road 4 in Vergas. There will also be an option to have a group lunch after the hike.
For more information, call Karen at (218) 841-2857.
NCT covers
eight states
The North Country National Scenic Trail is a 4,600 mile earthen hiking path that starts in Vermont and travels through eight states, with the other end of the trail located in North Dakota.
The NCT also connects with two other nationally recognized trails: Long Trail, Appalachian Trail and the Lewis and Clark Trail.
The NCT is the longest of the 11 national scenic trails authorized by Congress. 
The trail is managed by the National Park Service, as well as federal, state and local agencies. However, the trail has been built and is maintained by the volunteers, such as the local Laurentian Lakes Chapter.
The Laurentian Lakes Chapter covers 72 miles of the trail, including the section in Tamarac and Frazee. The group formed in 2006 and has constructed about 50 miles of trail.