Firemen eager to serve area residents on June 27
Socials | Published on June 24, 2021 at 6:30am EDT | Author: Chad Koenen
0
New fire engine to be on display at pancake breakfast
By Barbie Porter
Editor
The Frazee Fire Department will be feeding visitors flapjacks and inviting all to get an up-close look at the new fire engine on Sunday, June 27.
The freewill breakfast, which includes pancakes, sausage and juice, starts at 7 a.m. and concludes at 1 p.m. at the Frazee Fire Hall, which is located on West Main Avenue.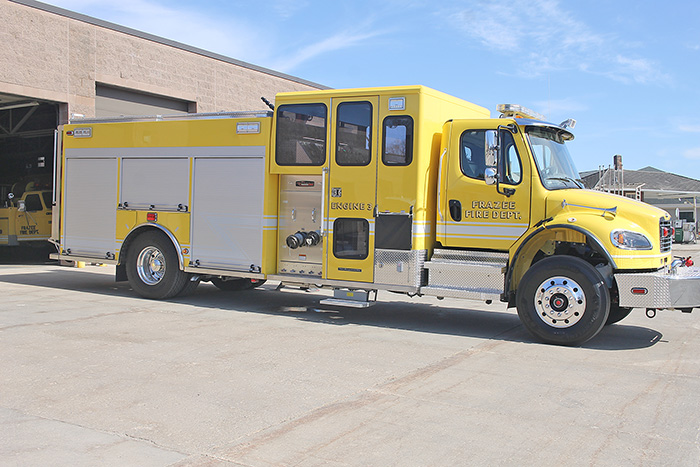 "We usually put three pancakes in the take-out container, and if you sit down to eat, you can tell us how many you want; we'll give them to you," said Frazee Fire Chief Joe Nelson. "We also have diabetic, non-sugar syrup available."
Nelson looks forward to providing the sit down option this year, as last year was restricted to a drive-thru fundraiser due to COVID-19. While the fundraiser is not the department's big event, it is important for community outreach. Nelson explained the opportunity to chat with residents who live in the fire district is a great way to build or strengthen community ties.
Plus, having the privilege of cooking a hearty breakfast for area residents is seen as a perk to the volunteer firefighters that step up to cook and host the event.
"We see it as a way to thank people for standing by us all these years," he said. "We look forward to seeing everyone." 
The amount raised through donations fluctuates from year-to-year. This year the department is considering using the funds to purchase (or save for) a second portable water pump. Nelson said with many water sources in the rural coverage areas, a back up or second pump to draw from lakes is on the department's radar.
Those that stop by the fire department will also have the opportunity to give the newest addition to the truck fleet a once over, along with the new equipment purchased to outfit it. Nelson said, since the department purchased the new truck it has been on three calls.
"We're very fortunate to have it, and were lucky to be able to get it," Nelson said.
Another potential opportunity at the pancake breakfast will be filling out an application to become a volunteer firefighter. The opportunity is open to men and women, and Nelson said the department is in need of more to join the crew.
The department recently held a recruitment drive, in which two have applied.
"We always have applications on file, and if anyone is interested reach out, we'll get you pointed in the right direction," Nelson said.
In addition to being a first responder to help community members in dire times, Nelson said big draws for current members are the family atmosphere, being part of a team and retirement benefits.
"We all work together and trust each other," he said.
When Nelson joined the department about 10 years ago he had no prior experience. After a decade of service, he is now serving his third year as the fire chief. He said his time on the department has been a rewarding experience.