Frazee family earns Century Farm designation
News | Published on June 24, 2021 at 6:25am EDT | Author: Chad Koenen
0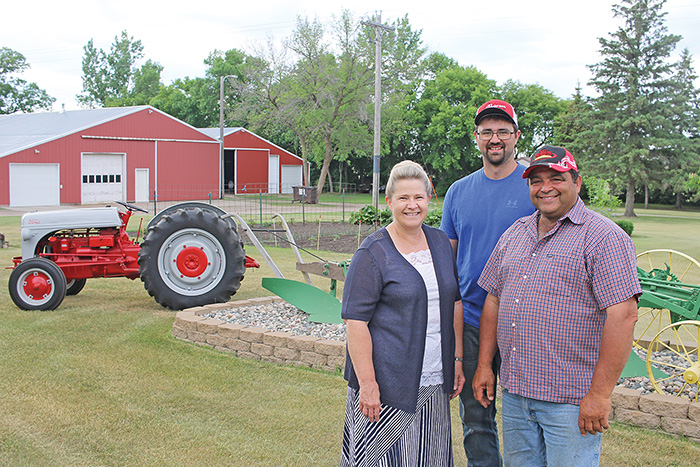 Renollet-Hjelter farm holds historic tales
By Barbie Porter
Editor
A Frazee farm recently earned the title of Century Farm, after being in the same family while the landscape, modes of transportation and way of life changed around it.
Quenette and Kevin Renollet began the process of getting the title after seeing an article in the newspaper about how to apply. Quenette dug into the details, found the required paperwork and records, then submitted the information to the Minnesota State Fair.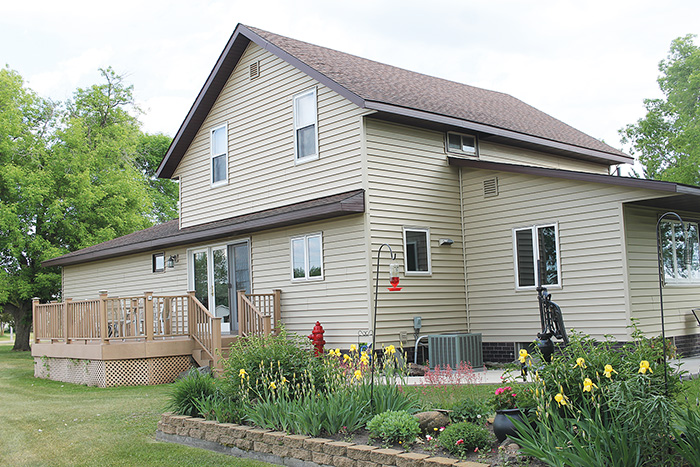 The family is one of 124 to earn the distinct honor in 2021, and will be recognized during a ceremony at the Becker County Fair. Century Farm families receive a commemorative sign, as well as a certificate signed by Minnesota State Fair and Minnesota Farm Bureau presidents and the Minnesota governor. 
To qualifying, farms must have continuous family ownership for at least 100 years and are 50 acres or more. Since the program began in 1976, nearly 11,000 Minnesota farms have been recognized as Century Farms.
When Rolf Hjelter arrived in Frazee, he brought
the future with him
"Grandpa was the first owner of the farm for our family, but he wasn't the first owner," Quenette said, adding a man named John Graham homesteaded the property after the Civil War. "The lake is named after him."
Graham Lake was a big reason Quenette's grandfather, Rolf Hjelter, bought the farm in 1921. Hjelter had immigrated from Norway with his younger brother. They made their way to Adrian, N.D., which is just south of Jamestown, N.D. The brothers farmed the land, but when a drought struck the men decided to sell the farm and move to the city.
"They spent about a year in Fargo, N.D.," she said. "Then they began looking for another farm, but this time they decided it had to be next to its own water source."
Quenette's research showed the 156.35 acre property was purchased by her grandfather from First National Bank in Fargo, N.D. The primary source of income for the farm was dairy, and that remained true for many years.
"My dad (Quinten) was two when they moved to Frazee," Quenette said, adding in addition to the dairy cows they also farmed hay, grains and had pigs, chicken and mix of other farm animals.
While the farm operation was very traditional for that time period, her grandfather knew what the future held for indoor living. After experiencing electricity and indoor plumbing in the city, he knew it was a matter of time before the amenities arrived in rural Minnesota. So, when he built the family home he ran the necessary wires for electricity, as well as the pipes for indoor sewer and water. Then he waited for his prediction to come true.
While waiting for the inventions to arrive, gas lanterns were used in the house. The family still has some of the antiques on display in their home.
Her father, a 1936 Frazee High School graduate, took ownership of the farm after serving his country in World War II. Quenette recalled he was a medic and was stationed in Germany and France. When he had the opportunity to send correspondence home, he asked his parents not to sell the farm; that when he returned he intended to take over the family business. That is exactly what he did.
"My grandpa owned it from 1921 to 1940, and from 1940 to 1961 it was the Hjelter Brother's Farm," she said, noting her father had ownership, but the operation was a joint effort with his brother William.
Quenette recalled they used to have three plows, and in the early days horses were used to break the earth for crops to be planted or hay to be collected.
"My dad bought his first tractor in the early 1940s," she said. "We don't have the original anymore, but we do have a replica out there."
Quenette reported in 1961 her father married her mother, Emma, and they ran the farm until they retired in 2000.
Big changes happened during that time. In 1976 some land was lost as the overpass was built and County Road 134 was established. Then, the 18-to-20 dairy cattle that produced Grade A quality dairy products were sold in 1980. 
Family tradition may have ended if not for love
Quenette, an only child, graduated from Frazee High School in 1980 and headed to college. She was convinced the tradition of the farm life would end with her.
"I just didn't want the farm life," she recalled, noting her career took her into the medical field, where she currently works as a registered nurse. "I planned to go to California and spend time with relatives."
While her mind was set on city life, her heart had other plans. Her high school sweetheart had no intentions on living in a big city. When he asked for her hand in marriage, Quenette's heart won and she returned to her hometown to start their life together.
Quenette and her husband Kevin Renollet (also a 1980 Frazee High School graduate) moved to the farm in 1983.
"My parents were getting older and it was an opportunity to show them the care and love they provided me while growing up," she said.
Quenette's parents remained in their house, while she and Kevin moved into a trailer overlooking the lake.
Quenette and Kevin took over the farm in 1998, and the official paperwork was signed in 2000.
Animals returned to the farm, this time it was sheep. Kevin said he'd raised sheep since high school and appreciated having animals on the farm. Both he and his wife grew up on dairy farms and had no interested in the twice-a-day commitment dairy farming requires.
"So we went with sheep," he said. "It's more work than most imagine. We have about 120 right now, but as many as 200 some years."
With the animals also returned those moments of family bonding while examining the beauty of the land, tackling chores with teamwork and chatting about the history of the property while venturing through the woods.
Kevin said he'd heard many stories from his father-in-law, and was shown where horse buggies and Native American's had cut a path through the property. There was even a runaway buggy that smashed against a rock and remained there for years, until the earth reclaimed it.
For each of the Renollets the farm holds memories and emotions they hold close to their hearts. Quenette's memory fired off many adventures, from learning to drive a 1951 Chevy stick shift through wide open fields. Kevin recalled the hours he spent with his in-laws, and having the chance to learn about the history of the property. Those stories have now been passed down to Quenette and Kevin's son, Jason Renollet. Now an adult, Jason fondly recalled the time he was gifted with his grandparents and is thankful for the many good memories they made together.  
Jason, a 2008 Frazee High School graduate, said he'd be honored to keep the family tradition going when his parents are ready to retire. He would be the fourth generation to own the fabled farm.