Highway 87 set for hard closure
News | Published on June 24, 2021 at 6:29am EDT | Author: Chad Koenen
0
A hard closure is in effect on Highway 87 between County Road 31 and County Road 33/County Road 115 will occur.
There are two box culverts in the area being replaced. One box culvert is located east of County Road 31 (box 1), and the other is located just west of County Road 33/County Road 115 (box 2).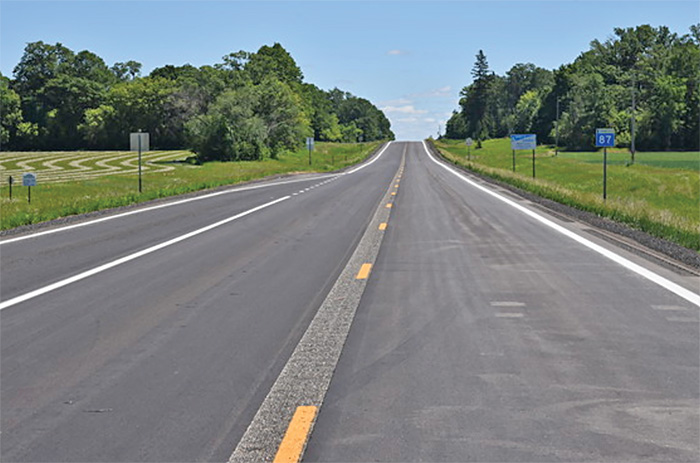 Crews will began work on replacing box 1 on June 21. Once that replacement is complete, crews will move to box 2.
Because the culverts are much larger than a typical entrance or centerline pipe, the road will need to close at the culvert locations. During both replacements, locals will need to use an alternate route around this section of Highway 87.
Each box is expected to take about one week to replace, so the road will be closed in this area for up to 2.5 weeks.
Please continue to watch the message boards that are set up along the work zone for any additional date changes. As with any construction project, schedules are subject to change due to roadway conditions, supply and equipment availability, weather, and other unforeseen factors.
At the same time, crews continue shoulder widening and other culvert replacements between Frazee and Evergreen. And Highway 87 also remains impassable at the Otter Tail River in Frazee, between North River Drive and Main Avenue East, for the bridge replacement.
Work zone
safety reminders
Highway 87 is an active work zone. If one does not have a destination along Highway 87, follow the detour or find an alternate route. Access is being maintained for residents and businesses, and flaggers are controlling traffic in areas where crews are working.
Obey traffic control. Flaggers are there to keep all safe. If there is a destination within the work zone, please tell the flaggers so they know to allow passage. However, in some cases one may be turned around when it's deemed unsafe. Local traffic should expect lane closures, periodic stops and delays.
Information for locals
For those that live in Frazee, Highway 87 can be accessed in front of the school up to North River Drive.
The barricades are up at CR 29/Birch Avenue to ensure thru-traffic follows the detour. The work zone begins after North River Drive.
Highway 87 is impassable at the Otter Tail River, between North River Drive and Main Avenue East. 
Mailbox relocations: for those living along live on Highway 87 between Frazee and Evergreen, mailboxes have been relocated.
Visit the project website to get a breakdown of where temporary mailboxes can be found. 
Completed work
All work between the Becker/Wadena County Line and Evergreen (Section 1) has been completed.
Upcoming schedule
• Continue shoulder widening in Section 2.
• Continue culvert replacements in Section 2.
• Replace box culvert/bridge at the Otter Tail River near Frazee.