Taste the newest trend at Lakes Corner Liquor
News | Published on June 24, 2021 at 6:21am EDT | Author: Chad Koenen
0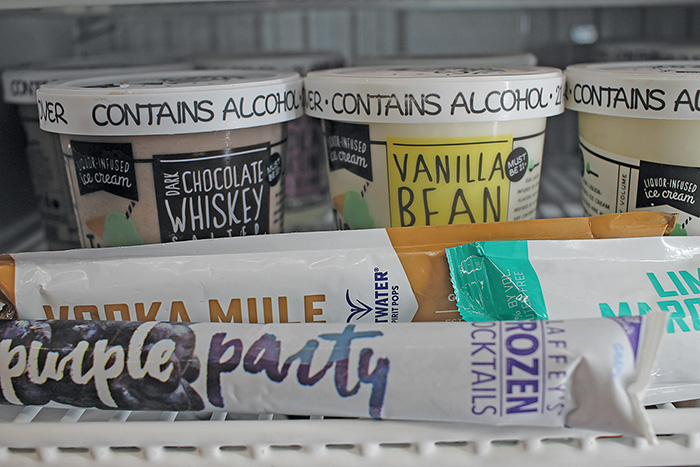 By Barbie Porter
Editor
Summer sizzles with sun, sandy beaches and plenty of grilling. What compliments all of the above? Stop into Lakes Corner Liquor and discover a unique offering of adult beverages and treats. 
Located at 18097 County Highway 29 (where the highway intersects State Highway 34), Lakes Corner Liquor is known for offering an eye-popping wide selection of craft beers. It is also known to drop jaws over the unique frozen cocktail pops and ice cream infused with liquor.
Owner Aaron Aslesen said when the adult beverage spin on freezie pops hit the market, he was in line to stock the store. With a good ear to the ground on what his customer base wants (and being open to requests), the gamble on the summer treat paid off big time.
"They are crazy popular," he said. "People come in, grab a box with some beer and head out to enjoy the day with a cool drink and a cold treat."  
Both the cocktail pops and ice cream infused with liquor come in a variety of flavors and are easily located in the store's frozen item isle.
For those that like to try out a new product on a smaller scale, Aslesen said the cocktail pops are sold in individual packets and packets of 12.
Another big hit of the season are the pre-mixed pouch drinks. There are many varieties of the perfectly pre-mixed drinks, including piña coladas, Bahama mamas, blue Hawaiians and more. All one does is place the pouch in the freezer (or cooler with ice) and wait. Once the mix feels slushy, it is ready to be opened and poured into a glass. There is also the option of having the mixed drink on the rocks, which means no freeze time needed.
Just as the staff at Lakes Corner Liquor keeps those who enjoy mixed drinks and cold treats happy, the beer connoisseurs will also have a reason to smile. The staple favorites can always be found, as well as many well-known and up-and-coming craft beers. Aslesen said the popular craft beers in early summer have been the seasonal flavors, ones that offer fruit accents or smooth cider twists.
Lakes Corner Liquor recently began carrying a newer craft beer that is based in Fargo, N.D.­­­— Wild Terra.
"There are only a few people that carry them, so we are happy to provide that rare find to our customers," Aslesen said.
The business is also well-known for its competitive pricing and pleasing specials.
"We are constantly changing the deals we offer all summer," Aslesen said. "We have a variety of specials every day of the week, but every day we offer everything we sell for a good price."
Lakes Corner Liquor opened in May 2010 with the goal of bringing value to local customers and convenience to tourists traveling the Highway 34 corridor into lakes country.
Aslesen said there was also priority given to work with local breweries to provide an outlet to sell their products.
"Promoting local has always been important," he said.
When Aslesen bought the building, it was vacant. He believes it was formally a real estate office at some point.
The location was prime because of the heavy traffic, proximity to Frazee and neighboring lake communities, as well as being located near a popular river tubing business. Aslesen knew the area well, after all, he grew up with family owning property along Height of Land Lake.
The building was renovated and products were stocked. Now, 10 years after the doors open the business has seen continued growth every year.
"Knock on wood that continues," he said, adding the continued support helped the business shift from pinching pennies to being able to afford expansions to better serve its customer base.
"We were able to install a bigger walk-in cooler, improve the store and the parking lot," he said. "We're constantly trying to make our customer's experience better, all while keeping prices down. I want people to find a value when they come to the store."
Lakes Corner Liquor also caters to big events, and will provide kegs and services.
They also offer discounts for military members, seniors and those who purchase in bulk.
Hours are Monday through Thursday from 10 a.m. to 10 p.m., Fridays from 9 a.m. to 10 p.m. and Sundays from 11 a.m. to 6 p.m.