Bachmann, Frohling to be honored by Relay for Life
Uncategorized | Published on July 5, 2021 at 12:56pm EDT | Author: Chad Koenen
0
Lola Bachmann and Courtney Frohling have been named as the 2021 Relay For Life Honorary Co-Chairs. Bachmann and Frohling will share their story of surviving cancer and wisdom gained from these experiences at the annual East Otter Tail County Relay For Life, which will begin on Friday in Perham.
The theme for this year's event is "Soaring Higher, Meeting Challenges, Bringing Hope."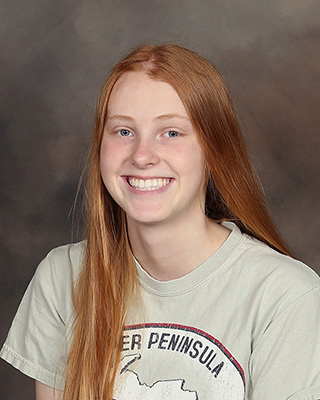 The East Otter Tail County Relay For Life is set for Friday, July 9 at the Perham High School track. Bachmann and Frohling will be leading the Survivors Lap at the 7 p.m. Opening Ceremony and will speak at the 9:15 p.m. Luminaria Ceremony.
Lola Bachmann
During her battle with cancer, Bachmann said she was lucky as she not only survived cancer, but she never really got sick. The surgery removed her cancer and that was all that was needed to treat her cancer.
"I was one of the lucky ones," said Bachmann.
She also believed she was lucky because her commitment to getting her yearly physical and screenings resulted in finding her cancer early, which meant it could be treated quickly and easily. 
Bachmann's cancer journey began in December 2012, when her yearly Pap smear came back abnormal. At the time, she was told it wasn't cancer, but something was there. As it turned out, she had cervical cancer.
"I wasn't worried. I had faith it would turn out well," she said. 
Bachmann had a hysterectomy in February of 2013, and she was told she would not need any further treatment. She returned to work earlier than expected and follow up appointments have shown no return of cancer.
"I've been lucky. I never felt sick—ever," she said.
Bachmann hopes to share with others about the support she received from her family, her strong faith and how they were key to her ability to feel hopefully and strong in the midst of her cancer experience.
"Faith gets you through," she said.  
Bachmann was a reportedly a bit reluctant to accept the honor of as honorary co-chair since she felt her cancer journey was "easy" and she was "one of the lucky ones," but her husband and sister-in-law (who is a former honorary co-chair) encouraged her to accept the honor for those reasons. Her experience with cancer can help to show others that there is hope amidst a cancer diagnosis.
"Have your check-ups, do the follow through and have faith," said Bachmann of her advice to others.
Courtney Frohling
In addition to Bachmann, Frohling will be recognized on Friday night as an honorary co-chair for the Relay For Life. Even as she battles Stage 4 Metastatic Melanoma, Frohling remains positive and calm as she navigates through her surgeries and treatments.
"I don't dwell on it," said the 17-year-old.
Frohling's cancer journey began in June 2019 when she was diagnoses with Stage 2 melanoma after she had a mole biopsy.
One mole was removed, then she had surgery to remove skin in a wider area and a biopsy of one lymph node to confirm that the cancer hadn't spread. All results came back negative, as was the case with skin checks done every three months thereafter.
Her second cancer experience has been anything but private and she is grateful for the widespread community support she's had through this. That experience began on February 12, 2021, when Frohling had a seizure. When she was in the emergency room, a CT scan of the brain was done, and it revealed several tumors in her brain—one bigger one and several smaller ones. 
The doctors looked at her earlier melanoma diagnosis and had no doubt that the cause of her tumors was melanoma. Had it not been for the seizure, Frohling may not have known she had melanoma.
"If it weren't for the seizure, we would never have known about them," she said.  
Some additional scans revealed more spots in the spleen, lungs, one hip bone, the brain and in two vertebrae. The doctors believe this cancer is fast-growing, and they felt the cancer in all those places developed within a month. 
The doctors removed the large tumor from the brain and treated the other tumors in the brain with radiation for two weeks. 
Frohling started two immunotherapy drugs to treat the cancer in the rest of her body. It kept the cancer from growing as fast as it was, but didn't stop the growth. Additional spots had developed on her brain, lungs and one rib. 
The doctors switched Frohling to chemotherapy drugs, which do targeted therapy and attack the receptors. Her recent brain scans show there is improvement with the new therapy, but doctors are unsure if the results are due to the radiation or the new therapy. 
Frohling hasn't had the other areas scanned yet to see if the new chemo is working in those areas.
"I feel good," said Frohling. "I hesitate to say that, because every time I think I'm feeling pretty good, I end up going to the hospital."
However, Frohling is meeting her challenges and doing so with bravery and peace. She takes her chemo pills every day and is feeling better on this medication than the previous ones. She hasn't been on them long enough to know if they're working, but she likes that they target a specific mutation throughout the entire body. She also likes that there's no hair loss predicted from this chemo, and she appreciates that she feels good.
Frohling said her family has been her biggest support and help during her cancer journey so far.
"Family. My family is my biggest support," she said. "I have really good doctors, especially Dr. Witt and Dr. Glawe here and Dr. Milanovich and the Roger Maris Pediatric Oncology team. The support of the local community, church people and Pastor Ratcliffe. Basically everyone."  
Her mother said "the support of this town is insane!" 
Frohling said that Jeff Morris began organizing fundraisers while she was still at the hospital, and her co-workers at The Nest have been supportive, not only taking her work shifts for her, but also organizing a fundraiser. 
Frohling said the decisions people make have a real affect on their bodies and melanoma is one of the most difficult cancer's to treat,
"Many people think skin cancer is no big deal. That tanning won't hurt you, but it will hurt you. Melanoma is one of the hardest cancers to treat," she said. "My doctors told me that my cancer will come back at some time, and melanoma mutates so fast that treatment that worked one week may not work the next week."