Ribbon cut for Chic Shed Junque Boutique
News | Published on July 5, 2021 at 1:36pm EDT | Author: Chad Koenen
0
Hand-dipped ice cream now available
By Barbie Porter
Editor
Seven months after Aleisa Jopp opened Chic Shed Junque Boutique in Frazee, a ribbon cutting ceremony was held.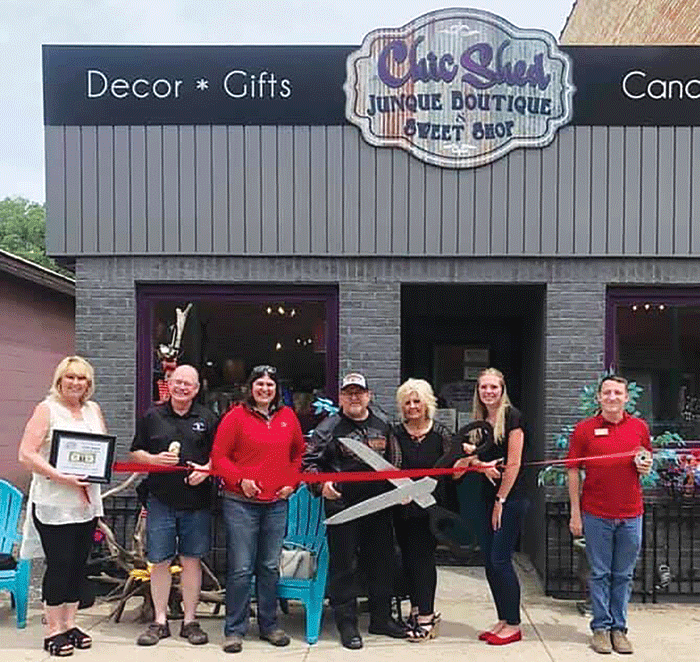 The Detroit Lakes Chamber of Commerce presented Jopp and her husband David with the official first framed $1 as well as the ribbon cutting event.
Jopp appreciated the kind recognition and having members of the city council, economic development authority, business community and more stopped in to wish her continued success.
Jopp said she hopes to be part of a welcoming committee for any new businesses that open in Frazee in the future.
The boutique, gift shop, candy store and ice cream parlor opened in December, just in time for Christmas, and saw solid sales.
"It was nice to see revenue coming in after all the renovations we did," she said.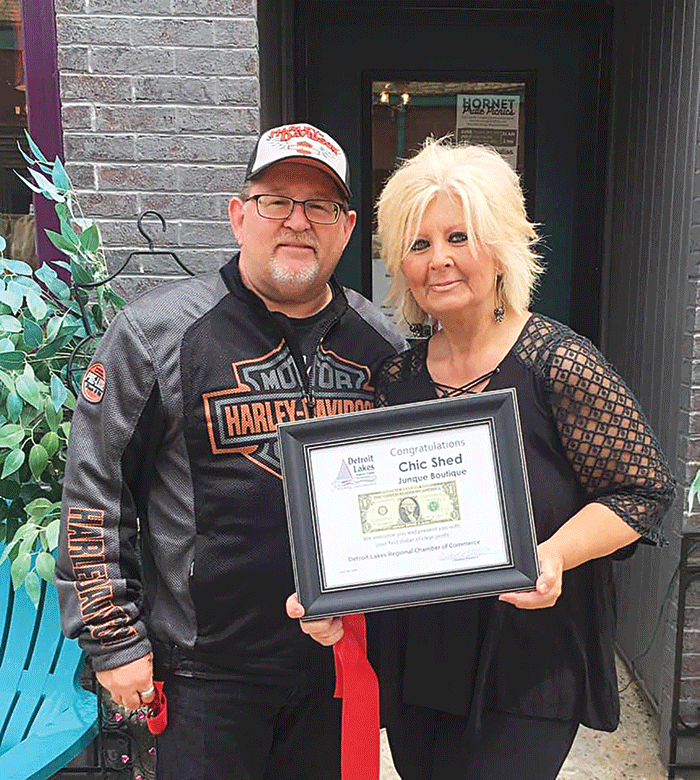 After the holidays, the sales quieted down, as she expected to happen in the winter months.
During those quieter months, Jopp was in a bit of a battle with state agencies. After installing all the necessary equipment to sell ice cream, she was informed the sink lacked a tray for her single ice cream scoop. That meant she needed to replace the sink, which meant bringing in a plumber once again. Jopp said finding professionals to make necessary changes was a challenge, as many had full schedules and were making up time from when no work was being done in the early days of the COVID-19 pandemic.
"It felt like a big battle with a lot of frustrations and tears shed," Jopp said. "I began to question if it was worth it."
Jopp persevered and as the warm months rolled in, the ice cream has become a big hit with her patrons.
"Word is spreading about our hand-dipped ice cream," she said. "I'm seeing some customers come in frequently, some even twice a day."
The ice cream freezer is consistently filled with six choices, providing all a variety of flavors.
"Lemon bar is by far the number one favorite," she said. "Carmel collision is second best."
For kids, bubble gum and the unicorn (which comes with miniature colored marshmallow accents) are top sellers.
"The store will be adding cookie ice cream sandwiches and featuring special ice creams as well," she said.
The ice cream can be served on a cone, regular or waffle or a waffle cup.
With ice cream being the big new draw, the staples of the old time candy shop still bring visitors in for a sweet treat.
Those that enjoy décor have also become frequent visitors at Chic Shed Junque Boutique. Jopp said the handmade pillows have been a popular item since they opened.
The new craze has been over the drift yard décor. The accents are created by a Frazee resident, and have been purchased for yard art, and some have the added use of being bird feeders or providing a bird bath as well.
"They keep selling like crazy," she said. "The home décor is also popular. I'm always bringing in new stuff."