Call for help was answered quickly
News | Published on July 12, 2021 at 6:24pm EDT | Author: Chad Koenen
0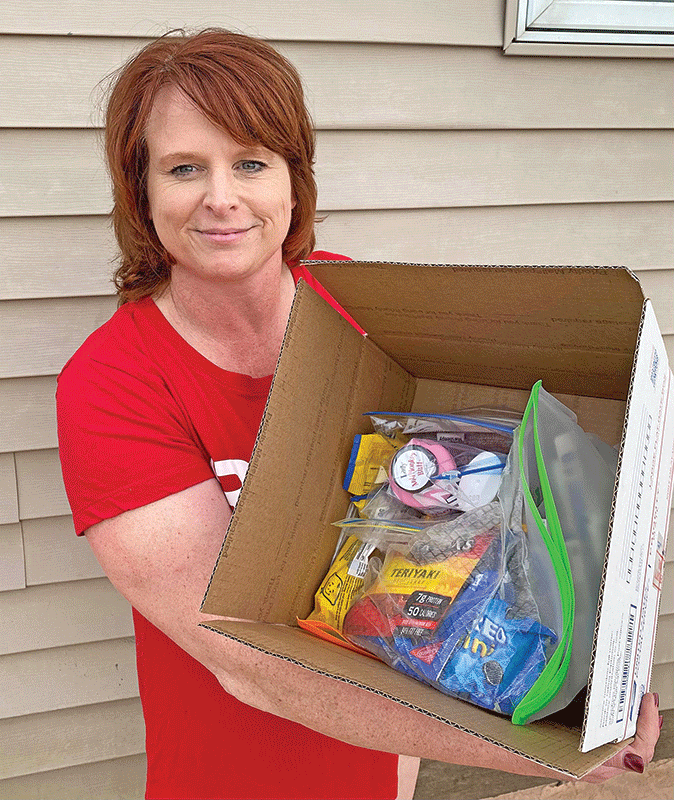 By Barbie Porter
Editor
Forty-two people and businesses in the area will be making a difference to troops currently deployed in the Middle East. Everyone is invited to add to the outgoing care packages at the annual Tyler Shipman Memorial Car Show on Saturday, July 24. From 10 a.m. to 3 p.m. A table will be set up for people to write a letter or draw a picture, which will be added to the boxes destine for Kuwait.
Learning about
giving by receiving
Growing up, Cassidy Shipman learned about the power of giving. She saw strangers give to her brother, Tyler. They rebuilt his beloved Fiero, simply because a 17-year-old battling terminal cancer deserved a legacy. The crew thought the legacy was the Fiero they rebuilt. Tyler said he wanted to leave it to his brother, Carter.
Instead, the giving inspired an annual car show that has a unique legacy. Like all car shows, it brings car aficionados together to savor the aerodynamic curves of sporty two-doors and appreciate the dignified classics. It also brings many Pontiac lovers to town, as the crown jewel is the rebuilt Shipman Fiero (along with the many other modified Fieros). Another legacy for the Tyler Shipman Memorial Car Show is how the family uses the show to promote community-minded mentality and generosity. 
The family has donated thousands of dollars in scholarships for Frazee High School graduates and also started a #PayItForwardForTyler project. The project aims to encourage people to do good deeds. The latest mission they have taken on has to do with sending care packages to deployed soldiers, with the help of generous donors.
Daneele said the idea for care packages for troops came to fruition as their daughter Cassidy deployed. The Shipmans made a social media post of their intention to send care packages to soldiers in Cassidy's unit—28 soldiers total. The items on the list quickly were crossed out.
"We put a list on Amazon and the first day we put up the list, mid-day, I had to put more on the list," Daneele said. "That night I talked to Cassie and asked for suggestions of other items soldiers might need or enjoy."
Those suggestions were jotted down and added to the list. Just as quickly, the wish list was fulfilled.
Daneele then put out a challenge, asking others to sponsor a soldier and buy them a liquid used to give water flavor.
"That lasted less than three hours," Daneele said. "Now that they were full of snacks, caffeinated and ready to go, they were pretty stinky."
A request of a $10 donation went out for each soldier. The funds would purchase deodorant, body powder, wipes and other hygienic items.
"That challenge lasted just hours," Daneele said. "Then people started messaging me to ask to donate and help in other ways. I was blown away. I couldn't believe how easy this was."
The care package now includes:
• A "keep a soldier fresh kit" of gum, deodorizers and so forth.
• A "fix a soldier up kit" of thread, needles, blister bandages and so forth.
• A "its hot as hell in the desert kit" made of energy drinks, water flavor enhancers, sunscreen and more.
• A "hangry soldier kit" consisting of many snacks.
• A "keep smiling solider" kit made up of dental care items, cards, items to write letters and more.
Shipman said many of those generous donations came from residents and businesses in the local area. The next hurdle was boxing up the care packages and tallying up the shipping costs.
"I thought finding sponsors for shipping would be huge hurdle," Daneele said. "Friends who live in the Cities and come down every year (for the car show) offered to pay for shipping every single box."
With each box there will also be a list of all the names of the donors, so each soldier can see how many people support them.
Daneele said her daughter was deployed for a full year, and if all goes according to plan she should return to her hometown a few days after her 21st birthday in March, 2022.
The last time Daneele talked with her daughter, Cassidy informed her there were an additional four members in the same base area that were not in her platoon.
"So, I am now looking for four additional boxes to get donations for," Daneele said. "We plan to send them out right after the car show."