FHS grad becomes flying limo driver
News | Published on July 12, 2021 at 6:08pm EDT | Author: Chad Koenen
0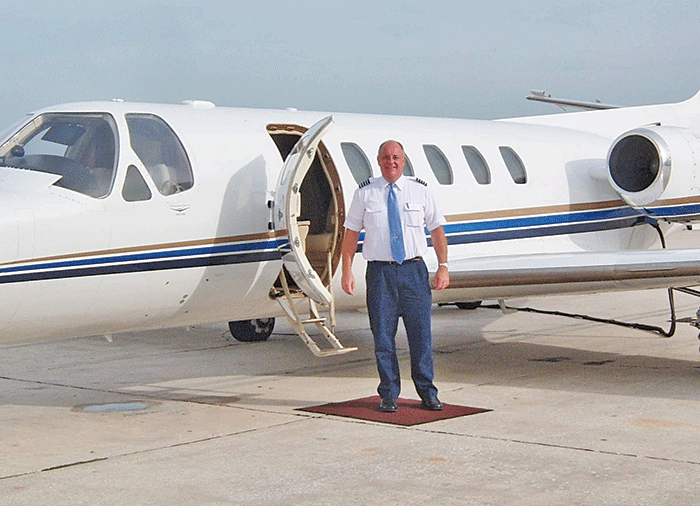 Where are they now feature: 1980 FHS grad shares his life in the sky
By Barbie Porter
Editor
Steve Shannon's dream came with wings. After years of working through regulations and classifications, his dream has given him a life he never imagined.
The 1979 Frazee High School graduate is a jet pilot and he said the business is flourishing. The company he works for is based in New York. He explained the jets don't return to the corporate base until maintenance is needed. So, if he is flying from New York to Florida, the plane is left in Florida until another flight is booked from there.
"When I go to work I have no idea where I'm going until the day before," he said, noting the lifestyle is not suitable for everyone, but he enjoys visiting different cities and staying in hotels for weeks on end.
Shannon said his wife Lynnee (Engle, a 1980 Frazee High School graduate) is understanding and accepting of his jet-setting lifestyle.
His travels have taken him all over North America, the Caribbean and Central America, where perhaps his most memorable landing happened. Shannon recalled, as his flight was inbound, a section of road was closed down and cleared. Trucks blocked the road and he touched down as if the street were a runway. After the passengers disembark, Shannon took to the air and watched the trucks move and the runway once again become a road.
While such instances are most certainly the exception and not the rule, Shannon can't fathom what life would be like without flying.
"I've been flying 30 years now, and I will keep going as long as I'm able," he said.
Pilot dreams
take off in the bush
The son of Terry and Jean Shannon grew up in Frazee. The 1980 Frazee High School graduate said his father purchased a fishing resort in Canada, which altered his career path.
Shannon was earning a degree in business administration and marketing and spent his summers working at a resort where visitors were often flown to outposts by bush pilots. It was there that the love for aviation flew into his heart.
"I realized people are paid to fly airplanes, other than commercial flights," he said.
Shannon had found his career-of-choice, but there was a high price to pay for this dream.
"I didn't go to college or a program," he said. "I went to private flight schools; hired flight instructors to get my ratings. By the time I had my first flying job I owed everyone I'd ever met."
Shannon's first job was flying into the bush, or remote areas up North. There, he performed landings on lakes and planes outfitted with skis.
With more time in the air, Shannon's ratings increased. Ratings determine what craft a pilot can fly, as well as if it is for commercial or private purposes. Shannon said it starts with a pilot rating, then commercial rating and then instrumental rating. He said instrumental ratings allow pilots to fly at a high enough altitude the plane can pass through clouds.
"When you fly in clouds you need to understand the instruments to know if you are straight and level," he said. "In the clouds all you see is a milky white with no horizon. The different G-forces on the inner ear may tell your body you are at a 45 degree angle; but then the instruments tell you that you are level."
After earning an instruments rating, there are additional steps for multiple engines, airline transport for guests and more. Each rating has a minimum flight hour requirement. Then there are additional requirements depending on the pounds of the aircraft. If that weren't enough of a ladder to climb, pilots also have to find an insurance agent willing to insure them.
"Had someone said, this is all you will need to do, I wouldn't have done it," he said. "But, once I got into it, failure wasn't an option."
Now, Shannon is a jet pilot.
"I think the best way to describe my job is, commercial airline pilots are the taxis of the sky, where I'm a limo driver," he said.
Shannon said when he reached the point in his career where he could apply to airlines, he spoke with friends in the industry.
"Many hated their jobs," he said. "It wasn't something they enjoyed, but tolerated. They spent their day dealing with people that were not that happy, and that created an unhappiness in the workplace. Smiles are contagious, and frowns are, too."
He said with the corporate or private jobs, the people are happy to be there. Plus, as a private plane pilot, he is given the opportunity to have friendly contact with his passengers. On one occasion he was assigned to fly former First Lady Laura Bush from San Antonio, Texas to Dallas, Texas.
"I was able to take a picture with her, and she was gracious and nice," he said. "I don't have the ability to stop myself when I think of something funny."
As the last secret service agent climbed aboard, Shannon said, "I assume because you're taking this flight that it is safe to say I passed the background test. He said yes, and I replied, 'Well that is 20 years of rebel rousing down the toilet.'"