Gunda Gilbertson, 86
Uncategorized | Published on July 12, 2021 at 5:54pm EDT | Author: Chad Koenen
0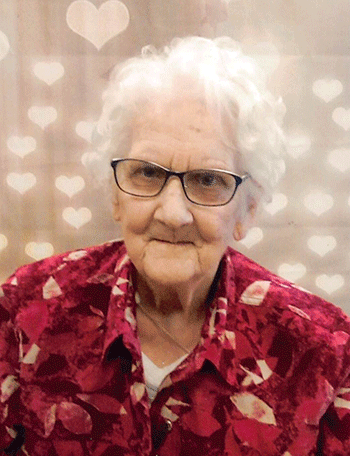 Gunda H. Gilbertson, 86, Detroit Lakes, MN, died Sunday, July 4 at Essentia Oak Crossing in Detroit Lakes. Funeral services will be 2:00 pm Sunday, July 11 at Trinity Lutheran Church in Detroit Lakes, Pastor Jillene Gallatin, officiating. Interment will be in Immanuel Lutheran Cemetery, near Shell Lake, rural Osage on July 12. Friends may call 1 hour prior to the service at the church on Sunday.
Gunda Helene Gilbertson was born November 22, 1934 in Bagley, MN to George and Esther (Hansen) Rud. She is a 1952 graduate of Bagley High School. She took her Normal School training in Grand Forks, ND and later earned her teaching degree from Moorhead State Teachers College. Gunda began teaching in Frazee, MN in 1954. She originally taught in 1 room schoolhouses. She taught elementary school in Frazee until her retirement in 1993. 
Gunda and Vernon Gilbertson were united in marriage on June 18, 1955 in Shelby, Montana. They had 4 children: Greg Gilbertson of Detroit Lakes, Vernette Gilbertson of Wolf Lake, MN, Stacie (David) Zinniel of Park Rapids, and Aaron (Jen) Gilbertson of Duluth. Vernon died January 16, 1992. Deb (Bratlien) Gilbertson was Gunda's daughter in every way that counted.
Gunda loved her 7 grandchildren and 3 great grandchildren dearly. Grandchildren Jenna (Terry) Gilbertson Steiner, Katie Gilbertson, Brent (Samie) Gilbertson, Jacob Zinniel, Isaac Zinniel, Vivian Gilbertson, and Lucy Gilbertson. Great grandchildren Brinlee and Tate Gilbertson and Harrison Steiner.
Gunda loved her family, quilting, the color yellow, baking, and collecting Santa Clauses. She was an active member of Trinity Lutheran Church in Detroit Lakes.
Gunda was preceded in death by her husband, Vernon, her brother Jennings Rud and sister Helen (Gene) Manning of Fergus Falls, her dear friend, Don Undlin and honorary son-in-law, Randy Aho.
Gunda is survived by her sister, Gayle (Jim) Amundson, her children, grandchildren, and great grandchildren.
In lieu of flowers, please send memorials to Trinity Lutheran Church in Detroit Lakes or the American Cancer Society. Gunda would also encourage you to do something to brighten someone's day in a simple way. A hug, visit, or a gift of cookies were her favorite ways to brighten the day of those around her. West-Kjos Funeral Home is serving the family.