Perham gym owner, first championship
News | Published on July 12, 2021 at 6:19pm EDT | Author: Chad Koenen
0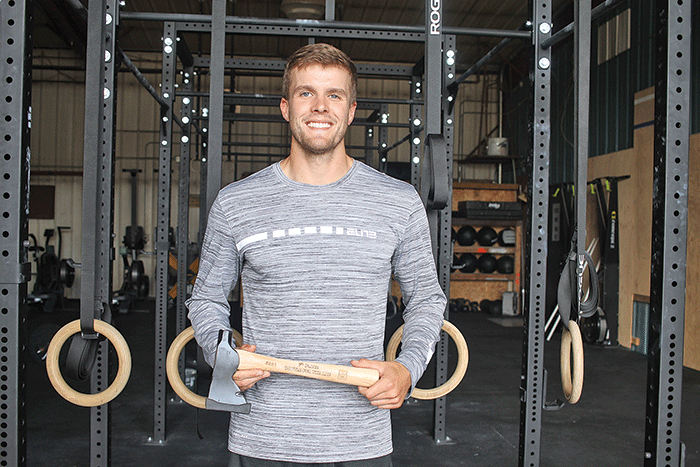 'The Battle for the Ax' CrossFit  competition was held in Brainerd
By Barbie Porter
Editor
CrossFit Teho/Perham Fitness is making a name for itself on the competition circuit.
The business opened in 2021 and has already seen a championship title brought back to the gym by Peter Marjamaa and Kaleb Thalmann.
Marjamaa, a Detroit Lakes resident, owns the gym with Becky Larson. Thalmann, a Henning resident, works at the gym as a personal trainer.
The Battle for the Ax CrossFit competition in Brainerd, Minn. was Thalmann's first-ever. However, he'd been training for about 21/2 years for that day.
Thalmann, 25, is well-known in his community for being athletic minded. The 2014 Henning High School graduate participated in football, basketball and golf. When he tackled college, the son of Rod and Sharon Thalmann, focused on exercise science. While still in the athletic field, he said his competitive spirit had grown hungry. That is when he got involved with CrossFit.
CrossFit Games have athletes compete in a series of challenges, usually unknown to the competitor, until right before the event begins.
Thalmann found the variety of events and skills needed to be a perfect fit for the competitive nature he sought.
"I enjoy the aspects of cardio, endurance, jumping, pulling, running…," he said.
Thalmann met Marjamaa at a gym in Perham. The two worked out together and created a routine that helped push each other to achieve personal athletic goals. 
Marjamaa had stepped into the CrossFit ring a few times, and shared stories from events with his new friend. He also shared his dream of opening a gym that is geared toward CrossFit training. As interest in the sport grew, along with the idea of members having daily contact with personal trainers, he decided it was time to step into business ownership.
"I found tons of support in Perham from the community and other businesses," he said. 
The gym opened in January, as COVID-19 related restrictions were lifting. He saw many area residents interested in getting back into a healthy exercise routine, and membership has continued on the upward trajectory, with men, women and kids all joining.
Having a gym open at all times also presented Marjamaa and Thalmann with the opportunity to continue their journey into CrossFit as teammates.
Thalmann explained there are a variety of teams allowed at CrossFit events, from two men, two women or mixed.
When the big day arrived, the men said they felt prepared for the rigorous day of athleticism that lay ahead and began examining their competition. In Brainerd, there were 30 total competitors. Thalmann explained each team was placed in a divisions.
"There was a wide age range," Thalmann said. "One was pushing 48 and the youngest was in the mid 20s."
He and Marjamaa were in the most experienced division, which consisted of eight people.
While the men may not have known what the events entail that they would be called to do entailed, Marjamaa said from his past competitions they had a good understanding of what muscle groups needed to be prepared.
"For me, preparation is fun; I enjoy training all the time," he said, adding he looks at it like practice. When competition time rolls around, he gets to showcase all the hard work he put in during practice.
Both agreed the toughest event had to do with a log. The men had to carry a 100-pound log on their shoulders, run to a station where the log was put down and a different aspect of exercise was required. Then, the log went back on the shoulder for another jaunt on outdoor terrain.
"We are planning to do more competitions," Marjamaa said, noting this was also his first championship title.
CrossFit in Perham is located at 645 3rd Ave. SE.