Double the fun comes to Turkey Days
News | Published on July 22, 2021 at 1:56pm EDT | Author: Chad Koenen
0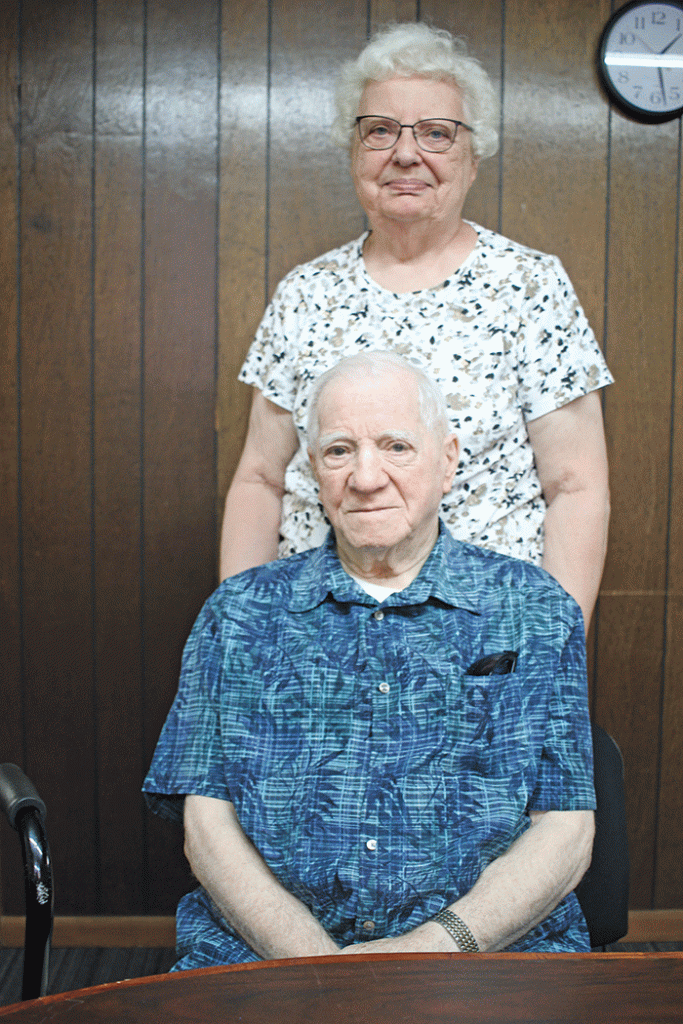 Themed parades, live music and good eats
By Barbie Porter
Editor
The Frazee Area Community Club announced that Leonard and Doreen Schrandt were recognized as Grand Marshals of Turkey Days.
The event motto is "Double the Fun in '21," and to stay true to that concept the committee is also recognizing Joan Maertz at a Grand Marshal.
Leonard and Doreen Schrandt 
The Schrandts have spent most of their lives as Frazee residents, business owners and volunteers.
Leonard, the son of Herman Schrandt and Veronica Boltz Scharndt, spent the first nine years of his life in Ponsford. When his father passed away in a fire, he relocated to Frazee with his family.
When asked if he ever considered moving to a large community, Leonard said, "There is no use for the big city for me. I like it in Frazee."
His bride-to-be (Doreen, the daughter of Herman and Veronica Scharndt) arrived in Frazee in 1952.
"We lived in North Dakota but migrated to Frazee because my dad loved to fish," Doreen said. 
Leonard, a 1953 Frazee High School (FHS) graduate, and Doreen, a 1959 FHS grad, met at a restaurant. The two worked at competing diners, but noted there was nothing but support for both businesses and friendly competition between them. After becoming good friends, love followed and the two married in June 1960. The two began a family and have two daughters: Kathleen, a 1979 FHS grad, and Mary, a 1983 FHS grad.
Leonard's step-dad opened the Schrandts Hart Store, which he explained offered groceries and other necessities. The store was on Main Avenue between where the newspaper office and bowling alley are currently located.
"They owned it more than 25 years," Doreen recalled, noting when her in-laws were ready to retire she and her husband took over the family business and ran it for 46 years. Both the Schrandts said they loved being a business owner in Frazee, and selling groceries, as they saw many residents from town and nearby rural areas.
"We met a lot of wonderful people," Doreen said. "Our customers were very loyal and nice."
The couple decided it was time to retire, and closed the store. A year later a fire at the bowling alley destroyed the building. The owners of the bowling alley offered to buy the property, so the bowling alley could be expanded when it was rebuilt after the fire.
In addition to being business owners, the Schrandts were active in club life. Leonard is a lifelong member of the VFW (Doreen of the auxiliary), he was on the fire department, in Frazee Lions Club, both were members of the Frazee Area Community Club and Burlington Club 4-H. They also have been active members of their church, Sacred Heart Catholic Church in Frazee.
Outside of work and community service, Doreen said one of her most enjoyable experiences was welcoming exchange students to their home.
"They were all from Japan," she said. "They were all good experiences and the best gift I could've ever given my children. They learned about a different culture and created lifelong friendships."
The Schrandts said the life in Frazee has been a "full, fun and good journey" and they look forward to riding in the annual Turkey Days parade on Sunday, July 25.
Joan Maertz
Joan graduated from FHS in 1966 and headed to North Dakota State University. She found herself in the position of being a broke college student when her friend suggested she consider a career as a stewardess.
"They were very strict back then (as to who would be considered for the job)," she said. "They had a certain look, you couldn't have kids or glasses."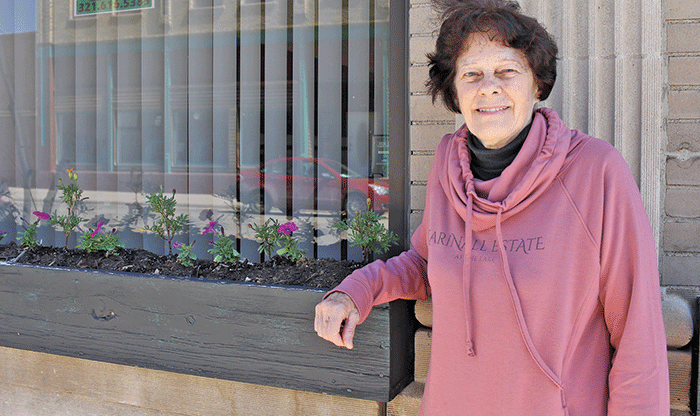 "I went to just listen and learn about what was happening, and then they said since you're hear why don't you join the board."

– Joan Maertz on how she got involved with the Frazee Area Community Club

---
Joan fit the profile and accepted the job offer. She moved to Minneapolis, where the airline had its base.
During her career she worked for four different airlines that through mergers eventually became Delta Airlines.
Joan returned to her hometown after retiring from 50 years of flying the friendly skies.
"I did a lot of traveling and am not interested in getting on an airplane again," she said. "I like sleeping in my own bed and eating my own food."
The reason she returned to Frazee was because much of her family still resides in the area.
"I moved back about five years ago," she said. "I enjoy spending time with them."
She also dove into doing what she could to make her community a better place. Joan is often seen around downtown watering flowers and plants, cutting weeds or picking up litter. She is also an active member on the community club. 
She said the group meets monthly and all who attend will be welcomed, appreciated and their voices are heard.
The daughter of Ralph and Mel Trieglaff said her earliest memory of Turkey Days had to do with the "wonderful parade."
"My mom was also in charge of the junior king and queen pageant," she said. "I remember helping them with that because they were very active in the community."
While Joan looks forward to joining the parade, which hasn't lost any of its fun appeal, she may be caught daydreaming in line at the salad luncheon. She recalled, when she was a child, she waited by her parent's side in a line that seemed to stretch on and had the power to make time almost stop.
"As a kid, a line might appear longer than it is," she said, adding the wait was always worth it though when her eyes set on the many delicious salads she could eat.
Favorite events of Turkey Days may change in time as a person grows older. Now, as an adult, Joan said she has found a great deal of interest in the flower show.
"I love flowers," she said, adding she may enter in the show one year. "I enjoy learning about plants and how to care for them. My older sister taught me about many plants."