Halls bond over 1967 Chevelle rebuild
News | Published on July 22, 2021 at 12:39pm EDT | Author: Chad Koenen
0
Family known at car shows for classic rides
By Barbie Porter
Editor
Automobiles have a variety of fans. There are those that love the engines, the bodies or the modifications. Then there are car aficionados like the Halls.
The Rochert residents took their love for automobiles and made it into a bonding experience for the family.
Jon Hall has always enjoyed Chevrolets. When his son Craig was 10-years-old, Jon decided to find a 1967 Chevelle, just like the one he used to own when he married the love of his life.
Their search led them to Mahnomen. They found a Chevelle whose best years appeared to be behind it. But, that is not what Jon saw. He knew with every twist of the wrench and hour spent under the hood, there was an opportunity to spend time with his son.
Craig recalled how as soon as the Chevelle SS was brought home to their garage the two began ripping it apart, everything from the body to the big block 396.
"We've seen every bolt in that vehicle," Jon said.
"Every piece came apart and was sandblasted and repaired," Criag added.
When John took on the project to restore the classic with his son, he was not a mechanic. However, through the "school of hard knocks" he said he learned a lot about vehicles. Along the way mistakes were made and the two learned many lessons about vehicle repair.
"The most challenging was the body work," Craig recalled, noting the undercarriage had rusted from spending years idle in a dirt field.
The two removed all of the rusted pieces and welded new metal to the frame to ensure the repaired vehicle would have longevity. Many of the replacement parts were either found in junkyards, private dealers or through companies that made replica pieces. Whenever original parts were found, the Halls put on the miles to bring them home and restore them. They traveled as far as Pennsylvania to pick up a Muncie transmission. Each part purchased was earned from hours working in the summer or at odd jobs Craig found.
"Most of what I made went into the car," he recalled. "It is not a cheap hobby."
The two completed their project just as Craig was getting ready to go to prom during his senior year of high school. Coincidently, his son Jack, who recently graduated from high school, also took the gray 1967 Chevelle SS to his prom.
Craig said those years spent working on his car with his father created many memories and played a big part in his career choice. He went to an engineering school and shifted into a career as a distribution sales manager for manufacturing companies.
"I learned how distribution all worked in my dad's garage," he said.
The fun enjoying classic cars didn't end when Craig's dream vehicle was completed. Jon also owns a 1988 Monte Carlo and a 1973 Chevelle SS with about 82,000 miles. Both vehicles he ordered brand new from a Chevy dealership in Detroit Lakes.
"That (1973) was the end years of the muscle car," Craig said. "His we used as a grocery getter, but there were only 100 or so made in 1973. His car is more rare."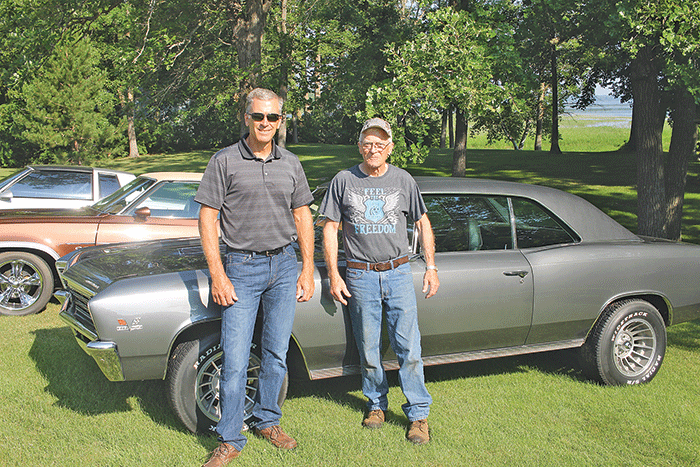 While there are no rebuild projects on the docket for the Halls, they still bond over their classic rides as they enter in car shows. They attend shows depending on weather and timing, but often are found at Turkey Days, the Water Carnival, Barnseville and Staples. Both have plenty of trophies from car shows, but the men said they enjoy the time they spend at the shows talking about their cars, the memories it holds and hearing stories from other gearheads.
To see the Hall's classic cars, visit the Tyler Shipman Memorial Car Show Who on Saturday, July 24. The event starts at 10 a.m. and goes until 3 p.m. The Halls said there is a good chance they will be there.