Generous donations made to support care center resident
News | Published on July 26, 2021 at 9:12pm EDT | Author: Chad Koenen
0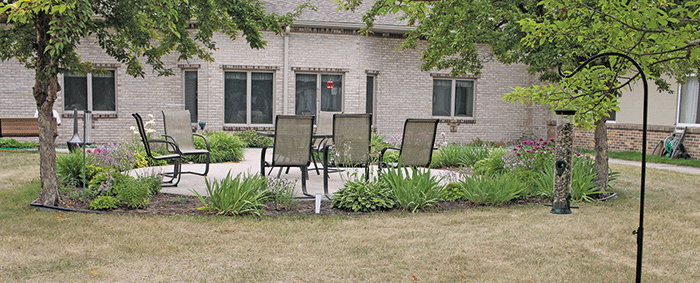 Memorial garden now has globe, bird feeders and more
By Barbie Porter
Editor
The kindness and generosity of those living in the Frazee area has inspired Roger Harmer and impressed Susie Macho.
The two received donations of personal time, equipment and supplies to help improve the flower garden and courtyard located behind the Frazee Care Center.
The generosity followed after the two Frazee Assisted Living residents were featured in an article of the Frazee-Vergas Forum in late June. The story shared how Harmer revitalized a courtyard surrounded by flower beds that was installed as a memorial to Velma Wirth. Wirth was a former employee of the care center and also resided there during her golden years.
The flower beds had been invaded by weeds, so he began plucking away every day. The beautification project drew other residents outside, some to help Harmer and others to enjoy the courtyard.
In the article, Harmer mentioned how he'd like to clear shrubs that had overgrown, and some died, near the building. He was also hoping to add bird feeders and a rain gauge to the courtyard.
Harmer's wishes came true.
"Dawn Eckert came and said, 'I thought you could use a hummingbird feeder,'" he said, adding she also donated gauges to tell the temperature and amount of rain.
The courtyard also received a donation of a decorative globe, Shepard's hooks, bird feeders and seed, some from known sources, others anonymous.
Macho said the two went to see a musician one afternoon and when they returned there was a gift waiting for them.
"When we came back we were told a lady had dropped off a quality bird feeder, a hook, birdseed and a water gauge," she said. "There was also a note that said, 'Because you are you.'"
"Keith Adams also donated his personal time and equipment to take out those dead and nasty hedges," Harmer added, noting when the hedges were removed by the 1900s tractor they found chips of granite. "There was also sedum (a large flowering plant)."
Harmer transplanted sedum to fill in the areas left bare when the dead bushes that were removed.
The kindness, assistance and generous donations kept rolling in, and Harmer was quick to put the items in the memorial garden and continue working to beautifying the courtyard.
"We're starting to get birds now," Macho said. "They are finally coming in and eating like crazy."
Harmer said the support was great encouragement to continue working on the courtyard. Macho, who said she did not grow up in the Frazee area, said she now understands why the city keeps a special place in the hearts of those who have ever called it home.