Haarstick named Looney Days grand marshal
News | Published on July 26, 2021 at 9:28pm EDT | Author: Chad Koenen
0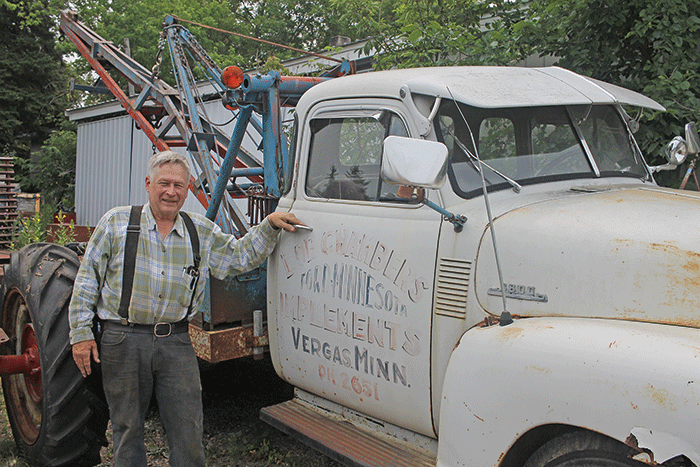 By Barbie Porter
Editor
Dean Haarstick has worn many hats for the benefit of the Vergas community. The businessman celebrating 50 years in Vergas has served on the volunteer fire department, rescue squad, city council, as mayor and several community organizations. Now, he has accepted the duties of being grand marshal of Looney Days.
"I was surprised when they called and told me I was picked for grand marshal," Haarstick said. "I didn't expect that."
The honor is quite fitting for those who have met Haarstick. He is welcoming, kind and quick to offer a joke or handshake to anyone living in or visiting Vergas. Haarstick shared chatting with people is one of his favorite unofficial events of the annual city-wide celebration schedule for Aug. 13-15.
"Everyone gets excited to join in the events and to see people all around town," he said, adding those impromptu conversations often update him on the lives of familiar faces or give him insight on what encouraged visitors to jump in the car and go for a countryside drive to his picturesque community.
"There are many people I meet that start as guests of the town and become friends," he said.
As grand marshal Haarstick will continue chatting with people, attending events and is looking forward to being in the Looney Days parade, which will be held Sunday, Aug. 15 at 2 p.m. (A full list of events will be in an upcoming issue of the newspaper.)
"I always enjoy the parade," he said. "There are so many fun, unique floats."
He added there are many businesses, organizations and individuals who put a lot of work into creating a float to fit the theme and decorating it. With a smile, Haarstick recalled several floats from Vergas State Bank that brought laughter from him and the crowd.
"There are many who take a simple theme and make it fun," he said.
This year's theme for Looney Days is, "In a world where you can be anything, be looney."
Haarstick has been in the parade. He represented the fire department, rescue, church and Scouts. Haarstick was the Scoutmaster for the Vergas Boy Scout troop from about 2000 to 2016. He said the parade marches were all fun experiences, and he looks forward to being in it again. He recalled his favorite marches to date in the Looney Days parade were with the Scouts.
"They were always excited to be in the parade," he said. "They were given flags and you could see their chests puff out when they carried one. We'd march with the VFW and you could just see how proud those boys were."
He also enjoyed volunteering to put on the big event. While he was up for any task, Haarstick said he was often assigned to the clean-up duty.
"I try to assist where ever I go," he said. "Teamwork is important."
Haarstick thanked all that volunteer, encouraged anyone interested in helping with an event or hosting one to go for it, and said he looks forward to providing a welcoming wave to all the visitors.
Grand marshal
celebrates 50
years in business
The 1968 Pelican Rapids High School graduate furthered his education in mechanical engineering at North Dakota State University. He graduated and found a job fixing tractors, cars and other machines at an implement store in Vergas.
When the owner died suddenly, Haarstick decided to purchase the business. In the summer of 1971 he opened Vergas Ford. Haarstick said a one-ton wrecker from 1953 has been with him since day one, and is still running and helping him lift tractor parts, weighing upwards of 3,000 pounds, for repairs.
During a lakes area gathering he found his true love. Haarstick married his wife Karen in 1986. They have one son, Paul.