Katelyn Mack crowned Miss Frazee 2021
News | Published on July 26, 2021 at 9:26pm EDT | Author: Chad Koenen
0
Wallin named Miss Frazee's Outstanding  Teen
By Barbie Porter
Editor
People filed into the Frazee High School auditorium on Saturday, July 24 to cheer on the young ladies vying for the royalty titles and a chance to represent a community they love.
After an impressive performances by all three Miss Frazee candidates, Katelyn Mack was crowned. The 18-year-old daughter of Ron and Missy Mack is a college freshman at the University of Minnesota, Crookston.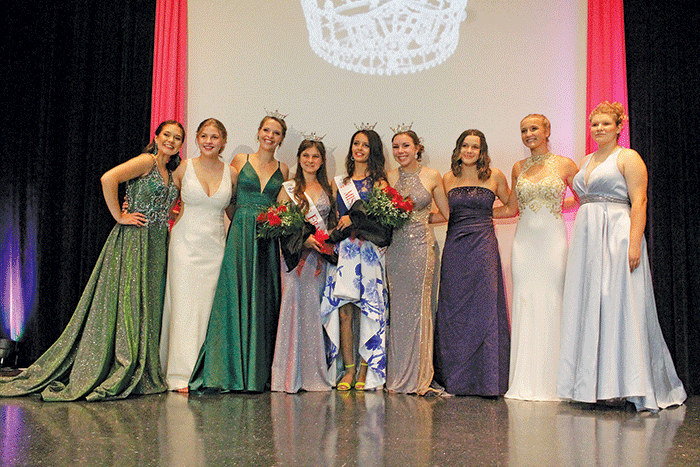 Taking the title of Miss Frazee's Outstanding Teen was Annalynn Wallin. She is a freshman at Frazee High School and the daughter of Sarah and Jeremiah Prellwitz. 
Three compete for
title of Miss Frazee
The names of the Miss Frazee candidates may have been familiar from past pageant experiences or because they are an active member of the school and community. The ladies: Mack, Lori Glander and Kathryn Wilkowski all entered the pageant with hopes of making a social impact with the opportunities the crown affords.
Mack's social impact is called, "Awareness for Youth in Agriculture: Advocating for a Better Future." When asked about her platform, she explained that agriculture is the backbone of the U.S. economy, and more youth needed to get involved with ag programs and opportunities to ensure a steady stream of next-generation farmers.
Glander's platform was titled, "Small Town Tutoring." The 19-year-old daughter of Scott and Ann Glander explained her social impact is about improving reading skills in the youth. She said if given the chance to further her platform she would explain tutoring opportunities to parents, and if allowed to help a child she would reward them to encourage reading.
Wilkowski's social impact is "Uniquely You." The 17-year-old daughter of Michelle and Steve Wilkowski explained that she is on a mission to improve the self confidence of youth in the community. To achieve her goal she would work with school counselors, and raise money to provide therapy to children who may need additional outside help. She noted low self esteem impacts all aspects of life.
The queen candidates took the stage for the talent competition, which counted for 40 percent of the overall score.
Mack took the stage and showed her immense talent in dance. Her performance, titled, Dangerous, was the first dance she choreographed solo as well as picked the music.
Glander, a sophomore at the University of Minnesota Duluth, performed a song, "Goodbye Yellow Brick Road." The iconic Elton John song was a crowd pleaser. Before singing the first note, it was shared the song was chosen as an homage to her parents who shared their love for music with her.
Wilkowski shared a poem she wrote:
"I have a dream just like any other young boy and girl
My dreams have changed.
When I was younger,
I dreamt of being a mom
And then I wanted to be a teacher
And then I wanted to own as many cats as humanly possible. 
And as valid as every young dream is, those were just mine.
And as I got older, I realized I needed to dream even bigger.
I have a dream that young girls no longer feel the need to starve themselves in order to feel pretty.
I have a dream that young boys no longer internally suffer because they are too afraid to cry.
I have a dream that young queer kids are no longer unsuccessful because of who they love.
I have a dream that every teenager is loved throughout every stage that they would possible go through.
I have a dream that every teenager is inexplicably themselves.
Luckily for me, I learned at a very young age dreams can come true.
At the young age of 17, I will do everything in my power that mine eventually do."
While all the ladies showed amazing talent, only one could win the talent competition. That distinction went to Mack.
Several more awards were given to contestants, including:
• Miss Congeniality, which went to Glander.
• The American Freedom Essay Award, a $400 scholarship from the Frazee-Vergas VFW, went to Mack.
• Community Services Essay Award came with a $500 scholarship and went to Mack.
• The Family ties essay Award came with an $800 scholarship and was awarded to Mack.
• The independent Woman Essay Award, and $400 scholarship, went to Wilkowski.
• The impact essay award and a $250 scholarship went to Wilkowski.
• The Academic Award, given by the Frazee AmVets, came with a $150 scholarship and went to Mack.
• The People's Choice Award went to Mack.
• The evening gown award went to Wilkowski.
Four compete for
Miss Frazee's
Outstanding Teen
The teen pageant welcomed four contenders to the stage: Wallin, Zoey Rousu, Linsey Marks and Kodian Schermerhorn. All contestants earned a $100 scholarship before the first title was given to Rousu for being Miss Congeniality, which came with a cash prize.
When the teens took the stage for the talent portion, they kept the crowd entertained and were competing for a $100 scholarship.
Wallin's talent was a dance. The 14-year-old has taken dance instruction for 10 years at the studio in Frazee. She is also an intern teaching youth this past summer. Her dance was a peppy performance to "Diamonds are a Girls Best Friend."
Rousu performed a jazz dance. The 13-year-old daughter of Jake and Megan Rousu has been training in dance since she was 2-years old. The Northern Lights Dance Academy student captured the crowds attention with her crisp moves and facial expressions.
Marks performed a monologue for her talent. The 14-year-old daughter of Josh and Amanda Marks reminded everyone the importance of simply breathing and taking life one step at a time.
Schermerhorn performed a contemporary acro dance for her talent. The 15-year-old daughter of Mark and Tiffany Schermerhorn had the audience watching her every move. When the opportunity to showcase what years of practice has taught her, she shined on the stage.
After the performances, Wallin won the talent competition.
The teens also had a social impact statement, or a focus they would work on if they earned the crown. In addition to sharing with judges about heir platform, they were asked an on stage question that was randomly drawn from a glass bowl. 
Rousu was asked why she wanted the crown. She explained the crown provides and opportunity to reach other youth and work towards bringing awareness to the harmful aspects of peer pressure, which is also her social impact.
Marks was asked what she felt the effect of social media has been on her generation. Marks, who social impact is "Bullying and suicide" said social media is a great way to connect with people, but also has become a horrible way to share things that shouldn't be shared.
Schermerhorn's social impact was: "Feeding America: No Child Hungry." She was asked on stage where she would bring guests that best reflects her community. She said a visit to Town Lake would be first on her list and then off to the Lions Park for a picnic.
Wallin has a social impact statement of "Equality, the heart has no borders." She was asked on stage what she looks for in a best friend. Her answer was quick and specific, "Someone who makes me laugh."
There were also awards given out for:
• American Freedom Essay, a $100 scholarship, went to Schermerhorn.
• Community Service Award from the Wolf Lake Lions was a $100 scholarship that went to Wallin.
• The Academic Award, provided by the Frazee AmVets Post 612, presented the $100 scholarship to Rousu.
• Rousu also won the People's Choice Award.
• Schermerhorn won the evening gown competition.
• Wallin won the Northern Lights Dance Academy award.
More pictures from the evening can be found at the www.Frazeeforum.com website. One not need be a subscriber to view or purchase pictures on the site.