Moe takes first at national competition
News | Published on July 26, 2021 at 9:05pm EDT | Author: Chad Koenen
0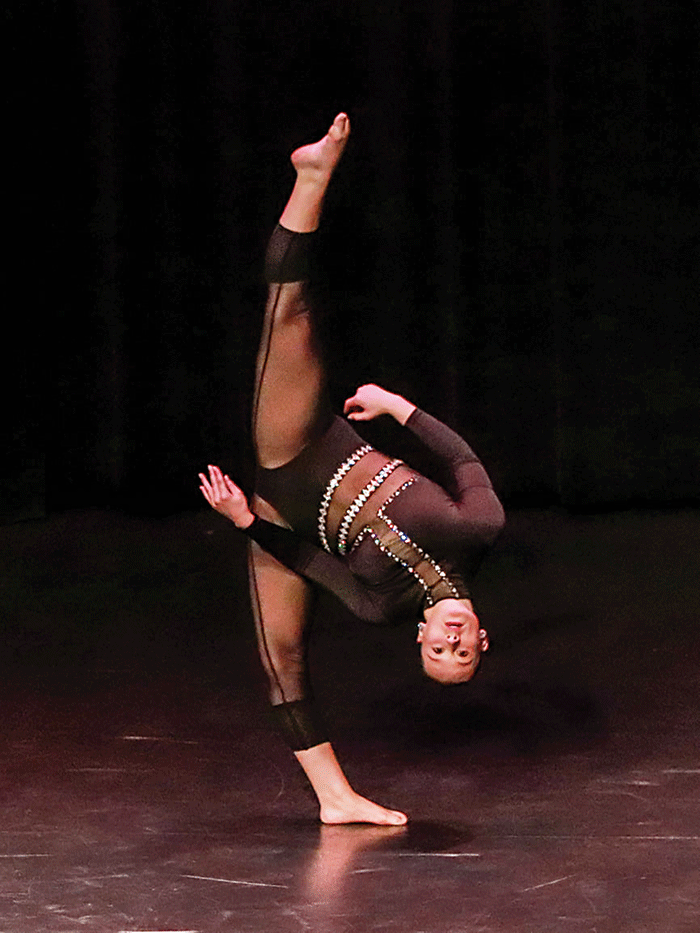 Student becomes a teacher at NLDA
By Barbie Porter
Editor
Grace, style and crisp movements that convey emotions are what separates experienced dancers from those who are new to the craft.
Vergas resident Autumn Moe has been a stand-out dancer for years and became well known in the Frazee area and beyond. On the Stars competition circuit, those against her know she brings her best each time she takes the stage.
Recently, Moe collected an elite trophy by placing first at a Starz Competition in Wisconsin Dells, Lacrosse Wisc., in the jazz dance division. She also earned the Miss Starz title, second in the Improv Shoot Out, fourth in the contemporary, third overall in the senior solos, sixth in the Nationals Shoot out and placed 18th out of 1,900 dancers.
The Northern Lights Dance Academy instructor explained the big event in Wisconsin has dancers compete against all ages and according to their skill level. The Grand Nationals are also held during the same weekend, in which all of the dancers are competing for the same title.
The 2021 Frazee High School graduate said her jazz dance routine began months ago with a quirky song.
"I was deep into Spotify looking for music," she said, noting her instructor Kiala Velde and she had agreed early on to take a route that was not well traveled with the jazz performance.
Moe noted years back she won in a senior category at a national competition with a dance that broke from the norm, and their goal was to take their latest jazz dance one a step further. Moe found an eight-minute which provided different beats and melodic patterns, but no words. She presented it to her teacher for her routine.
"It worked perfect," Moe said. "We ended up calling the dance, 'The Crossing.'"
The dance concept tapped into literal and metaphorical undertones. The dancer was crossing over the stage, literally. The metaphorical represented the dance student becoming a dance teacher, and how her life has taken a new direction now that she has graduated high school.
Moe said her teacher was put to the task of choreographing the dance, but she is able to give input and put her own style on the moves. Moe has worked hard to create a style. In the studio she refined it, but it was hours of watching dancing videos and practicing at the studio in her parent's house where it was defined. All of those hours of practice were showcased at the recent competition.
In all, Moe performed in nine dances: two solos, a duet, two small groups, a large group, two senior dances and a production line.
When taking the stage, Moe said she gives it her all, if it is just her on the stage, or if she is with a team. Every move is filled with empathy, done with purpose and impeccable timing.
Moe plans to continue dancing for as long as she can, and is happy to join the instructors at the Northern Lights Dance Academy.
"Teaching has been fun," she said. "I was teaching a shoulder walk over and it was new for them. So, when everyone in the room got it, it was fun to know they learned something from me."
Teaching dance never crossed Moe's mind until the idea was presented to her by her instructor. In addition to teaching she is taking college classes in photography, another life-long passion.
When it comes to chasing dreams, Moe encouraged everyone to join classes that will help them achieve those goals and grow their resume. If dancing is a goal, she hopes Northern Light Dance Academy is considered for instruction.
"I started there when I was probably in fourth or sixth grade," Moe recalled, noting a good friend danced there and she decided it looked fun and asked her parents to join as well. "There were bumps in the road. I talked about quitting more than once."
She said an over-usage injury popped up annually, and in time had her questioning if she could dance with a persistent injury.
"But it was something I loved to do, so I stuck with it," she said, adding the persistence and overcoming frustrations from injuries improved her mental state and made her stronger.