Two aces in the hole
News | Published on July 26, 2021 at 9:29pm EDT | Author: Chad Koenen
0
Neu collects two hole-in-ones a year apart
By Barbie Porter
Editor
Derek Neu had been at the brink of greatness before as he achieved what few athletes have ever done by sinking a hole-in-one.
Almost a year to the day, the Perham resident stood at the tee box of the sixth hole on the Oak Course at Lakeside Golf Course in Perham. Standing about 167 yards from the pin, he pulled a nine iron from his bag.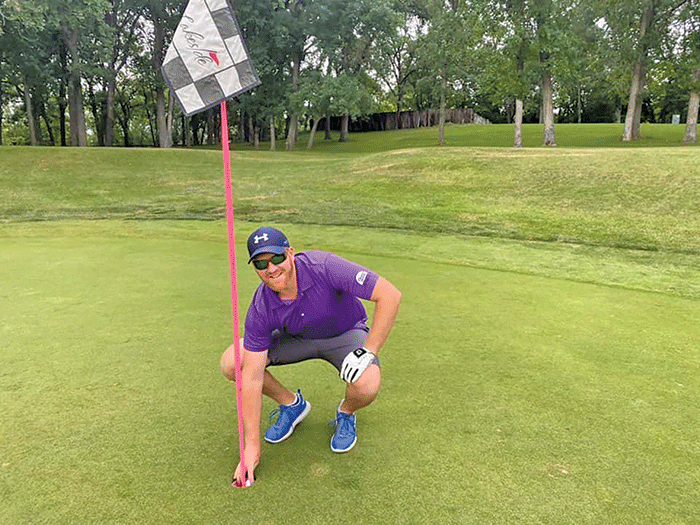 "The weather was a lot like the year before­—warm and in the upper 80s with a little wind behind us," Neu said.
He gripped his club, adjusted his hat and peered through his sunglasses at the par three hole. If he hit it just right, the ball would travel over a water hazard and to the green where there was a right to left lean.
Neu is no stranger to golf courses. He began playing more than 20 years ago with his family and grew to love the sport. Being an avid golfer, he knows how rare it is to sink a hole-in-one. The thought of putting two aces in the same hole, almost exactly a year apart, is a bit like buying a lottery ticket and expecting to win the jackpot.
Neu was playing in a men's league, much like he was the year before.
"It was a different group though," he noted. "When I hit it, one of the guys in the group said it was good. I didn't believe him."
The men were able to watch the ball sail down the fairway with a clear visual from the tee box to the hole. When the ball dropped on the green, it proceeded to roll about 15 feet and curled into the hole.
Before reporting the ace to the pro shop manager (along with his witnesses), Neu said he first had to retrieve his club.
"I threw it from excitement," he divulged. "The whole group was pumped. I was the second in our group from the Thursday night league to get a hole-in-one this season."
He noted the other golfer sunk his beauty on the Oak Course's second hole, also a par three.
Neu has been part of a men's league for several years. He enjoys the competitiveness and opportunity to golf with a variety of people.
"I come back to Lakeside year after year," he said. "It is one of the top courses around as far as maintenance, appearance and playability."