BTD, KLN help kids reel in the fish stories
News | Published on July 30, 2021 at 4:51pm EDT | Author: Chad Koenen
0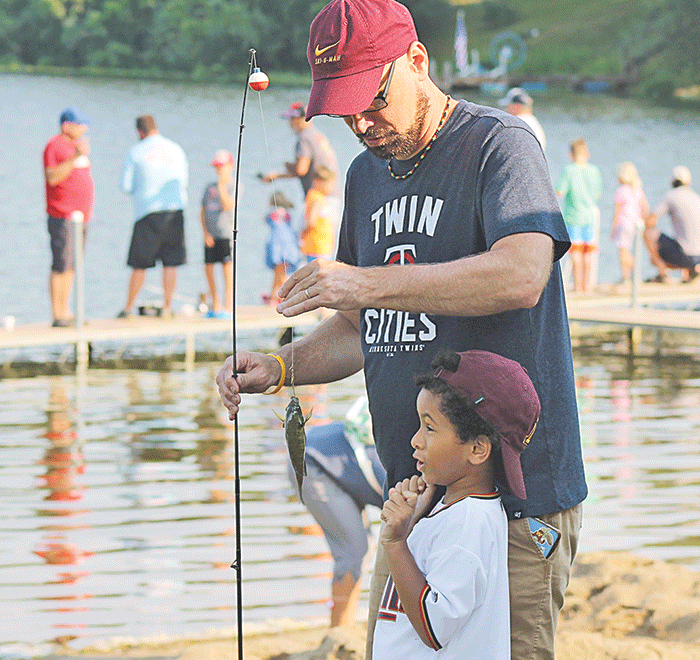 Turkey Days fishing contest has great attendance, fish also show up in force
By Barbie Porter
Editor
Hundreds of young anglers were on Town Lake the morning of Saturday, July 24. Each one hoping to reel in a prize winning fish.
The rain the night before must have stirred something in the stomachs of the fish in the lake because those measuring the length of the catches were kept busy all morning.
Brothers Reed and Hunter Simon both came away with prizes from the event. Hunter reeled in the biggest fish overall, and for his age category, while his brother brought home the smallest fish award.
Hunter divulged he was using a Mister Twister to entice a prize winning bass to bite.
"There was a little fight," he said, noting he knew it was a contender for top honors in the contest when it flopped on the water as he was reeling it in. "Last year I entered (the contest) too, but caught mostly sunfish."
The Frazee resident said he left the crowded docks and went by the rocks just off the road to fish.
His brother, who reeled in the smallest fish in his age category with a 41/4 inch sunfish, used a worm for bait and stuck to the swimming dock at Town Lake Beach to find his winning fish. 
Jeremiah Prellwitz, one of the event organizers, reported the business sponsors for the fishing contest were BTD of Detroit Lakes and KLN of Perham. He said the generosity of the neighboring businesses allowed for several winners, as well as prizes to be given away in a free raffle for the kids. Treats were also gifted to all the kids.
The event had competition for those 1-7 years of age and another category for those 8-15.
In the 1-7 category:
• Earning the smallest fish prizes were Eva Bear and Matt Woodard. Both caught fish with a length of 41/4 inches.
• Catching the biggest fish, measuring 9 inches was Zoey Graham and Aurora Spiker followed with a fish measuring 83/4 inches.
• Catching the most fish were Carter Behrmann and Lexie Graham. Behrmann reeled in 10 and Graham, 13.
In the age category 8-15, the winners were:
• Hunter Simon and Olivia Decker. Simon caught the longest fish measuring 113/4 inches and Decker reeled in one measuring 9 inches.
• Maddox Nordmeier and Bentley Onava earned the most fishes caught award. Nordemeier reeled in 12 and Onava, 13.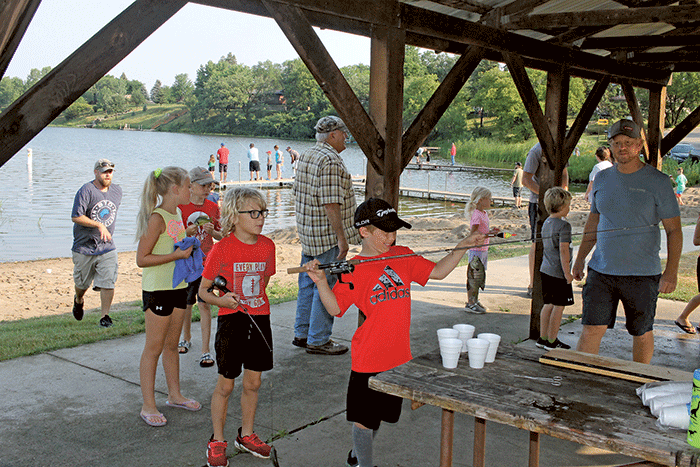 • Earning the smallest fish awards were Reed Simon and Paul Sharp. Simon's smallest catch was 41/4 inches and Sharp, 61/4.