First pizza, puzzle and beer contest deemed a hit
News | Published on July 30, 2021 at 4:39pm EDT | Author: Chad Koenen
0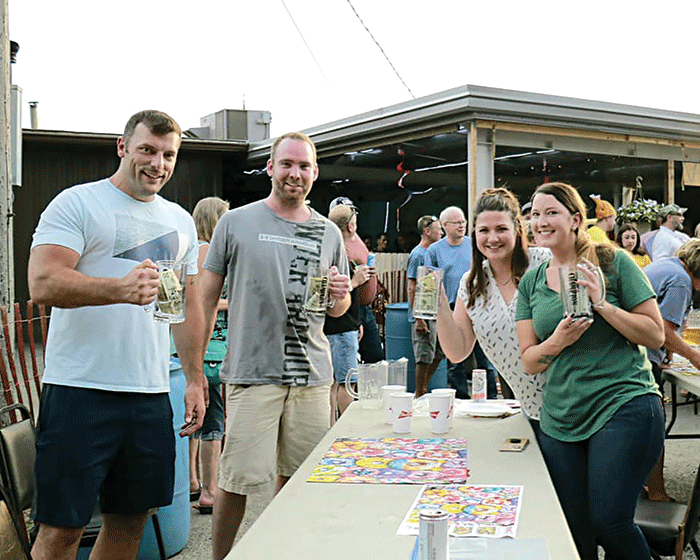 Olds and guests take top honors
By Barbie Porter
Editor
Amber Olds had so much fun at the inaugural Turkey Days Pizza, Pitchers and Puzzles event that she is ready to sign-up for next year. And, it's not just because her team won.
Olds and her husband Derek had invited longtime friends, Andrew Lage and his wife Ashley to visit and partake in the Turkey Day activities. She said the Fargo, N.D. residents have attended the annual city-wide celebration in Frazee a few times, but it had been a few years.
When the Olds saw an advertisement for the event, they knew it would be perfect for a fun team-oriented thing to do with their guests.
"My husband was the pizza eater," she said. "He primed himself for the job by not eating anything. When it was time to start, he said he was starving."
While the entire team nibbled on a slice, he gobbled up most of the pieces. Meanwhile, the beer quenched their thirst on the hot summer night in the outdoor event hosted by the Frazee VFW.
With a full roster of more than a dozen teams, Olds said their guests had passed time during the COVID-19 lock down by doing puzzles. So, when it came to putting the 300 pieces together, they had a strategy.
"We started by finding the edges and then color coordinating the pieces,"
she said. "Once it started going together, it went smooth. The puzzle was of donuts."
To earn the first place finish, the Olds team complete the three tasks of drinking the beer, eating the pizza and putting the puzzle together in 34 minutes.
"It was super fun," she said, adding she hopes the event hosts offer the game again next year.
Tanner and Jaden Karger hosted the event at the VFW. There was a cash prize presented to the top finishers.