Vergas invites all to join in family fun at Looney Days
NewsSocials | Published on August 9, 2021 at 4:17pm EDT | Author: Chad Koenen
0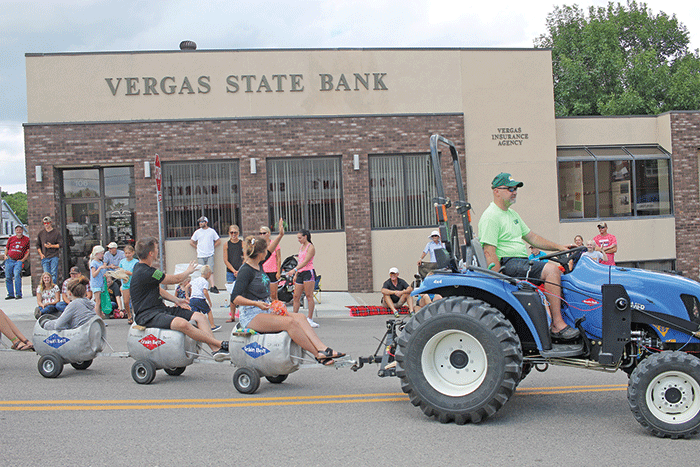 Party begins Friday, ends with Sunday in Vergas
By Barbie Porter
Editor
Looney Days returns in 2021 with jam packed three days of fun for all ages.
Thursday, Aug. 12 kicks off festivities with live music from 5-7 p.m. at Otter Coffee and Ice Cream.
Friday, Aug. 13 the Lions Looney Egg hunt will begin at 10 a.m. Clues as to where the egg is hidden will be read, posted at downtown business and on the Looney Days Facebook page. Every two hours another clue is read until the egg is found.
Area wide rummage sales will be offered in town and outside.
Natalie's Serendipity will host a sidewalk chalk art opportunity from 10 a.m. to 5 p.m. All ages are invited to get chalk supplies from the popular downtown store and decorate the sidewalks.
All that creativity can work up a hunger. Luckily, brats and beans will be served from 11 a.m. to 2 p.m. at the United Methodist Church parking lot.
While people can beat back the hunger beast, the fish will be given an opportunity as well during the kids fishing fun from 3:30-4:30 at Loon Park. Bait will be donated, but all should bring their own rods.
More food will roll into town for dinner. Between 4-9 p.m. food trucks will be at the Loon Park.
A water ski show will be held from 4:30-5:30 p.m. at Loon Park. Frazee High School graduate Katie Halverson will be one of several performers that have been practicing all summer for the Looney Days shows.
Loon Park continues to be the hot spot for the evening as a Beatles Tribute Band will play from 6:30-9 p.m. The family-friendly show is free. Bring chairs to watch the show, but also feel free to let the music bring out the groove.
Saturday, Aug. 14 begins with the ever popular 5K run/walk at 8 a.m. Registration can be done the day of the run, starting at 7 a.m. The start of the race, and end, will be at Loon Park.
After stirring up a hunger by either taking on the 5K or from cheering, consider stopping by the Lions Breakfast at Vergas Event Center. The group of good Samaritans built a hit for a breakfast sandwich last year and completely sold out. They will be prepared again to serve their visitors from 8-11 a.m. 
After filling up on delicious food, a leisurely stroll down Main Street may be a perfect way to ease into the fun filled day. The shops of Vergas also offer many great deals to celebrate the town's festival. All along Main Street there will also be street fair vendors.
Registration for the Wiener Dog Nationals begins at 8 a.m. Races start at 9 a.m. at the Vergas Baseball Fields. For those planning to attend and enjoy watching the dogs run, bring a chair or get there early to claim a seat on the bleachers.
From 9:30 a.m. to 3 p.m., also at the baseball field, will be inflatable games for the kids.
The Vergas Fire and Rescue will also host an open house at the fire hall from 10 a.m. until noon. All the engines and equipment will be on display. From the same time Trowbridge Zoo will provide a petting zoo at Hanson's' Field.
Registration for the kids pedal pull starts at 10:30 a.m. at Hanson's Field. The contest starts at 11 a.m.
Brats and beans will be served again in the United Methodist Church from 11 a.m. to 2 p.m.
All wanting to join the road rally fun should be at Loon Park a bit before noon. The event takes teams around the city and countryside unraveling clues. The theme is the same as Looney Days, "In a world where you can be anything … be looney!"
The beer garden will be along Railway Avenue from noon until midnight.
For those who have practice their loon call, be sure to be at Loon Park by 1 p.m. The event has different age categories to compete for a title. At the end a grand champion from all winners in each age class will be chosen. In addition to all ages competition, there are a battle of the business and battle of the lakes competitions as well.
Starting at 3 p.m. there will be a puppy plunge at Loon Park. Bring your dog and see how far it can jump off the dock.
Every year the bean bag tournament is a big draw to Looney Days. The popular competition opens for registration at 2 p.m. at the Vergas Municipal Store. The event begins at 3 p.m.
The water ski team will offer a repeat performance (with a longer show) at Loon Park from 4:30-5:30 p.m.
The Loon Park beach bash featuring Dixieland Band will be from 5:30-6:30 p.m. with the street dance being held at Railway Avenue at 8 p.m. The street dance features the band, Mallrats.
Sunday, Aug. 15 begins with a classic car show from 9 a.m. until noon. Registration of cars start at 8 a.m. along Main Street.
The grand parade, which fills the streets with spectators, starts at 2 p.m. The water fights on Main Street following the parade. Turn In Poachers will provide bingo following the parade at Billy's Corner Bar.
Skal will offer live music by Dave Lee and Shelly, as well as outside food and drink at 7 p.m. with a Turn in Poacher raffle drawing at 8 p.m. at Billy's.