Construction of pickleball courts, Veteran's Memorial may begin this fall
News | Published on August 16, 2021 at 5:54pm EDT | Author: Chad Koenen
0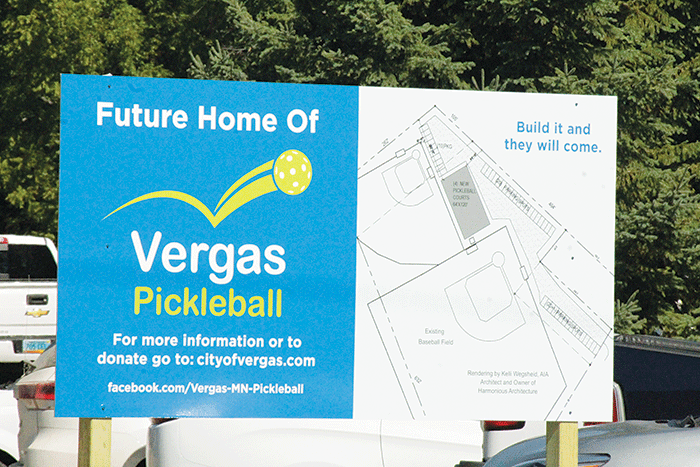 First phase approved for both projects in Vergas
By Barbie Porter
Editor
Pickleball courts and the veteran's memorial may be a reality in Vergas before winter blows in.
During the monthly council meeting on Tuesday, Aug. 10, the council approved the first phase of both projects. The attractions are to be built in the area where the baseball diamonds are located along Frazee Avenue. It should be noted the main baseball field and little league field will not be impacted by the memorial or pickleball courts.
The work for the pickleball courts includes groundwork and cement to be laid. The first phase of the plan is to have 4 courts built.
Pickleball court committee members attended the council meeting and stated the group has $57,540 in funding. The first phase was estimated to cost $55,000.
Once the first phase is completed, portable nets would be used until the permanent ones could be installed along with the surfacing as part of the second phase of the project. The third phase was stated to be fencing around the courts.
The council requested the committee speak with a property owner adjacent to the project, as there was concern about parking overflow.
Veterans Memorial Park 
first phase approved
Members of the committee for the Veteran's Memorial Park also attended the meeting, requesting approval to start the groundwork.
The first phase of the memorial includes two concrete circles, a walk way and parking lot. An archway is also planned, as are flag poles. The estimated cost was $36,900. 
The first phase was approved with a construction permit, as long as funding was secured. The permit is for one year, but can be renewed for a second year at no cost.
Phase two would include benches, pillars, name plates and other amenities or enhancements.
Memorial committee members asked how they should proceed. The council stated it wanted the city engineer to look at the plan before work begins.
The council also assigned Mayor Julie Brune as the council liaison for the veterans memorial.