Grand Champion call was three years in the making
News | Published on August 16, 2021 at 6:05pm EDT | Author: Chad Koenen
0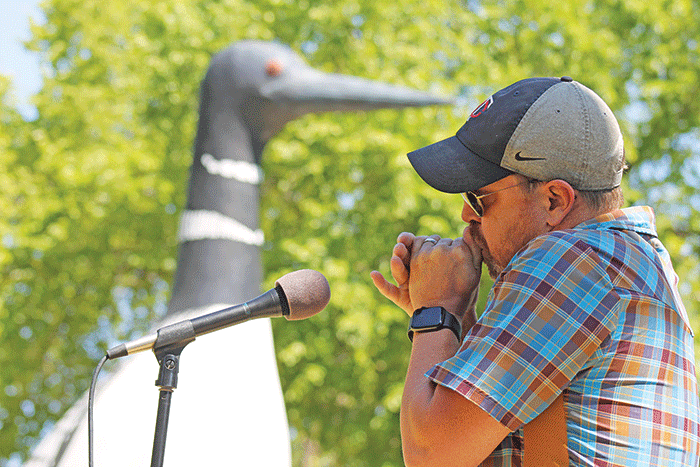 By Barbie Porter
Editor
The annual loon calling contest has held at Long Lake Park by the iconic loon statute on Saturday, Aug. 14. While there were dozens of competitors, only one could walk away the grand champion.
Ella McHattie took first in her age division of 0-8; Marcus Novotny Leino took first for ages 9-15 and John Trappen took first for ages 16 and older. 
At seven years of age, McHattie impressed the judges the most and took the title of Grand Champion Loon Caller for 2021.
McHattie's rise to fame all began while visiting family on Lake Seven. Sitting on the deck of the cabin she heard the loons call from a distance. With the distinct calls in the background, she heard the tale of the loon calling competition in Vergas.
McHattie said every night since she learned about the competition she, her sister and her father have been practicing their loon calls.
"It took three years until they responded back," she said. "When they called back I was so excited because I knew that I could compete."
McHattie, however, never foresaw winning the title of all titles.
"I thought maybe for my age, but didn't know I'd win first for all champions," she said.
The daughter of Ian and Catie McHattie of Hastings, Minn. shared her family tries to visit the Vergas area at least once a year to see grandparents Barb and Greg Olson. She hopes to return next year to defend her title.