Continuing a carpet legacy in Perham
News | Published on August 19, 2021 at 2:08pm EDT | Author: Chad Koenen
0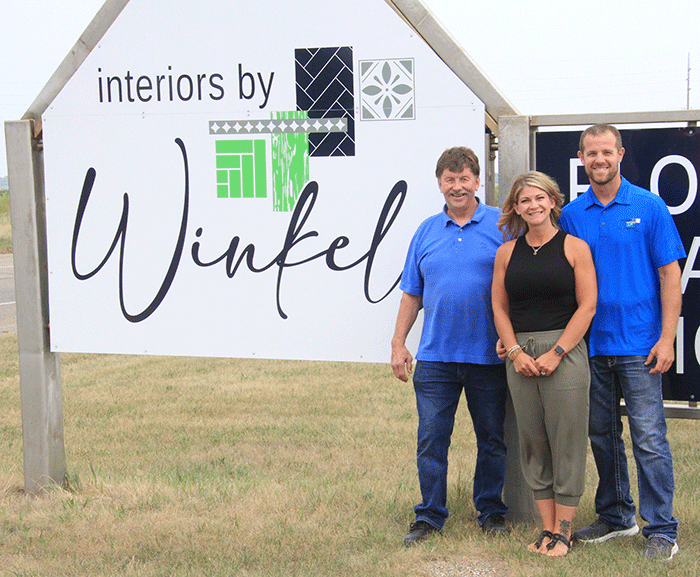 Interiors by Winkels opens in a new location
By Chad Koenen
Publisher
t may have a new name, new location and new owners, but one thing won't be changing at Interiors by Winkels, formerly Winkels Carpet Center—a small town touch and willingness to get to know each customer.
The new owners are Joe and Tasha Foltz who held an open house last Thursday in their new location on East Main Ave. in Perham, while also honoring longtime owner Rich Winkels, who retired from the store back in April. 
For the Foltz family, having the opportunity to expand their existing businesses, while also preserving a long-time staple in Perham, was something they couldn't pass up.
"Winkels is a small town store and we didn't want to see that go away," said Tasha. "That was just a huge thing."
The Perham natives may be new to the carpet industry, but Joe and Tasha are quite familiar faces in the downtown Perham business district. Joe started Joe Foltz Construction in 2004 and the couple started River's Edge Cabinetry in 2008. In May 2019 River's Edge Cabinetry opened its showroom on main street in Perham. Tasha said they talked for quite some time about wanting to make the home building experience more of a one stop shop for their customers.
Already with a cabinetry and construction business in their belt, the Foltz family thought the next logical step was having a flooring company as well. That way customers can go to the Foltz's from start to finish, while also having the same face help them all along the way.
"(Joe) just wanted to make the ease of building a home easier for a customer," said Tasha.
The family eventually purchased the former Hoot's Sports building on the outskirts of Perham's main street and approached Winkels about possibly purchasing his business should he want to retire one day.
Since the former Winkels Carpet Center location was near a new large mixed use building in the heart of downtown Perham, Winkels said he was approached by an individual who inquired about whether he would be interested in selling his building to make way for more parking.
"They came to me and said we don't have enough parking," said Winkels.
At 64, Winkels said he wasn't planning on retiring, but wasn't sure if he was ready to move his downtown Perham staple to a new location. An individual told him, if he was looking to retire or sell, they had someone in mind who might be interested in purchasing his family's business. One thing led to another and Winkels sold Winkels Carpet Center to Joe and Tasha Foltz.
"It's been in my family for a long time so it was a little hard to sell, but it seems to have worked out well," said Winkels.
A staple in the Perham community, Matt Winkels was a well known carpet installer for Schoeneberger Furniture and Funeral, before he ventured out on his own to install carpet across the region. He eventually purchased the carpet business and moved what would become Winkels Carpet Center to its former location on 2nd Ave. in 1981.
The business quickly gained a reputation as being a place with a small town feel, while offering a selection more commonly found in a large community. Rich got his start in the carpet business at a young age as he laid carpet during summer break from school. It was that first taste in the industry, which would turn into a lifetime of selling and installing flooring at homes, businesses, churches and more.
In 1988, Winkels purchased the business from his dad and it remained in the Winkels family until April 7, when he sold it to the Foltz family. While he enjoyed just about everything about his years in the industry, the thing Winkels enjoyed the most was meeting people and helping them pick out that perfect piece of flooring.
"The thing I enjoyed the most was meeting the people," he said.
Winkels said he doesn't have any immediate plans for what he is going to do in retirement, but said he enjoys hobby cars. Now that he is retired he will have some more time to work on the hobby cars he loves, while also spending some more time with his family.
The new Interiors by Winkels is located at 1000 East Main Ave. and features an expansive showroom. The Foltz's completely remodeled the facility to feature an expanded line up of laminate flooring, carpet, a showroom and much more. The large showroom will give people the chance to watch as their carpet is cut from a large roll on the spot, while also getting to touch smaller pieces of carpet to get the real feel for what they could put in their home.
"People like to touch and see it so it is really nice to have that option," said Tasha.
The flooring isn't limited to just what is on the shelves either, Tasha said staff at Interiors by Winkels will be able to custom order items that they may not normally have in stock.
Joe and Tasha both reside in Perham and have four daughters. For more information, contact the store at (218) 346-2924 or visit them online at www.interiorsbywinkels.com.