New scoreboard installed at FHS football field
News | Published on August 19, 2021 at 2:08pm EDT | Author: Chad Koenen
0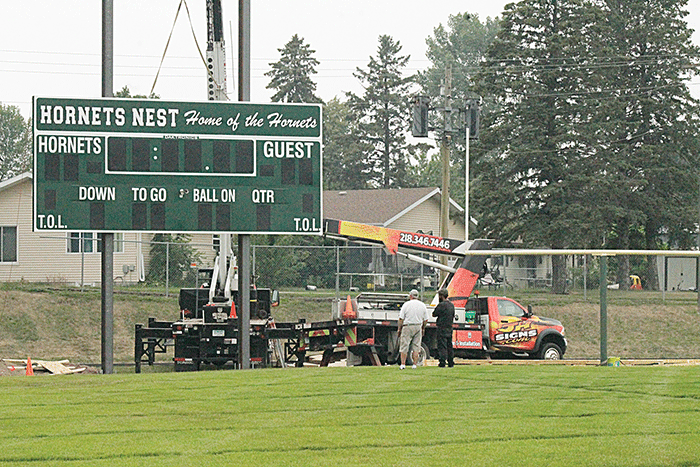 Scoreboard can be moved in the future
By Barbie Porter
Editor
A new scoreboard was installed at Frazee High School's football and track complex.
On Thursday, Aug. 5, the old scoreboard was taken down from its posts and the new one brought in. New footings were installed for the new scoreboard.
The location of the old board has been a longtime concern, as it is a few yards out of the end zone.
Activities Director Nick Courneya said he had yet to measure, but believed the new scoreboard is about eight-to-10 yards out of the end zone. It was also installed on the opposite end of the end zone.
Courneya said the two boards have the same fundamental capabilities. The new one offers a brighter LED bulb as well as a future option to use it during track events. He explained the scoreboard has the ability to sync with a timing system so runners (and spectators) can see the actual time during an event. The scoreboard also has the capabilities of being set up to go through the top six times after a race is completed. 
Some may wonder why the school district made the upgrade when the football field and track complex is slated to be completely redone and slightly relocated as soon as next year.
Courneya explained $47,500 expenditures was planned prior to the school board approving the update project. Because such a project was on the district's radar, when looking at scoreboards Courneya focused on ones that were moveable.
The board was purchased through Daktronics and funds were pulled from long-term facility maintenance.