Silver Leaf Equine opens in Frazee
News | Published on August 19, 2021 at 2:26pm EDT | Author: Chad Koenen
0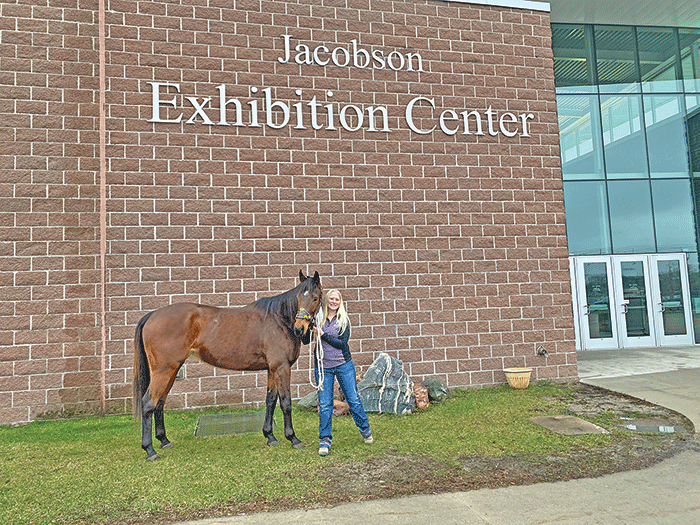 By Barbie Porter
Editor
Silver Leaf Equine, a new equestrian center, opened its doors in Frazee. 
Rebecca Wallace offers boarding on 40 acres, a certified equine masseuse, trail rides, indoor barn and will soon have stalls for boarding as well.
The owner of the boarding and training facility located four miles from town (37416 State Highway 87) explained horses have been a part of her life for many years. When she was 5-years-old, her grandmother helped her ride her first horse. She has been riding ever since and found new hobbies to enjoy with her horse, such as 4-H competitions, trail racing and more.
"I love everything and anything having to do with horses," Wallace said, noting her passion for equines led her to pursing certification in equine massage.
Her certification then led to her to work on million dollar horses at the National Reining Horse Association. She explained her skills are put to use on the athletes to prevent injury and help the animal recover after a vigorous competition.
After finding love and moving to the Frazee area with her husband Jesse, the two purchased an old dairy farm and began remodeling it for an equine center. Currently, the boarding option is pasture only (which includes a shelter for bad weather or shade). She is adding indoor stalls and plans to have 16 available for rent when the remodeling job is completed. 
While a relatively new business, she already has about a dozen horses she sees regularly. Some are boarded at the facility, and others are receiving training.
"With training I take on everything; I don't know the word no," she said. "Last year a guy down played how wild the ponies he brought me were and said they'd been handled. I had to reinforce the fence so they couldn't jump over it. Now, I'm cart training them."
Wallace loves all horses, but retired thoroughbreds hold a special place in her heart. She owns two, one of which was retired due to arthritis.
"I bought her in Iowa," Wallace recalled. "She raced and won more than $65,000 on the track."
While the horses no longer race, they can still compete. Once a veterinarian gives approval, the horse can return to its athletic nature and compete in events like barrel racing, polo, jumping, trail rides and more.
"Thoroughbreds are versatile and have second careers," Wallace said, adding one of her thoroughbreds, Say It Softly, will be bred next fall.
Wallace said she hopes Silver Leaf Equine Center will become known as a business that puts the well being of horses first and provides their owners with a safe spot to enjoy rides and learn new skills together.
"I have a small indoor arena and trail riding on the land around us," she said.
For more information, contact Wallace at (218) 457-1469.