Beck recovers from rare stroke, disorder
News | Published on August 23, 2021 at 4:41pm EDT | Author: Chad Koenen
0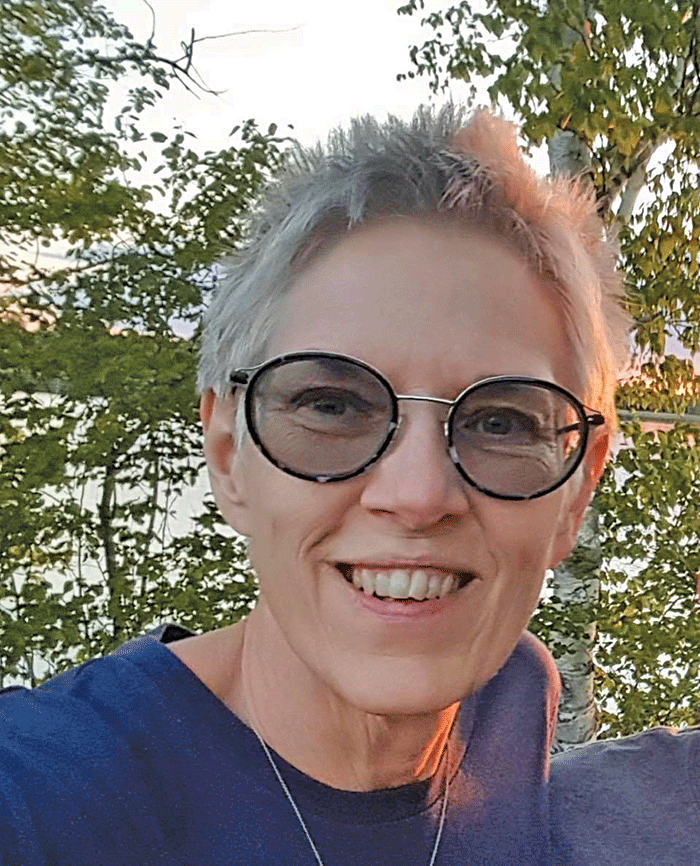 Wolf Lake resident shares, not all stroke warning signs are the same
By Barbie Porter
Editor
Terry Beck knows first hand how important it is to get help if one suspects they are having a stroke.
The summer resident in Wolf Lake said she was 58 when she began feeling different sensations in her back. She knew something was wrong, but was not sure what has happening.
"The first thing I felt was tightness across my back, and the lower shoulder blades," she recalled. "It was like my muscles had tightened up, and it stayed tight for going on three hours before it let up. Then I felt like I had been bruised."
Beck noted she was at a woman's retreat for church, and did not want to be disruptive or miss out, so she endured the pain. That night she returned home and decided to relax on her couch.
"I jumped up because it felt very warm, like I had sat on a heating pad," she said. "The next morning, I woke up and my muscle tightness had returned. Instead of church I went to the emergency room."
With a history of blood clots, Beck was ordered to have an MRI. Magnetic resonance imaging is used in radiology to form pictures of the anatomy of the body. After the images were captured, she was told to return home and wait. In the early morning hours the Fergus Falls, Minn. resident awoke, unable to feel her leg.
"I was scratching it and couldn't feel it," she said. She called the ER and was told something she was given could be a symptom of numbness in the leg. So, she went back to sleep. When she woke up in the morning her arm and leg were numb. "So, it was back to the ER," she said.
Beck had contacts with a neurologist. She reached out to her. The neurologist had records sent to her in Fargo, N.D. and told Beck to find a ride to her office. She recalled the car ride up was filled with a conversation with God. She accepted if she was to lose her ability to walk, that she would trust that is meant to be. However, tears began falling because she knew if she lost her ability to walk, fulfilling a promise to her grandchildren to go camping and hiking would not be kept.
Four days after her first symptom, Beck arrived in Fargo, N.D. around 3 p.m. By midnight she was diagnosed. Beck had suffered a spinal cord stroke due to blood clots with a secondary diagnosis of Brown-Sequard syndrome (BSS). BSS causes lesions in the spinal cord, causes paralysis on one side of the body and the inability to feel sensations, such as temperatures, on the other side. Later that night she felt the odd sensation again as she went to bed.
Beck noted BSS is very rare, and the idea of a stroke involving the head trauma is atypical, too. For the next several days her symptoms worsened to the point she could walk less and less. She was admitted to the hospital for five days and given medication. When she was ready, inpatient physical therapy began. She remained in the caring hands of those at the hospital until she could prove she could move about, make a meal and care for herself.
"Many who have a stroke need speech therapy," she said. "I didn't have to do that. But, I was in rehab."
During the rebuilding phase, Beck was told to expect a month long stay. However, she was sent home within a week. She credited prayer, her faith and persistence for her quick recovery.
"It's been two years now and I can walk on the slopes in the woods of Wolf Lake," she said. "I still notice some balance issues, but I feel OK now. A year ago I had to have a family member hold my hand when we went walking in the woods or camping."
Beck emphasized the importance of fighting for help until one feels their questions have all been answered. She noted specialists sometimes are the only ones who can recognize a problem that is rare. Beck added sometimes misdiagnosis happen as well.
"Keep looking for answers; keep fighting," she said. "Had I waited I would've had many more issues, or maybe not made it."