Music is a common thread throughout Roggenkamp's life
News | Published on August 23, 2021 at 4:53pm EDT | Author: Chad Koenen
0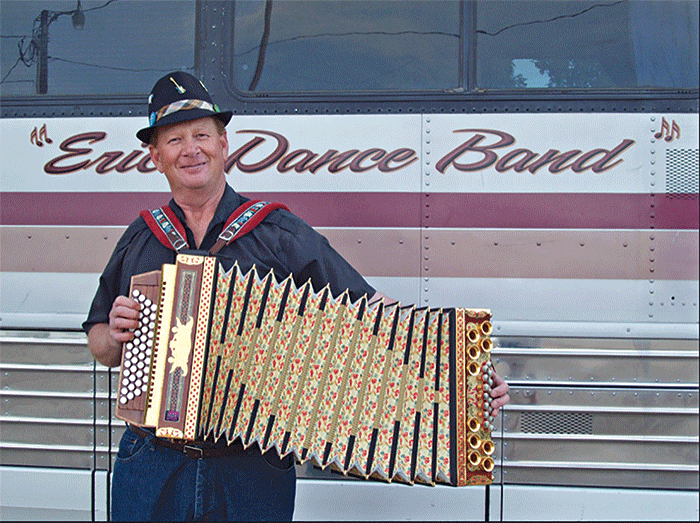 By Barbie Porter
Editor
Eric Roggenkamp was told that he was born with a wrench in one hand and an accordion in the other.
The rural Bluffton resident is known for polka and fixing all things farm related.
His polka life began when he teamed up with Carl Bauck and Larry Selander in 1996 to form Eric's Dance Band.
"We play any genre of music, from 50's to country to waltzes," he said. "We play what the people want to hear."
He recalled meeting the band's drummer when he was 12. Selander was 22, but a love for music can connect people regardless of age. Roggenkamp was able to jam with older musicians, and years later, one of those friendships ended up being a band mate.
Pre-COVID, the band had to turn down bookings. During the shutdown that followed, Roggenkamp spent his time learning about 20 new songs and calling friends and family to perform for them over the phone. Now that the live outdoor music scene is starting up again, he said the jobs are there once again. 
With a large catalog of songs, Roggenkamp said the most popular song is the Green Beret Song. He learned it about seven years ago and since he first performed it, the song has become a crowd favorite at every dance.
"There are many veterans that come to the dances," he said. "Sometimes the song brings a tear to their bad eye."
Having good music is half the reason Eric's Dance Band has had such longevity. He said the other half belongs to their ability to engage the crowd. 
Keeping toes tapping and dames and damsels twirling, was a skill earned from many years of being in bands. But, his love for music began while growing up on what is now the family's century farm.
Polka is part of his family's German heritage, he explained. His grandfather, father, uncles and brothers all played instruments, with the most popular being the accordion. His father and uncle learned how to play sing-a-long songs on the button box accordion. After chores were done, the family would gather on the front lawn and sing together.
Singing along, Roggenkamp learned how music can bring joy. When he turned 12, his parents allowed him to attend area dances. There, he saw bands provide entertainment and introduced husbands to wives and strengthened the ties that bind long-lasting love.
Roggenkamp began learning the piano and then shifted to accordion. By the time he turned 15, his parents bought him a high end accordion. The day he got it, the instrument was torn apart and laid in pieces in his room. His mother was in for quite a shock when she saw the cables of the instrument strewn about. However, he assured her he knew what he was doing.
Roggenkamp explained the cables go through the bellows. Some of the wires had broken. So, he found a chunk of telephone cable wire to repair the wires.
"They were all different colors," he said, noting that helped him keep the wires in correct order. "I un-solder them, and then re-solder them. I stayed up later than I was supposed to, but I got it back together that night."
After learning the instrument inside and out, Roggenkamp joined a band at the early age of 16 with cousins from a nearby town.
Early on in his career, Roggenkamp stood in front of about 8,500 people during a town festival. He said while he normally doesn't get nervous playing music, seeing all those faces staring at him and the other band mates gave him pause.
"I remember thinking, oh my gosh, that is a lot of people," he said, adding he's fairly certain his voice quivered a bit. "But, after a few songs I was OK."
Adult life took some of the band members in different directions, and Roggenkamp was invited to join a country band as a bass guitarist. With a natural inclination for music, learning the new instrument wasn't difficult. In short order his new band was playing gigs at resorts.
"We'd dress up and play blue grass on a hay rack at resorts for two hours and then head to the 9-1 job where we'd play a little of everything," he said, adding that band lasted about seven years before the other member moved to the Twin Cities.
The 60-year-old musician was in many bands during his career, including the Platte Valley Boys, which landed him in the Minnesota Rock Country Hall of Fame­. 
He said the Platte Valley Boys were together about 35 years and were formed and popular before he joined the team.
"They came into existence in the early 1970s and I started playing with them in the 1980s," he said, noting over the years members of the band retired, but a few are still taking stages for performances. "It is pretty neat to be part of a band that was inducted (in the hall of fame in 2007). There was a ceremony in the Twin Cities and it is a special accomplishment."