Ongoing drought causes Otter Tail River to run dry
News | Published on August 23, 2021 at 5:03pm EDT | Author: Chad Koenen
0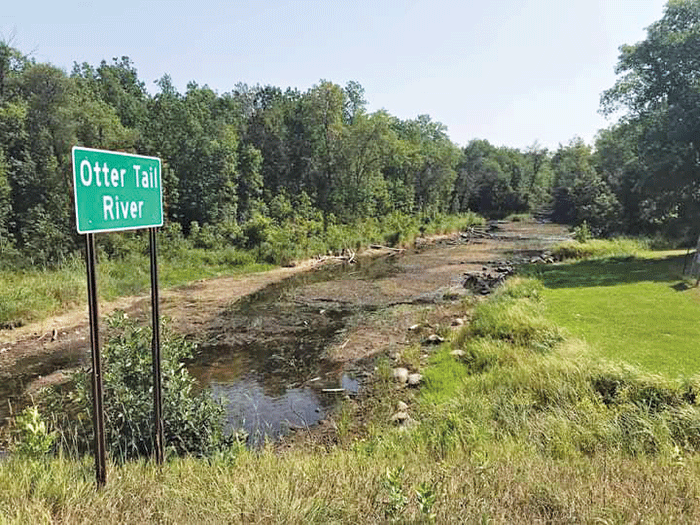 Otter Tail River has been this low before, in 1976
By Barbie Porter
Editor
The river has run dry. Otter Tail River has well known areas for tubers to enter the river. Along one such entrance, the river bed can be seen as only occasional pools of water that remained as of Thursday, Aug. 19.
Becker County Soil and Water Private Land Biologist Phil Doll was on a prairie restoration call with a landowner near Cotton Lake when he learned about the current state of affairs with the river.
"I went to look at it," Doll said. "The drop in spot for tubers is maybe 2 inches or 2 1/2 inches when it is full."
Doll lives in rural Frazee along the Otter Tail River. While his section of river frontage has noticeably had lower and lower water levels all summer, there is still water.
"At my place I'd say people in a kayak would struggle," he said. "The river didn't recharge from the winter because there wasn't a lot of snow melt. Then we had that hot stretch of 90 degree days in June and again last week."
While the Perham native cannot recall a time when the river ran dry, he said there have been landowners who reported it happened before in 1976.
Rob Baden, Department of Natural Resources Area Wildlife Supervisor, manages Hubble Pond, which is near the start of the river. Hubble Pond is essentially a dam with a holding area that stretches 561 acres. During a year with average snow pack runoff and rainfall, the estimated depth averages about 5 feet. To maintain a flow in the Otter Tail River, Baden said pylons have been removed from the dam system. The effort created a trickle down the river bed.
"We have weeks of summer left," Baden said. "The pond has never been this low in the seven years I've been working here."
He noted that water flow could be opened more, but even if the pond were drained in two to three weeks the water would be down stream and the river beds dry once again, providing the drought conditions continue.
With some areas of the Otter Tail River completely dry, some may thinK this is an opportune time to remove debris and garbage.
Minnesota Department of Natural Resources Conservation Officer Jake Swedberg explained when a river goes dry the adjacent landowners technically become owners of the land to the middle of the river.
"If you can't paddle or float on the river, that is considered dry," he said. "So if a group were to walk on the river bed to clean up, it would be a good idea to get permission from adjacent property owners."
He noted it would be hard to imagine anyone would oppose volunteer cleaning efforts, but if someone did and asked a person to exit their property, they would need to do so, promptly.
What do lower water levels truly mean for the Frazee-Vergas area?
Area Hydrologist Rodger Hemphill said the Otter Tail River levels impact areas such as Fergus Falls much more than Frazee. Fergus Falls utilizes the river for services outside of recreation.
Overall, however, area residents should be cognizant that 95 percent of the state is in a moderate drought. Each municipality has a plan in place to follow during a drought situation and emergency. And municipalities will inform residents what proactive measures are being taken, such as lawn watering restrictions or if a greater concern arises with a reduction in the levels of the water aquifer.
"Droughts are naturally occurring," Hemphill said. "We've had mild winters with low precipitation and minimum precipitation this summer."
To get back to even, the Otter Tail River would need about 5-10 inches in a period of a month, in the current drought situation. Hemphill said a more realistic hope is for enough snowfall this winter with a slow melt in the spring to allow the water to penetrate the ground, and not simply runoff.
"This is all a reminder of how small humans really are," he said. "We rely on Mother Nature and precipitation."
Boat owners may want to pull crafts out early
Those with larger boats may want to take their watercrafts out of the water soon. Water levels at lakes continue to decrease, and if the trend continues boat removal maybe be difficult later in the fall.
Baden broke down where the difficulties are when removing a water craft, particularly a larger boat such as one built for wakeboarding or a pontoon. If a public access is located in a shallow water area, the lake bed may decrease beyond the concrete planks that are installed to assist in providing grip for trucks and trailers. If that happens, a trailer or truck would have to drive into the muck or sand to reach the water craft, which is a hazard for getting either the truck or the trailer stuck.
Baden added while the water is adequate there is a measure boaters can take to provide other boaters with a better chance of removing their craft with fewer problems-use the hand crank. He said power loading (or revving the motor to get to the trailer) creates a blow hole effect at the public access loading site. The blow hole effect essentially leaves gaping holes that potentially damage trailers. To prevent the blow hole effect, simply hand crank the craft onto the trailer.