Champions crowned at Wolf Lake Harvest Fest
News | Published on August 27, 2021 at 4:35pm EDT | Author: Chad Koenen
0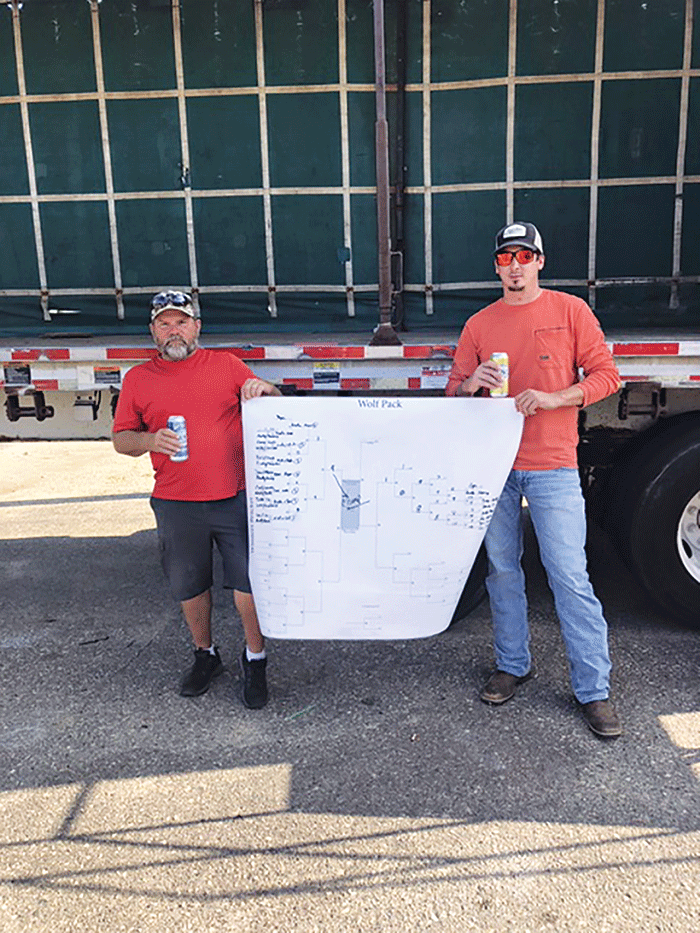 The Wolf Lake Harvest Fest brought in the fun and plenty of people joined the festivities. The winners of the 2021 Wolf Lake Harvest Fest contests were:
• Susi Jarvi Charm Finders:Jade Skoog, Shanna Skoog and Layne Kumpula.
• Wolf Lake Royalty: Miss Wolf Lake Desarae Kohrs; Miss Wolf Lake Princess Kaiden Langford; Jr. Miss Wolf Lake Gillian Pope; Wolf Lake Jr. Princess Alexis Davidson; Little Miss Wolf Lake Lydia Budzien and Wolf Lake Little Princess Amelia Hrdlicka.
• 5K Walk/Run's Fastest Overall: Emily Skoog of Wolf Lake with a time of 24:55.
Winners by categories included:
Male 9 years of age and younger was won by Grady Anderson, a 7-year-old from Wolf Lake, who recroded a time of 25:35; second went to Silas Aho, 8, Wolf Lake, 29:30 and third was Darius Aho, 6, Wolf Lake, 32:15.
The category for males between 10-14 years-old was won by Bodin Anderson, 10, Wolf Lake, with a time of 27:38. Anton Anderson, 11, Wolf Lake took second with a time of 27:39.
In the female category for 10-14 year olds, Lydia Aho, 10, and Kylie Anderson, both of Wolf Lake took first with a time of 41:33.
In the male category for ages 30-39, Nick Skoog, 32, Wolf Lake, placed first with a time of 27:10.
In the category for females 30-39-years-of-age, Emily Skoog, 32, Wolf Lake, took first with a time of 24.55; Morgan Anderson, 31, Wolf Lake, placed second with a time of 25:03 and Amanda Aho, 34, Wolf Lake, took third by finishing with a time of 41:32.
In the category of males 40 and older, Carl Peterson, 57, Menahga earned first with a time of 29:48.
• Pedal Tractor Pull also had age categories associated with the event competition. In the 5-year-old class, taking first was Colton Sayer, followed by Amelia Hrdlicka in second and Gail Aho for third.
In the six-year-old class, first went to Matilda Skoog, second, Samuel Aho, and third, Emery Aho.
In the seven-year-old class, Flynn Yliniemi took first with second going to Celia Issacson.
In the eight-year-old class, Everett Aho took first, followed by Hunter Edwards and Raina Anderson.
In the nine-year-old class, first place went to Alaina Davidson.
In the 10-year-old class, first palce went to Layne Kumpula, second was Bodin Anderson and Rafe Aho placed third.
In the 11-year-old class first place belonged to Anton Anderson and second place, Olivia Budza.
• The Coloring Contest brought in the creative artists. Earning top prizes were: Armor Skoog (1-3 year olds), Reyna Aho (4-6), Holly Aho (7-9) and Melanie Vonada (10-12).
• Bean Bag Toss Tournament winners were Ryan Sharp and Dan Warmbold for first, Dustin Burkman and Harv Burkman for second and third went to Nate Peterson and Carl Peterson.
• The Obstacle Course winners were: Drew Aho, 14 Frazee, 0:59, for first; Daniel Olson, 13, Menahga, 1:23 for second; Miles Alajoki, 12 Menahga, 1:36 for third.
• Mud Run winners were:
In the 35-inch Tire and Bigger category Dave Kriens of Menagha took first with 0:12. Second went to Jesse Flath of New York Mills, 117 feet feet and third place belonged to Donovan Jahnke of Frazee with 116 feet.
In the 34-inch Tire and Smaller category, first place went to Jeff Felt of Osage, 0:29. Second place belonged to Steve Luedke of Menahga, 1:00 and third, Craig Hansen with 126 feet.
• The Raffle Winners were: 1st Place $500: John Laitinen; 2nd Place $250: Gary Harvala; 3rd Place $100: Chris May; 4th Place $50: Bobby Jager; 5th Place $50:Nikki Clancy; 6th Place $25: Darwin Feldt and 7th Place $25: Melinda Davidson.