From bonanza farm to homemaker, Sweere has worn many hats
News | Published on August 27, 2021 at 4:32pm EDT | Author: Chad Koenen
0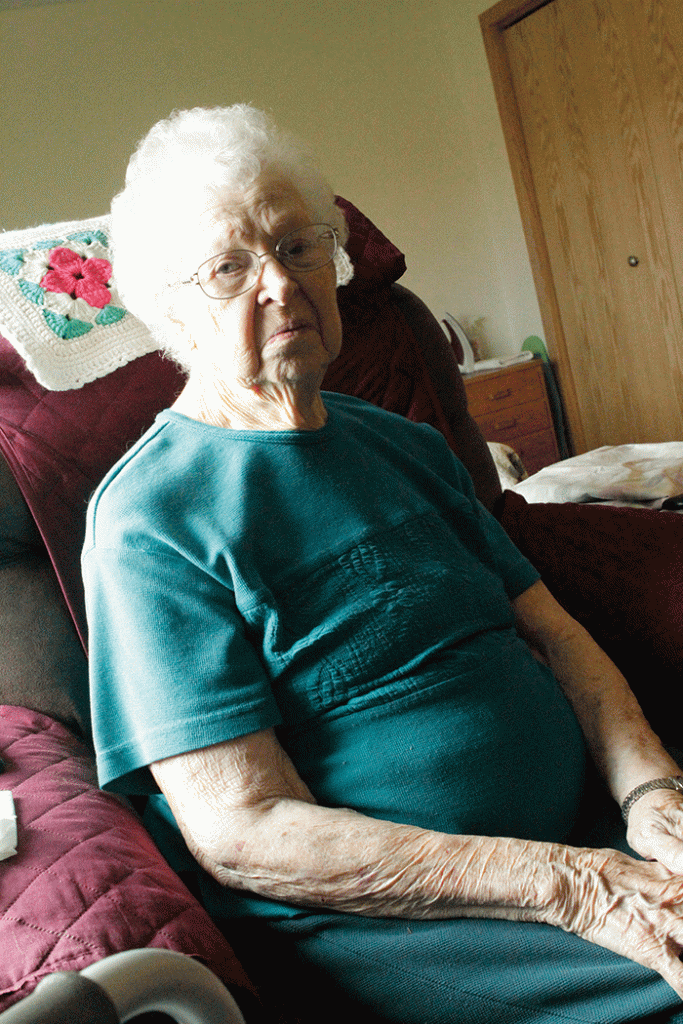 By Barbie Porter
Editor
Before Betty Sweere was 16 she cooked for 20 men on a bonanza farm. From June through October she lived by the sweat of her brow. There was no air conditioning (or electricity for that matter) and the heat of the old stove made for long days that stretched from breakfast to dinner.
"I was up at 4 a.m.," she recalled, noting the "monstrous" stove at the bonanza farm had come from a hotel and was heated by wood.
Despite the less than ideal conditions for cooking heaping meals, Sweere kept the hired hands well fed so that they had the energy needed to tend to the farm. While she was her own boss for the most part, the work was continuous and grueling. When she was done cooking, it was time to clean.
"I felt like a slave," she said. "I did everything for $4 a week. Back then it was pretty good wages. The men who worked all day got $1.50 per day."
Her work on the bonanza ended when she visited her parents around Christmas. There were younger kids at home and her mother shared the news that she was expecting a child. So, Sweere returned to her family to help care for her younger siblings while her mother focused on the new baby.
"My youngest sister was born in the late 1930s," she said, adding as the kids got older and her home responsibilities lightened, her father found her another job. This time it was in town at a restaurant washing dishes.
"They always managed to have a room someplace for workers," she said.
While she had her own apartment, the job included a lot of bleach with no rubber gloves and in time she saw her work there "didn't amount to a hill of beans." So, Sweere decided to give them her disappearing act.
"I packed up my stuff and put it in a cardboard suitcase and took a train to Fargo," she said. "I never told a soul I was going. I wasn't afraid of the devil himself."
She showed up on the doorstep of her older, married sister's house. Luckily, she was welcomed with open arms and quickly found a job at the Bison Café. She loved the work and the city life, but eventually her missing status got back to her father.
"He went to the café where I was supposed to be working and asked where I was," she recalled. "He told my dad that he thought I had went home. That turned my dad into an investigator."
Sweere isn't sure how her father found her, but the jig was up when she picked up a phone and a sheriff was on the other end of the line.
"He said if I didn't go home my dad would come and get me," she said. 
Perhaps it was serendipity, for had she not returned home she may have never fell in love with her future husband to be, Willis Harold Sweere, better known as Bud.
He grew up in Perham, but was in North Dakota working on farms as a hired hand. Their courtship began with going to the movies on Saturday nights. Their friendship blossomed to love and they married on April 22, 1948.
The two moved to Perham after her husband got a job at a Chevy dealership as a car salesman. They lived in town for about seven years, growing their family (which would total five boys and five girls).
"One day Bud comes home and says, lets move to the country and have a big garden," she recalled. "We had three kids then. We moved by Rush Lake, bought a cow and planted a garden."
As the years passed, the kids grew and eventually Sweere was able to rejoin the work force. When her husband had a severe heart attack she became the sole breadwinner.
"He recovered but wasn't able to work," she said. "We survived. Grass has never grown under my feet."
Now that her husband has passed, Sweere moved into an assisted living facility. She keeps busy keeping up with her 10 children, 20 grandkids, "many, many" great grandkids and three great-great-great grandkids.