Area residents treated to summer bounty
News | Published on September 3, 2021 at 4:46pm EDT | Author: Chad Koenen
0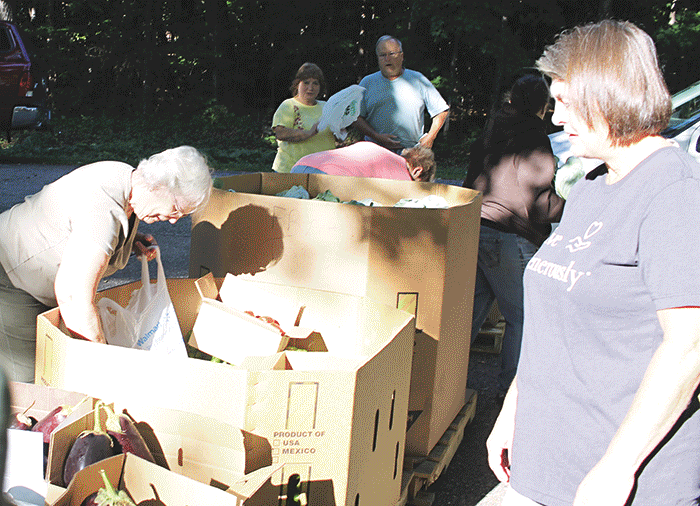 Produce to drop to continue through September
By Barbie Porter
Editor
The summer's bounty has been plentiful thanks to area food banks and local connections.
The churches of St. John's Lutheran Church and St. Paul's teamed up with the Bridge Food Pantry in Perham to provide area residents with fresh produce.
Harvest Church in Frazee is also part of the program provided by the North Country Food Bank and has a produce available Mondays as well.
In Vergas about eight volunteers from the church and Bridge Pantry worked together to set up boxes of produce, ripe for the taking. The produce drop is held in Vergas every Monday, starting at 8 a.m. at St. Paul's Church parking lot, 31385 Otter Tail County Highway 4. Go up the driveway and the produce is located in the shade behind the church.
Myron Gunderson, Bridge volunteer, explained the free produce program is provided by the federal government. The government purchases excess crops from farmers that would otherwise go to waste. Gunderson noted the farmers get fair market value for the crops.
With a focus on keeping the produce local, it is shipped to food banks in cities in the state or region. The food banks then distribute it to communities where all are invited to fill a shopping bag.
"We started July 11, I believe, "Gunderson said. "And, we saw maybe between 80 and 100 people. Now, we average between 100 and 130 every Monday."
Typically, the Vergas site has eight pallets of produce available. The produce ranges from corn to egg plant, cauliflower to watermelon, and at times eggs and milk are also available.
Because the program is federally funded, there are no restrictions based on income, residence or family size. And, there are no forms to fill out. Simply show up at a produce drop site, bring a bag and fill up with free produce.
Gunderson said right away in the morning, before the truck arrives, there tends to be a line of about 75 people. However, the produce tends to beat the morning rush and usually runs out between 10-11 a.m.
The Loon Lake resident added if there are leftovers the food is brought to the zoo in rural Vergas and is used to treat the animals.
"We hope to continue until late September," he said, noting the longevity of the opportunity depends on the harvest, what items have excess and how long volunteers agree to assist. Gunderson explained there was one year volunteers were out while the snow was flying and that got to be a bit much.