Essentia Health donates $50,000 to CornerStone
News | Published on September 3, 2021 at 5:51pm EDT | Author: Chad Koenen
0
Gift is one of many heath organization gives to non-profits every year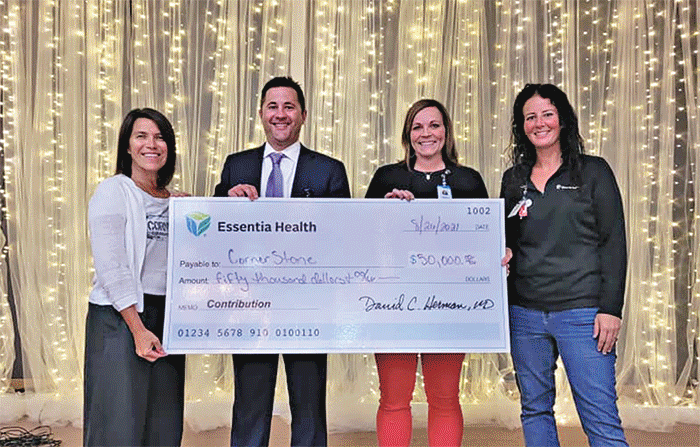 By Barbie Porter
Editor
Essentia Health presented CornerStone with a $50,000 donation.
"When this need was identified through the community health needs assessment, we knew it was well within our mission to make a difference in the lives of these kids," said Al Hurley, Essentia Health chief operating officer. "Impacting a child's life impacts our communities for many years to come and makes our community healthier."
West Vice President of Operations and DL Administrator of Essentia Health Tanner Goodrich spoke about their commitment to community health. With the help of Essentia Health Director of Development Cara Frank, a $50,000 check was presented to CornerStone during a community celebration on Thursday, Aug. 26 held at the Frazee Event Center.
"This is big news for our little non-profit organization," said Ta Fett, CornerStone member.
Community Health Manager at Essentia Health Karen Pifher explained Essentia Health provides many donations to non-profits in the area communities. Each year there is a budgeted amount to give back to the communities the health organization serves. She said the goodwill donations and investing in communities aligns with the priorities and mission of Essentia Health.
Non-profits apply for funding and a committee reviews the requests. The committee is given an average annual amount of $56,000 to donate. Pifher said up to $10,000 of the committed funds are distributed annually and can continue up to a five year period. She said providing multi-year payments allows the committee to "leverage resources at a greater level."
While some projects, like CornerStone may be pledged $10,000 for five years, other projects may be smaller scale and be a one-time donation. Those with multi-year donations are also required to provide the committee with updates to ensure progress is being made and funds are being used according to what was pitched in the grant application.
Because Pifher is on the Essentia Health donation committee and a board member of CornerStone, she noted when it came time to vote for projects she abstained.
In both the Essentia Committee and Cornerstone, Pifher has seen a common thread of wanting to create a positive impact on the community.
"Our Essentia Health leadership is excited about this project and invested in it," she said. "We believe healthier communities starts with the youth."
Pifher noted a survey was taken by area youth a few years back and another one was given in recent years. The surveys showed improvements in the mental health of area youth, and the aim of CornerStone is to continue the trajectory onward and upward.
CornerStone seeking cement cutters
CornerStone began as a public outreach idea lead by Pifher. She hosted community forms where residents shared what could be done to improve mental health of youth in the Frazee-Vergas School District. With a list of possibilities a committee formed and began working on one item at the top of the request list­—a youth center.
When the United Methodist Church in Frazee gathered plans for a new church building in the Red Willow Heights Development, it offered the old building near the high school to CornerStone for $500.
Through volunteer labor the basement of the building, which will house the bistro, has been gutted as remodeling efforts are underway.
Pifher, who is a member of the CornerStone board, said the group has an estimated project value of $800,000, including the building, donations of equipment, supplies, labor and grant funding.
In addition to the $50,000 Essentia Health grant, CornerStone recently received a $50,000 grant from USDA. Pifher said CornerStone will relaunch its capital campaigns soon so the venue can stay on target of opening in 2022. The funds will help outfit the bistro kitchen and coffee bar in the basement and youth center on the main floor.
Renovations are ongoing and Pifher said volunteers are needed. The list of good Samaritans needed include those able to cut cement so plumbing work can be done. Volunteers will also be needed in the near future to hang steel and paint walls.
Anyone interested in volunteering should contact Alesia Jopp at (218) 234-9415.