Heartland bridge changes appearance of Becker County 10 overpass
News | Published on September 3, 2021 at 5:55pm EDT | Author: Chad Koenen
0
Bridge completion will conclude DNR work on extension project in lakes area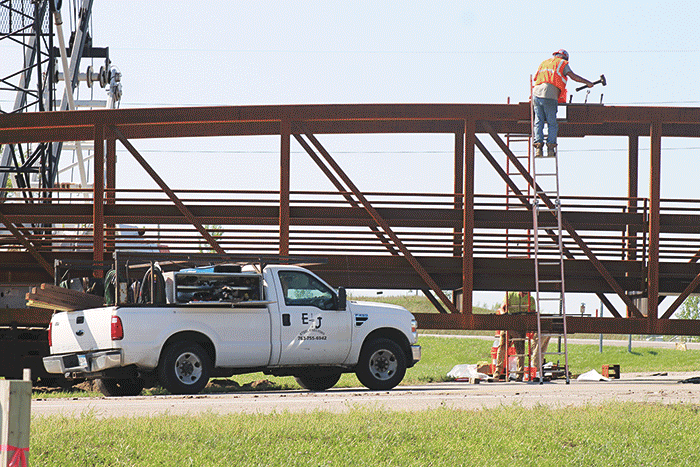 By Barbie Porter
Editor
he Heartland Trail bridge overpass is in place.
The intersection of U.S. Highway 10 and Becker County Highway 10 was closed on Tuesday, Aug. 31 as construction crews installed the bridge.
Preparations for the bridge, such as creating an adequate approach slope on both ends began in April.
The Minnesota Department of Natural Resources were in charge of the project. The DNR bid out the project and the cost came in at $1.36 million. The contract was awarded to Robert S. Schroeder Construction out of Glenwood, Minn.
The bridge is made out of weathered steel and the material is designed to eliminate the need for painting as it takes on a rust-like appearance.
The length of the bridge is 360 feet with a distance of 17 feet from the road surface to the bottom section of the bridge. The trail surface of the bridge is concrete and has a width of 12 feet. The paved trail and the bridge approaches are 10 feet wide and made of bituminous path. The path is for non-motorized use, until the trail is adequately covered with snow. Then, snowmobiles may utilize the path.
The Heartland Trail lakes area extension begins in Detroit Lakes and is targeted to extend to Frazee in coming years. The Frazee segment is being lead by Becker County. A county trail representative was contacted for an update on trail progress, but had not responded by deadline.
The initial Heartland Trail extension was paid for through two bonds totalling $6 million. When funding was secured the project was bid and work began. In 2020, paving started and was completed from Acorn Lake to a few miles outside of Detroit Lakes. Winter weather postponed the remainder of the paving job until this spring.