Hope Hamm ready for a 3 1/2 twist
NewsSports | Published on September 3, 2021 at 5:35pm EDT | Author: Chad Koenen
0
Frazee freshman pushes her limits in the pool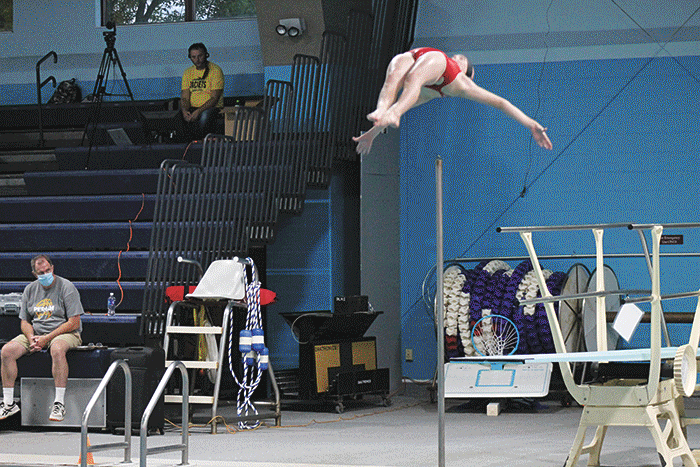 By Barbie Porter
Editor
Hope Hamm is entering another year on the Detroit Lakes diving team. Since she began competing, the Frazee resident has been on the varsity squad.
While competing at the highest level in high school can bring some pressure, Hamm said she calms the nerves by focusing on the knowledge she has practiced her skills over and over.
Hamm, who attends Frazee High School, shared when she began diving the most challenging dive she had in her repertoire was the reverse. She said the dive put up mental blocks in her head, but she was able to break through and master the dive last year.
Now the ninth grader has advanced to perform a 31/2 twist. The more difficult dives affords Hamm the opportunity to gain more points during meets. She explained in addition to the least amount of splash factor when hitting the water, judges also look at the smaller details like pointed toes and movements that are expected with the dive they opted to perform.
With four competitive years in high school ahead of her, Hamm hopes to learn a back double summersault before she graduates. She's developed a step-by-step plan, adding in one element at a time to build her skills until she can complete the dive. On average, Hamm spends about two hours every day in the pool during the week.
When she walks on the 1 meter diving board, Hamm's focus for the season is to earn a trip to state. She made it to sections last year.
Frazee High School offers students a co-op agreement with the Lakers to provide the diving and swimming opportunity with students.