Miss Wolf Lake encourages all to step out of comfort zone
News | Published on September 3, 2021 at 5:24pm EDT | Author: Chad Koenen
0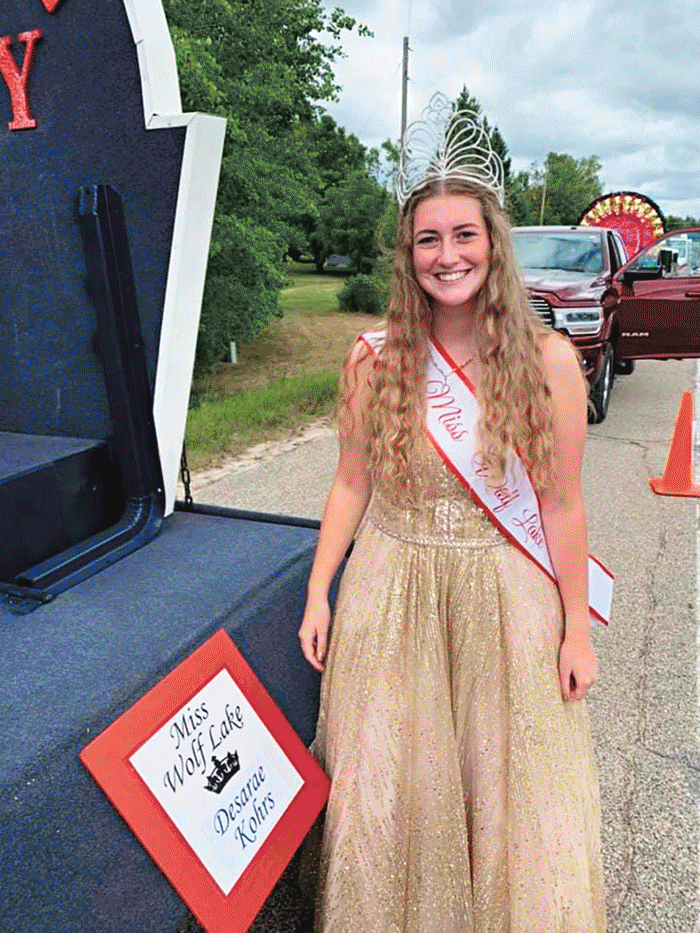 Kohrs begins studies at Concordia
By Barbie Porter
Editor
Desarae Kohrs stood on the Miss Wolf Lake pageant stage once before. In 2014, she entered the junior pageant and earned the title of first princess.
"When I got older I thought it would be fun to try again because I really enjoyed the experience," the Park Rapids resident said.
The fun Kohrs had in the pageant must have shown through as she collected Miss Wolf Lake crown. She said the experience is much different from the older contestants, as she has changed. In her youth, Kohrs was more introverted.
"When I was 12 I was a different person," she said. "As I got older I became more outgoing and became open to trying new experiences."
The Miss Wolf Lake pageant included a group dance, interview on stage and another interview that was conducted before the pageant.
Kohrs said the in-person interview had her and three judges in a room. She was a little intimidated, but focused on being herself and treating the judges like anyone else she would be talking too. She recalled one question that left an impression was, if she could be any color, what color would she be.
"I said lavender purple because that is a nice friendly color and I feel that matches my personality," she said.
On-stage, Kohrs was asked to share how a person had a significant influence on their life. She quickly pointed to a former English teacher who was also her speech coach.
"She gave me the best advice," Kohrs said. "She encouraged me to be myself and try different things. She was really big into expressing myself and making friends. Doing that helped me get through the school year. With speech, she encouraged me to be different than everyone else.
The daughter of Maria and Tony Kohrs said she looks forward to representing Wolf Lake in parades and events in area communities.
All the fun of being in the pageant has made Kohrs consider entering other pageants when she passes her crown on to the next queen.
"I encourage all to try different things, step out of their comfort zone and meet new people," she said. "Just like this pageant, it is worth it."
The Park Rapids High School graduate is now at Concordia College in Moorhead. She is undecided as far as her major, but noted psychology has caught her eye.