Rural Perham residents invite Raiders to wedding
News | Published on September 3, 2021 at 5:43pm EDT | Author: Chad Koenen
0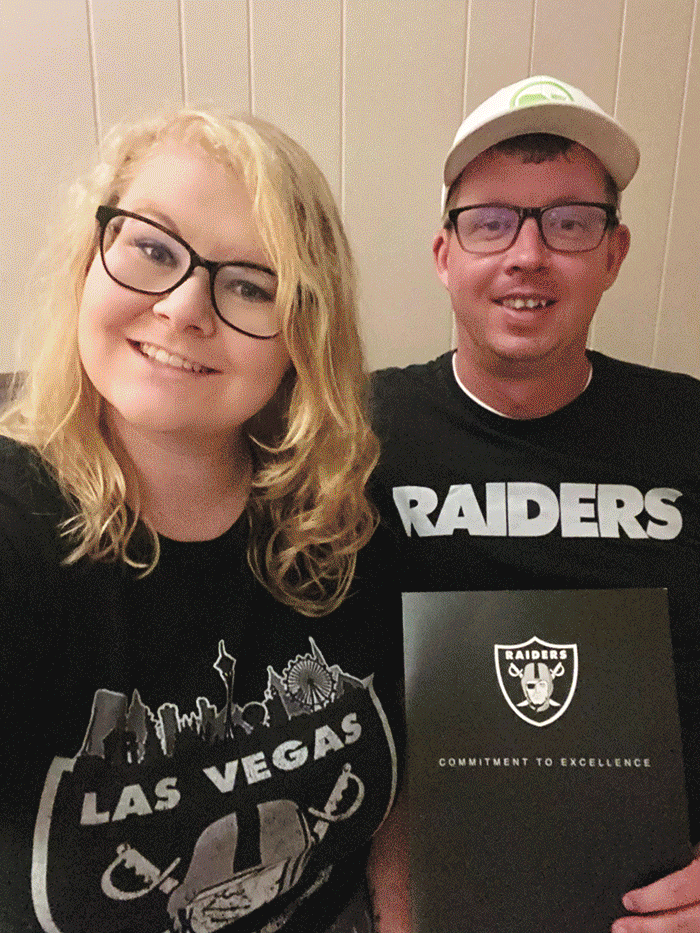 Couple gets a response
By Barbie Porter
Editor
Hanna Klinefelter and Jameson Miller decided to invite the Las Vegas Raiders to their wedding ceremony. While the rural Perham residents did not expect a reply, they got one.
The journey to joining the Raider Nation began when the two met on a blind date in Las Vegas, Nev. Klinefelter was living in Arizona at the time, but went to Las Vegas for the weekend with family.
"A mutual friend was visiting me and I asked, jokingly, if he knew of any single guys," Klinefelter recalled.
It turned out he did, and the bachelor happened to be going to Vegas for a poker tournament the same time Klinefelter was visiting with family. Their mutual friend arranged a blind date.
"On our first date, he got to meet my whole family, and he still liked me," she joked.
The two spent the evening walking the Vegas strip and chatting until 4 a.m. They covered all the big talks, from religion to politics and beyond. During the date, Klinefelter texted a friend.
"I texted that I thought I was on a date with my future husband," she said. "Everything was so easy."
While she didn't intend on moving back to Minnesota, when her grandmother moved into a care center, she decided family was more important then enjoying the Arizona winters.
"My grandma is my world and he made the last few months with her the biggest blessing," she said. "We visited every day, he'd bring ice cream and even visited her when I couldn't."
Miller said a repeat performance of the magical first date was hard to duplicate on the second and third date. In that short time he learned the woman he was smitten with was intelligent and shared the same core values.
He purchased a ring and waited until the New Year. For a meal they ate from the same place they ordered on their first date in Vegas. After the meal and a nice evening that included watching the Time Square ball drop on TV, Klinefelter was ready for bed.
"I made her stay up until midnight," Miller said.
"I'm glad I did, too," she said, adding he proposed, she accepted and they agreed to have their wedding where they met­—in Vegas.
Last year City of Lights welcomed its first professional football team, the Las Vegas Raiders.
The daughter of Roxanne and Marvin Fletcher, who grew up in Frazee, and the son of Bruce Miller and Joni Dalager, who grew up in rural Perham, are both Vikings fans. However, the Las Vegas Raiders are also a favorite.
Miller said he has appreciated the team dating back to when Bo Jackson ran for the Las Angeles Raiders. The team has moved to Oakland, also in California before landing recently Nevada.
With the wedding approaching, the two realized they were about to enjoy new beginnings along with Nevada and decided to send the Raiders an invite, just for fun.
"We didn't expect any reply," Miller said.
"But, we got a big folder in the mail that had do not bend stickers all over it," Klinefelter said. "It was from Las Vegas."
Inside the package was an official Las Vegas Raiders folder. Inside was a letter congratulating the two on their future nuptials.  
The Richville residents said there is a game scheduled when they are heading to Vegas for the wedding. Plans are in the works to see if they can find tickets to attend.