Frazee highway sign modifications discussed
News | Published on September 16, 2021 at 3:40pm EDT | Author: Chad Koenen
0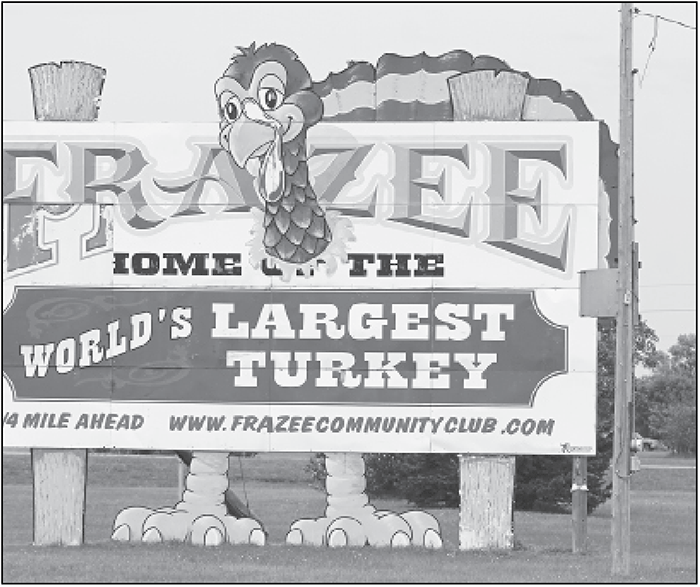 Historical plaque offered to Frazee
By Barbie Porter
Editor
The Frazee welcome sign along U.S. Highway 10 between the two turkey town and Perham was discussed during a special council meeting on Wednesday, Sept. 8, as well as the initial tax levy.
The council requested the artists working on the sign make some changes, and more may be suggested, before the council reviews the work again at its next monthly meeting on Monday, Sept. 20 at 6 p.m. at the Frazee Fire Hall.
A modification recommended at the special meeting was to change the color of the town's name from blue to green.
Councilman Mark Flemmer noted green ties the town to the school and other local businesses that also use the color green.
Councilwoman Nicole Strand agreed, adding green is the color of money and the aim of the sign is to bring people to town to "spend their green in town."
Frazee Mayor Ken Miosek seemed to lean towards blue, noting the sky is blue.
"Oh boy," said Frazee City Administrator Jordin Roberts. "The blue water."
Councilman Mark Kemper's wit gave the council a chuckle when he said, "but think of the green we are spending."
The project was provided to two local sign making companies for quotes. While one had responded, and the amount discussed at the council, the second company had yet to submit their quote.
The footprint of the highway sign would be the same as the current one, it was stated. Other suggestions for the sign were to use characters for the amenities, adding to the amenity legend, such as a family in front of a house, boat on the water, bicycle on the trail and so forth. 
Councilman offers historical plaque 
Flemmer informed the council he obtained a 3-foot wide by 5-foot tall plaque that has the entire Gettysburg Address on it. He was contacted by someone who had it and was going to discard of it, as repairs are needed. Flemmer asked if the council would want to place it in the city.
The council began discussing ideas of where the historical artifact could be placed. 
Flemmer noted he is looking to get the item sandblasted. After it is cleaned the council could decide where it would want to place the item.
Council sets proposed tax levy, can be decreased
The council also approved the proposed tax levy of $446,328. It was emphasized and repeated by the council and city administrator the 20 percent increase will decrease before the final tax levy is set on Dec. 20 at 6:01 p.m. at Frazee City Hall.
Once the preliminary levy is set, the city is not allowed to increase the amount. Because of this, oftentimes a council will approve a higher amount than is anticipated to be needed for city projects and operations, as they can lower the tax levy.