Kropuenske family asks for prayers
News | Published on September 16, 2021 at 3:48pm EDT | Author: Chad Koenen
0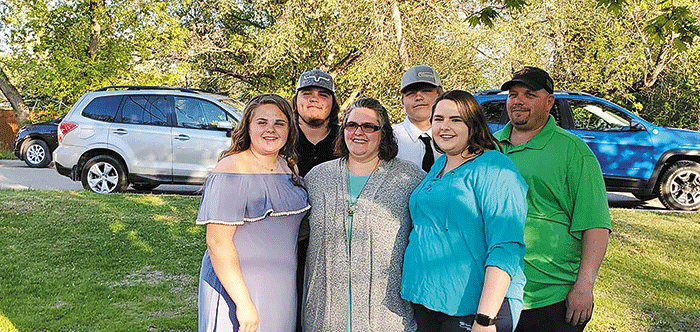 After blacking out while driving, Frazee man finds out why
By Barbie Porter
Editor
Months ago Jason Kropuenske was driving his truck on U.S. Highway 10 when he blacked out. He drove through the median, crossed the west bound lane, drove over a bike path and continued on until he hit trees.
"I was talking to my wife on Bluetooth," he said. "When I came to, I got out of the truck and looked around. The cops showed up and then the paramedics. I was very lucky to walk away from that."
Kropuenske accepted the ambulance ride to the hospital. While he lived to tell the tale, he had no idea why he blacked out. At the hospital a CT Scan was ran, but nothing was found. He made an appointment with his physician at Perham Health and was sent for an MRI, as well as other tests. The results sent Kropuenske to a neurologist in Fargo, N.D.
More tests followed and it was determined his skull was partially deformed and had been since birth.
"My brain is too big for my skull," he explained, noting the pressure found relief at the spine.
"I've had headaches, but I didn't know where they were coming from," he said. 
On Wednesday, Sept. 8 Kropuenske was scheduled to go to the Mayo Clinic for surgery where a portion of his skull was to be removed as well as his first vertebrae.
Kropuenske said he is blessed with medical insurance to help pay for the surgery, however three months of recovery could stretch the family pocketbook as he only has so much vacation time to cover bills.
The correctional officer at Becker County Jail said if his family needs help, they will reach out to the community. For now, he is asking for prayers. The father of four (ages 23, 20, 18 and 17) expected to be in the hospital for about four days.
"Please keep praying while I get through this," he said. "It's really rare. The person I spoke with at Mayo said she's only done a few."