Tractor collection grows for Aho family
News | Published on September 16, 2021 at 3:51pm EDT | Author: Chad Koenen
0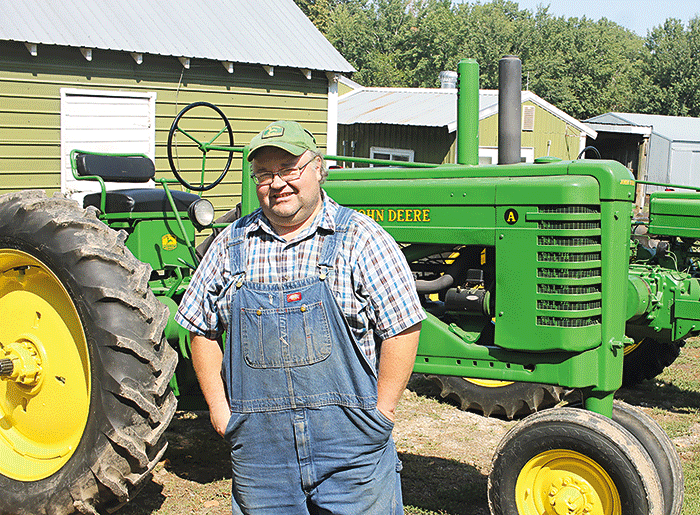 Aho adds to his refurbished John Deere Tractor collection
By Barbie Porter
Editor
ith every farm, the story of a family grows deep as roots in the land. Some have built a lineage of premium livestock and others crops. While the Ahos near Toad Lake tackle both cattle and crops, Andy Aho took it a step further. He added tractors to the family's rich legacy.
On the same land and in the same tractor at the family farm, Andy took his grandfather's tractor for a spin.
"I think it's pretty cool to drive the tractor on the land my grandpa farmed and in the tractor he sat in and made a living with," he said.
What also makes the collection unique, is that Andy has rebuilt and refurbished each tractor in the family collection, so it looks as if it just rolled off the factory line. Some tractors were obtained when a family member retired, others Andy found after it had been sold. Through the auction block, he brought them back to the family farm. Some tractors are the oldest new additions that were too good of a bargain to pass up.
His wife Becky often keeps a watchful eye at area auctions. If something comes along, she tips off her husband that another project may be on the horizon.
"If it is reasonably priced, Andy will likely be there bidding," Becky said. "Most of the time the bids are reasonable because the tractors are used and in need of repairs. Some aren't even running."
His mom, Cyndy Aho, added when they arrive at the farm the tractors often look like lawn ornaments.
"Yeah, brown rusty ones," his dad Jerry Aho chimed in.
Regardless of the condition of the tractor, once it becomes part of the Aho family, it is a matter of time before it is returned to its former glory. Every part will be sandblasted and made anew (when possible) or replaced.
Andy first began tinkering on tractors when he was about 17. But, his love for tractors developed when he was just a boy.
"He'd sit on a tractor every second he could," his mother recalled. "Dad had a red one too, but Andy would only sit on the green one."
What is it about the John Deere tractors that calls to Andy? Some questions aren't worth asking; it's just the way it is and the way it always has been. The question that does bring a spark to Andy's eyes brings about thoughts of project tractors of the past and potential ones for the future.
"I'm self taught with fixing them," he said. "I think that comes from growing on a farm; it's just something we figure out how to do."
When the tractors are completed they don't sit, although many would make nice centerpieces for a museum floor. Andy would rather put them to work. He uses them around the farm as needed and when "family plow day" comes around.
"The family takes the old tractors out and we work the fields," he said, noting each machine is used as intended when they were made. The throw back to days of yore reminds Andy how farm technology has come and renews his appreciation for how farming forefathers worked the land.
Andy also brings a tractor or two to the annual Park Rapids Tractor Show. While the farm has chores calling, he and the family try to make it a point to attend the event and enjoy a day talking about tractors. During those events, Becky said people often admire Andy's meticulous attention to detail when they learn what condition the tractor was in prior to being coddled by Andy's capable hands.
"Some take one or two years," he said. "It's hard to say because I still need time to fish and farm."
The Ahos raise cattle and crops, but when the rainy days roll in or a leisurely Sunday afternoon arrives, that is when Andy heads to the shop.
"This year I definitely had more time because of the drought," he said. In his collection, Andy said the 1938 John Deere D is the rarest, as there are not many of them running today.
"I have an A too, but that isn't running," he said. "Yet."
With each tractor he rebuilds, the family legacy and rich history of one of the most vital farming equipment items grows. In total, Andy has rebuilt 10 tractors spanning the years of 1923 to 1960.