Conservation Corps installs spindles on Vergas fishing pier
News | Published on September 23, 2021 at 11:21am EDT | Author: Chad Koenen
0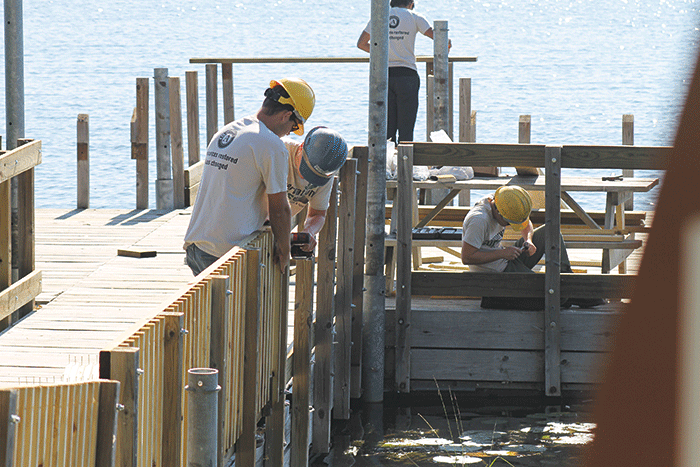 By Barbie Porter
Editor
The Conservation Corps were in Vergas last week refurbishing the Department of Natural Resources fishing pier.
The group has been teaming up with the DNR all summer to work on fishing piers the DNR provides to communities. Corps member Steven Brown of St. Paul, Minn. said their focus has been retrofiting the piers so they are compliant with the Americans with Disabilities Act.
"We removed the planks along the sides and are replacing them with spindles," he said. "The space between the dock and the spindle can only be a four inch clearance for safety reasons."
In addition to installing new side railings, the crew examines the posts and deck boards to see if any are rotted and need replacing.
Corps member Brad Feyereisen of River Falls, Wisc. said the Corps was brought aboard to help with the piers as needed. He noted the DNR was doing the bulk of the docks themselves, but resources were limited.
"This is the second one we've worked on," Feyereisen said. "The first one was more difficult because we had to take some posts and boards off. This dock (in Vergas) is in good shape."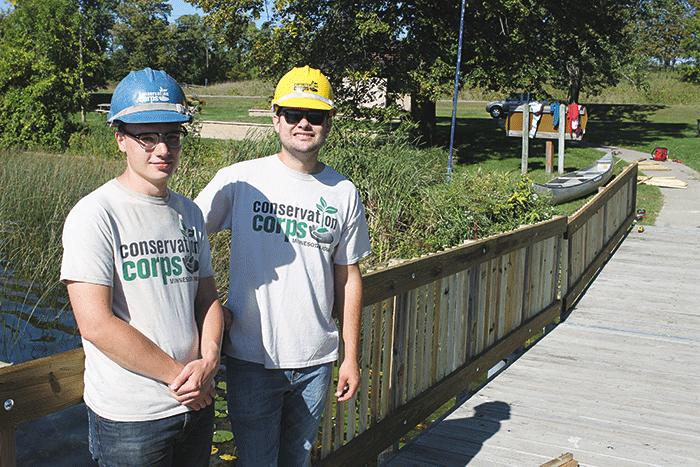 The six-member Corps crew were staying in Detroit Lakes and commuted daily to Vergas from Monday until the work was completed towards the end of the week.
Both men joined the Corps for the experience and opportunity to grow their skill sets. Brown said he grew up in California and sought travel and wanted to see a different part of the country.
"Being in the Conservation Corps has also helped me improve my organizational skills and leadership skills," Brown said. "And, I've become more confident and comfortable speaking to the public."
Feyereisen went to college for conservation and environmental planning. Joining the Corps was an opportunity to boost his resume and increase the chances of landing a field specialist job. Both added, being part of the Corps also helps pay for college tuition.
"I've also became certified in using a chainsaw," he said. "And, built a lot of friendships. I enjoy that." 
While making DNR piers ADA compliant was a job the crew took on, their actual position with the Corps has more to do with water trail maintenance. While rivers have been lower than normal, Brown said they have been able to travel downstream on many river water trails and make sure they are clear of debris.
When summer turns to fall and heads to the cooler months, the Corps members may be found clearing debris from hiking trails.
For more information about joining the Conservation Corps, visit www.conservationcorps.org.