Council approves abatement for new downtown building
News | Published on September 23, 2021 at 11:23am EDT | Author: Chad Koenen
0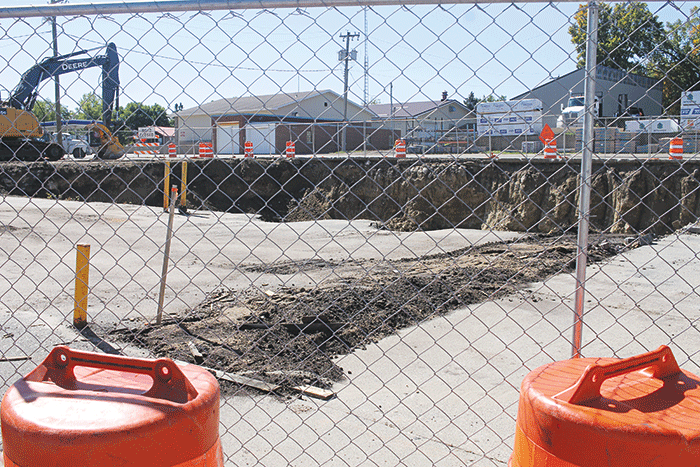 By Barbie Porter
Editor
The Vergas City Council are doing what they can to ensure the new commercial and residential development downtown is a success and not a financial burden to the developers.
Jeff Zitzow and his wife Wendy and Tyler Schmid and his wife Heather created a partnership to purchase the land where the former grocery store was located on the corner of Main Street and First Avenue. They are creating a building that will offer a grocery store, fitness center and three commercial spaces, as well as several apartments.
During the monthly council meeting on Tuesday, Sept. 14, the developers informed the council the numbers are not looking profitable for the project. However, tax abatement would help.
"Neither of us have a $1 million laying around," Zitzow said. "We're borrowing every penny and it is not a wise decision to go into business under water right away."
The council fielded a few questions about the tax abatement. One asked who would cover what taxes are currently being paid.
Vergas City Clerk Julie Lammers explained the current taxes are about $1,935. Those will still be paid and collected, so there would be no impact to the city budget. The abatement would only pertain to new taxes associated with the new structure that is to be built.
Lammers explained the landowners actually pay the full tax, and when the county pays the city its share, the city will refund the abatement amount to the property owner. The city would start collecting the "new" tax after the designated time period approved with an abatement lapses. The length of time discussed has been 5 years.
Zitzow said he didn't foresee renting the commercial spaces out as a concern, but the apartment rentals had him "holding his breath."
To give Zitzow and his business partners a little breathing room, the council approved abating $45,000 or 5 years of tax abatement. The same as the EDA/HRA recommended.
The building owners may also seek a variance to negate the parking requirements in the city ordinance. If a variance is applied for the council would need to have a public hearing before deciding.