Art is a way of life for Cummings
News | Published on September 30, 2021 at 11:49am EDT | Author: Chad Koenen
0
Frazee artist reflects on his start in art
By Barbie Porter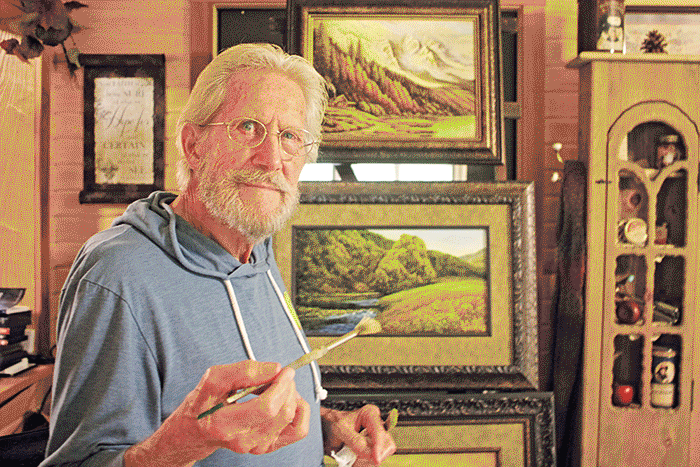 Editor
Robert Cummings is to Frazee what Terry Redling is to Watertown, S.D.
While both artists have the ability to draw a person into the scenery of their paintings, Cummings didn't get serious about his work until after he retired at 62.
The 77-year-old sat next to his wife Betty in their rural Frazee home near Toad Lake and recalled the moment he realized art would be part of his life. He was just a lad; walking home from school one fall afternoon. Like most kids, he knew the shortcuts home. That day he decided to take one through a small patch of woods.
Cummings closed his eyes and declared he can still see what he saw that day.
"A thick mist hung in the air. Then I saw a spider in a web with droplets of water in the web," he said.
As his focus adjusted from a personal examination of the spider's woodland home to panning the ground covered with bright-colored leaves, the sun peered through the clouds. Everything it touched became more vibrant, he recalled­­—the water on the web glistened and the leaves on the forest floor gained a glow. 
"It was one of those days you could smell fall," he said.
After experiencing his first awakening of what some call an artist's eye, he went home and told his father he found his career calling. 
"He asked if there was another career I was interested in," Cummings said. "Then he explained artists usually don't make enough money to feed a family, at least not while they are alive."
While Cummings always partook in art, whether it was doodling or taking classes at the high school, he ultimately listed to the wisdom of his father. After high school he joined the Army, served three years, worked construction and eventually landed as a jack-of-all-trades for the Frazee Care Center.
During his working years, out of the blue, his mother gifted him with an oil painting set.
"I didn't even know oil paint came in tubes," he recalled.
Being a studious one, Cummings didn't see his lack of knowledge as a hinderance, but rather an opportunity. He headed to the library, read books about the craft and when he met other artists he made it a point to chat about painting and to leave with newfound knowledge. All the while, he dabbled in painting when time allowed, but his focus was on his family.
Cummings met his wife Betty after being introduced by a priest. After three years of courtship the two committed to a lifetime partnership filled with love, support and respect. They raised five sons and one daughter.
While art was a hobby for her father, New York Mills resident Bobbi Blickenstaff said his talent was apparent even to a child's eye.
"Us kids knew how good he was, but it was always around so I didn't realize what a privilege it was," the 2004 Frazee High School graduate said. "I took it for granted."
As an adult she is thankful for the pieces he gifted her, so that she can allow her three children the wonderment and inspiration art creates.
While art played a role in Blickenstaff's childhood, if her life were a painting, art would've been in the background. The foreground belongs to her "hard-working parents" who taught their children "strong work ethics" and the importance of "God, honesty and faithfulness."
When Cummings retired and his children became adults, that is when he opened up his schedule to spend more time with his art.
"I was 62 when I retired and I'm 77 now," he said. "For me, each piece is a challenge and I always look for ways to do better on the next piece."
His growth may be noticed by the most trained eye, or Cummings own disconcerting one. For the average art connoisseur, every scene allows one to teleport into that moment of time where fall can be inhaled by the imagination, or one can feel a lake breeze ride the waves on a warm summer night.
"God gave him the ability to keep growing," his wife said.
Cummings has always been able to draw to landscapes. He found wildlife portraits too restrictive as it calls for exact details. After spending hours focusing on the perfect number of primary feathers, he said it stripped some of the fun of painting.
While standing in front of his enormous easel covered with pictures of scenic moments, he pointed to a saw blade in the center where a quintessentially quaint Midwest scene was taking shape and said "landscapes have freedom." 
As his craft became undeniably professional, Cummings' paintings became known for pulling a person to a focal point using a light source. After diving into the painting, the eye explores outward where treasures are found in the details of the landscape and brush strokes.
In his third year with cancer, Cummings has to pace himself when painting. He said after a few hours his back becomes sensitive and more downtime is needed. 
Quite candidly, he glances out the window and says, "People ask me, when I found out I had cancer, if I was mad at God. I tell them no, I was not and I am not. I have had a long and good life. On a scale of one to 10, with 10 being the most happy, I have lived a 10."