Billboard gives Frazee a fresh look
News | Published on September 30, 2021 at 11:41am EDT | Author: Chad Koenen
0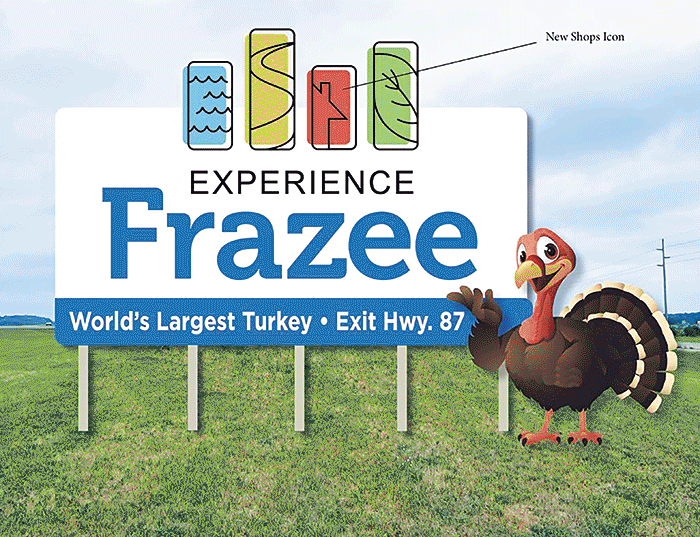 Council makes billboard recommendations to EDA
By Barbie Porter
Editor
The rebranding of the city sign along U.S. Highway 10 may be one step closer to construction.
During the monthly Frazee City Council meeting on Monday, Sept. 20, the sign proposals were reviewed and details hashed out.
The council will recommend to the Frazee Economic Development Authority a sign that utilizes icons to showcase amenities to attract visitors, including the Worlds Largest Turkey.
The council discussed the color of the lettering of the city name, as well as the matching banner that goes below it. While green was considered, the council felt blue was more eye catching.
The council took into consideration that many businesses use the color green, as well as the school. However, the majority agreed blue "pops" more than the green, and visitors don't know green is considered a color that is tied to Frazee.
It was suggested the billboard utilize the blue color and then make the new banners for in town green.
They then tackled the amenity icons (water, trails, homes, parks) on the top that jut out from the billboard. Discussion was had if there should be words below each icon stating what the graphic means. Ultimately, they decided to forgo the words on the billboard, but have the meaning of the logo on the banners that will be in the downtown corridor. The banners discussed would have an icon, and words aimed at encouraging visitors to experience what the icon represents.
The council will also recommend a change to one icon on the billboard. Instead of a home the council suggested making it a store front.
Councilman Mike Sharp said the billboard caters to visitors and shops bring people to town.
Councilman Mark Kemper agreed, adding advertising a community has homes seemed redundant.
Frazee City Administrator Jordin Roberts contacted representatives at the Minnesota Department of Transportation to see if the exit to Frazee that connects to State Highway 87 had an exit number. She learned the exit does not have a number. Instead of placing "World's Largest Turkey" on the sign with the exit number following it, the council agreed to go with directing visitors to simply exit on State Highway 87, which is marked along U.S. Highway 10.
Two quotes were received from local companies and JH Signs got the council recommendation for the EDA to work with them.
The billboard quote from JH Signs was $12,380. The new sign will be made of alumacore, which was stated to last a long time.
The council was told the project is part of a grant, and therefore the billboard would need to be built by December.