New apple orchard opens in rural Frazee
News | Published on September 30, 2021 at 12:01pm EDT | Author: Chad Koenen
0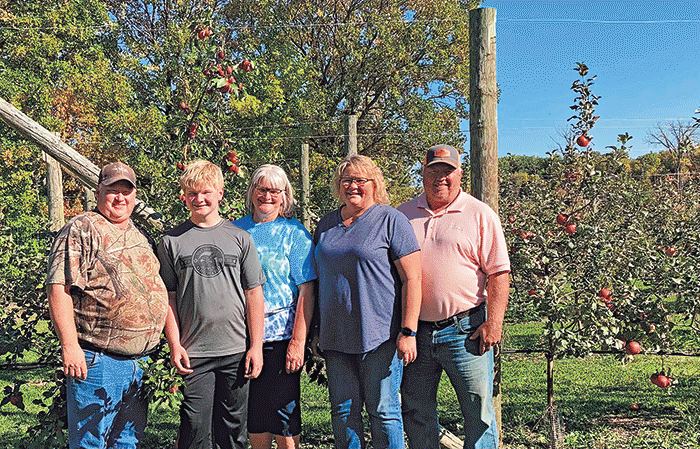 Blauert family offers apples, pumpkins and more
By Barbie Porter
Editor
The Toad Lake Apple Orchard began as a daydream and recently became reality.
Steve Blauert said the business idea blossomed as he headed to the Duluth area with his wife Shelly to celebrate their 21st anniversary.
"We were driving through the McGregor area and they had orchards there," he said. "We went through and bought some apples and wine."
The two headed back on the road, but the orchards they had visited left an impression that lasted for years. When the two reminisced about the orchards, it planted the seed of having one on the family's 120-acre property near Toad Lake.
His brother, Rick and brother's wife, Tina, who live in Blaine, Minn., decided to team up with Steve and Shelly and give the unique business opportunity a go.
After a lot of research to understand what apple trees produce crops in Northern Minnesota, the Blauerts had their soil tested to make sure the right nutrients were in the ground. Then they planted their first orchard (about 50 trees) in 2014. Steve explained the trees are planted about four feet apart and grow up a wire like a grape vine. To pollinate the trees, Blauerts contacted a beekeeper from Otter Tail County.
The standard apple tree takes between five and eight years to produce fruit, but the trees they purchased produced fruit in three years. When the crop grew, the orchard was finally able to open this past fall.
"We didn't know what to expect," Steve said, noting the sign they put up along the road brought in more traffic than they anticipated.
Customers that venture to the orchard located at 18757 Blauert Road, Frazee on Saturdays and Sundays 9 a.m. to 5 p.m. will find Honeycrisp, SweeTango, First Kiss, Sweet 16, Haralson and Zestar. They also have Chestnut Crabapple and Whitney Crabapple trees for jellies. Availability for apples depends on the season and when the fruit is ripe for the picking.
The Blauert family picks the apples at this point, as they want to make sure the trees are not damaged.
"If you yank the apple off, it can hurt the tree," Steve said. "The trick is to spin it, and if it is ripe it will fall off easily."
Eventually, they hope to offer an option for customers to pick from the tree themselves. Until that time arrives, one thing customers can pick themselves are pumpkins.
"We have a pumpkin patch and a kids maze," he said.
Steve said the dream for the orchard is to one day have a building where people can also purchase fresh baked items, enjoy apple pie and spend a family-fun day at the orchard.
"We've had a lot of positive feedback from people around the area," he said.